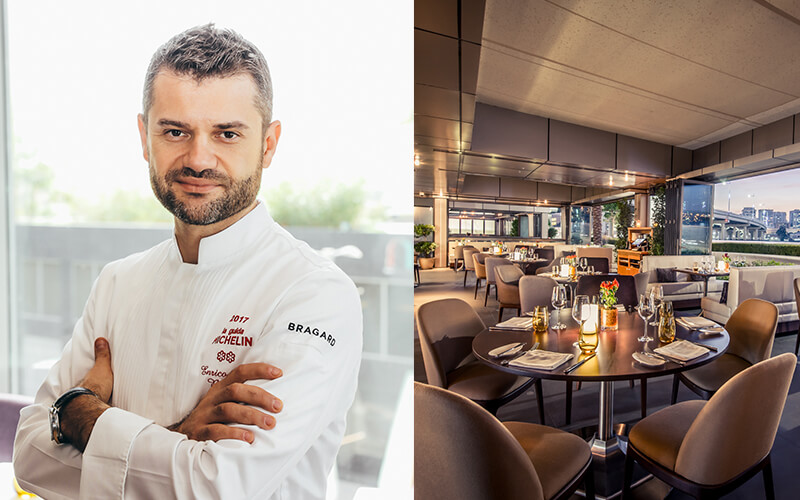 Sponsored: One of DIFC's longest running and Abu Dhabi's most loved fine dining Italian restaurant's – Roberto's, is hosting a very special collaboration this weekend.
For just two nights, the kitchen will be run by two-star Michelin Chef, Enrico Bartolini. Born in Pescia, Italy, Chef Enrico Bartolini is recognised around the world, not only for his culinary intuition and creativity but because he is also Italy's youngest two Michelin star Chef.
This event is the first in the restaurant's new series of ongoing events called their 'Postcard Series', which invites an impressive mix of world class chefs to the venue from different countries, creating a variety of exclusive dishes – just for Roberto's.
Bartolini received his first Michelin star when he was just 29 years old, the second followed four years later, along with three Gambero Rosso forks and three L'Espresso Guide Chef hats.  He has also been crowned "Chef of the Year" by the Identità Golose 2016 Guide Book.
These two very exclusive nights will see some of Bartolini's most exquisite dishes brought to life in the gorgeous settings at both Roberto's Dubai and Abu Dhabi. Guests are invited to enjoy a delicious five course set menu with a heavy focus on dishes from Milan, as well as live entertainment giving the night that extra sparkle. Exclusive dishes include slow-cooked Chilean seabass with fennel and saffron, breaded veal chop with white truffle and baked meringue with strawberries.
Details: The Abu Dhabi event will be held at Roberto's Abu Dhabi, Rosewood Hotel, on Thursday 17th October at 8pm. Priced at AED 495 inclusive of five-courses – an additional AED 250 is charged for drinks pairing. For bookings, call 02 627 9009. The Dubai event will be held at Roberto's DIFC, Gate Village, Building 1, on Saturday 19th October at 8pm. Priced at AED 495 inclusive of five-courses. For bookings, call 04 386 0066.