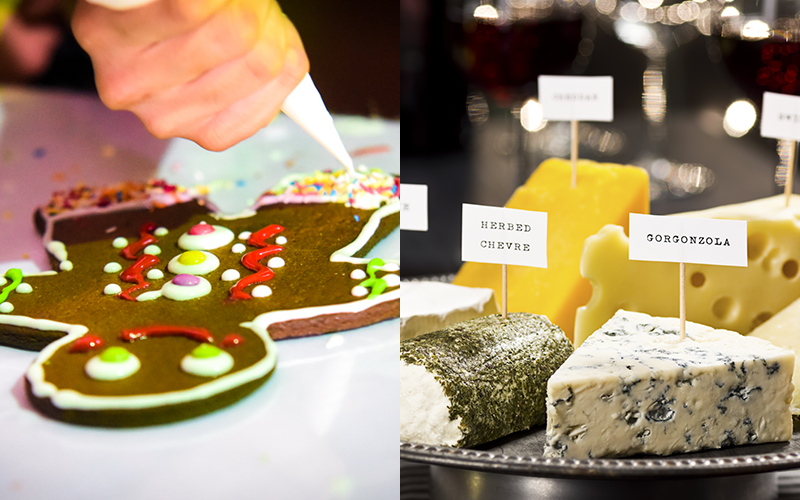 This week sees the return of the popular Dubai Winter Festival. From 6th December, you'll be able to find all your favourite Christmas things in one place, at the Dubai Media City Amphitheatre. The 6th annual event will see a brand-new over-21s area with a bar selling festive drinks, and plenty of other festive foodie favourites. Here's a round-up of some of our favourite foodie activities at this year's festival:
The Party Garden
This is a brand-new area for 2017 only open to adults. There will be a festive Lucky Voice karaoke booth, fun games, Tips 7 Toes festive nail art and a bar serving Winter beverages.
The Cheese Corner
Any true foodie could not leave this year's festival without visiting this spectacular area. This new area will be offering plenty of demos and workshops run by world-renowned cheese-monger Francois Robin. Activities in the area will include: Tips on how to make the perfect Christmas cheeseboard, traditional Winter and Christmas recipes using cheese, cheese tasting and pairing, and cheese-making workshops. There will also be plenty of goodies on offer to take home. To read more, see François Robin's tips and tricks on picking cheeses.
Make a gingerbread house with French Bakery
Popular Dubai-based café, French Bakery will be leading a workshop in building your own festive gingerbread house. You'll be able to take home your own gorgeous edible festive house. They're perfect to display at home as part of your festive decorations, or to give away as a special Christmas gift.
Discussing the event, Chris Fountain Group Managing Director, Turret Media, organisers of the event said: "This year is the 6th Edition of Dubai Winter Festival, the UAE's largest festive event and due to its huge popularity we will for the first time be holding the event across four days starting on Wednesday 6th December"
Details: There's also plenty on offer for families visiting the festival, for more information, visit Mother, Baby & Child's family round up of Dubai Winter Festival. To book your ticket, visit Dubai Winter Festival. Feeling festive? Why not try out one of delicious Christmas recipes.