Clear your calendar and head down to Wavebreaker Beach Bar and Grill this Thursday To celebrate British National burger day, Wavebreaker Beach Bar and Grill in Dubai are offering an incredible deal this Thursday. They're serving a massive two-kilogram "Jawbreaker" burger, packed full of beef patties, cheese, beef bacon, onions and guacamole. The Jawbreaker – …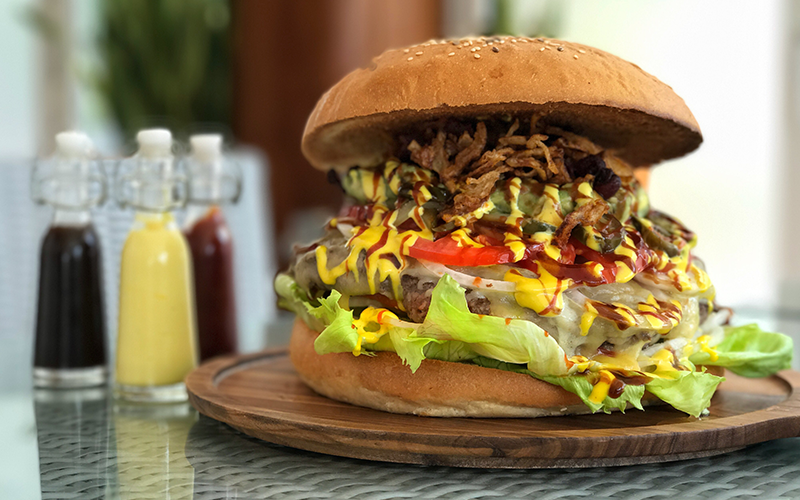 Clear your calendar and head down to Wavebreaker Beach Bar and Grill this Thursday
To celebrate British National burger day, Wavebreaker Beach Bar and Grill in Dubai are offering an incredible deal this Thursday.
They're serving a massive two-kilogram "Jawbreaker" burger, packed full of beef patties, cheese, beef bacon, onions and guacamole.
The Jawbreaker – measuring 20 centimetres in circumference – is on sale for just AED 99. But – best of all- if you eat the entire burger in 30 minutes or less, the restaurant will give you the burger free of charge.
For those with less of an appetite there will a smaller burger on the menu too, for AED 69, which comes with a free soft drink.
The smaller meal includes four options: a traditional Angus beef burger, a corn-fed chicken burger, a Welsh lamb burger or a vegetarian sweet potato rosti burger.
The restaurant is situated in Hilton Dubai Jumeirah in Dubai Marina, it's the perfect place to head to as the weather cools down, for laidback beachside drinks and BBQ grills.
Details: The Jawbreaker challenge is available only from 12pm-10.30pm on 31st August 2017 at Wavebreaker Beach Bar & Grill, Hilton Dubai Jumeirah. To book a table, email fb.jumeirahreservations@hilton.com or call +971 4 3182582. For more information, visit Hilton Dubai Jumeirah.