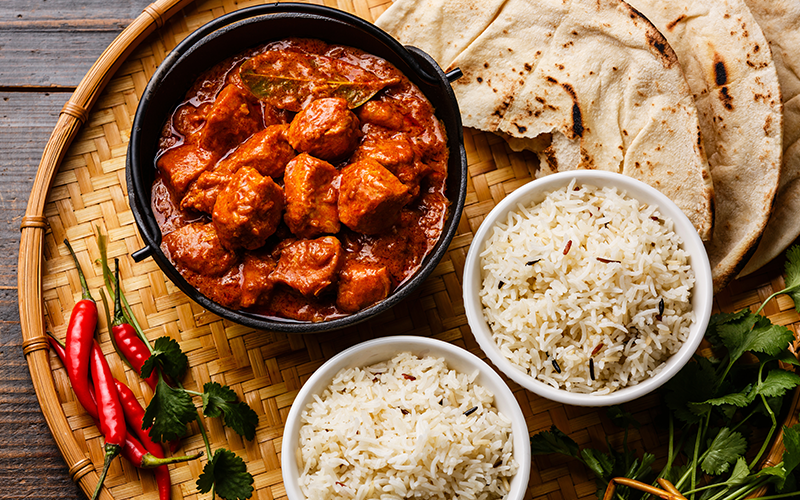 The Hindu festival of light falls on 19th October this year, here's our favourite Dubai Diwali deals available at restaurants across the city.
Rang Mahal by Atul Kochhar
Popular fine dining Indian restaurant Rang Mahal will be offering a tasty set menu over Diwali. Priced at AED 295, the menu includes five courses based around different parts of the festival of light. Meat eaters can enjoy a delicious tandoori kebab with spiced roasted lamb tikka and saffron-infused chicken. There's also a vegetarian option available and the full a la carte menu will be available alongside the set dinner.
Details: AED 295 per person, offer available 6pm-11.30pm from 11th October-5th November. For more information visit Rang Mahal.
Mint Leaf of London
This delightful curry house has fantastic views of Burj Khalifa and Downtown Dubai. The menu has plenty on offer for vegetarians, including an eight-course special Diwali menu this October. The restaurant also has a meat option, with both eight-course meals costing AED 250 per person.
Details: AED 250 per person, offer available all day from 16th-21st October. For more information visit Mint Leaf of London.
Claypot
Head down to Claypot if you prefer a full plate of food over tiny tasting menu portions. This causal curry house is one of the best kept secrets in Old Dubai. It serves up delicious wholesome Indian food – and also has a license. Head down early to make sure you get a table, by 9pm on a Friday night this place is packed with people. Their special Diwali menu is available for the bargain price of AED 55 per person.
Details: The Diwali menu is AED 55 per person and available every day from 19th-21st October. To book a table call +971 4 407 8000 or visit Claypot for more information.
Roti Rollers
The popular Indian street food eatery is offering a special Dubai offer from 17th-22ndOctober. For just AED 149, diners can enjoy a Diwali family combo deal including four rolls, two sides and four soft drinks.Based near to Box Park in Dubai, the deal is available to dining in, and delivery. Dishes included in the popular tongue-in-cheek "Hen Stefani" "Robert Paneer-o" and "Game of Potatoes" rolls.
Details: The offer runs daily from 6pm-9pm for dine-in and delivery from 17th-22nd October. For more information call +971 4 345 0761 or order online at Roti Rollers.
Mazina
This Diwali, Mazina restaurant at The Address Marina is putting on special 20-dish menu. The limited edition menu will include some favourite Indian flavours, including Kashmiri morels, malai paneer and galouti spice mix.
Details: The set menu is priced at AED 175 per person and the offer will run 7pm-11pm daily, from 12th-21st October. For more information visit Mazina.
Bombay Brasserie
To celebrate Diwali, Bombay Brasserie is offering a one-off brunch on Thursday 19th October. Included in the AED 295 package will be an unlimited tasting menu, live cooking stations serving chaat, and soft beverages. The restaurant has views over the Burj Khalifa and Downtown Dubai area.
Details: The brunch package is AED 295 and is available on Thursday 19th October. For more information visit Bombay Brasserie.
Moombai & Co
This Diwali the Dubai-based casual dining restaurant is offering a special 12-dish set menu. The menu includes sweet boxes, and the party atmosphere will continue with dancers performing throughout the day.
Details: Available for AED 180 per person, from 11am-11pm, 18th-21st October. For more information, visit Moombai & Co.
Mumbailicious
Serving delicious Indian street food in Al Karama, Mumbailicious is selling special sweet boxes over Diwali. Over The Festival of Light, there will discounted one kilogram assorted sweet box for AED 76, and a half kilogram sweet box for AED 40.
Details: For more information about the Diwali offers, call +971 4 2481294 or email mumbailicious.karama@gmail.com