Sponsored: Garage stands out with its distinctive sharing-style approach to dining, bringing an exquisitely crafted open kitchen experience encompassing a variety of culinary traditions and cuisines
With five spectacular culinary hubs to choose from, guests can explore an array of mouth-watering delights on every visit. Embark on a culinary voyage at Nikkei House, where the harmonious fusion of Peruvian ingredients and Japanese cuisine yields an array of unforgettable dishes. Delight in the refreshing ceviche, vibrant poke bowls, tantalizing Oysters on stone, and a tempting assortment of Nikkei rolls with flavour combinations such as salmon, tempura prawn, and yuzu-infused cucumber. Diners can further step into the Steam Table, reminiscent of an Asian street-style market, and tuck into a tantalizing selection of noodles and dumplings brimming with bold flavours, crafted using authentic culinary techniques. As you savour the delectable Chicken char sui steam buns, flavourful dim sum, and comforting ramen, marvel at the captivating art installation by Yayoi Kusama featuring an oversized polka dot reminiscent of a rice wok.
Inspired by the bank vaults of Great Britain, Meat Vault provides a unique dining experience complete with a private dining area and television screens showcasing the captivating action unfolding in Garage's bustling kitchens. From the signature Carnivore doughnuts to the exceptional Rib eye steak and Slow-cooked BBQ short ribs, Meat Vault is a paradise for meat lovers.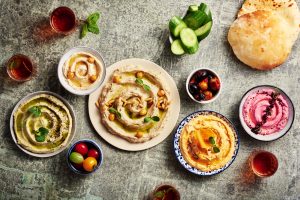 Indulge your taste buds with the delectable Levantine cuisine at Mezza Bar, a culinary gem inspired by the iconic La Maison Rose, a meticulously designed space featuring custom resin tables, stained glass window elements, and brick oven cladding reminiscent of the charmingly worn pink texture of Beirut's abandoned jewel. Discover the flavours of the Middle East with traditional delights such as Hummus, Fatoush, Tabbouleh, succulent Chicken shawarma rolls, flavourful Lamb tajine, and aromatic Chicken Machboos.
For the ones with a sweet tooth, Garage's Tart Van offers a delightful assortment of desserts and confections. This charming food truck, adorned with modernized Kufic calligraphy resembling intricate icing designs, serves a wide selection of sweet pies, accompanied by generous scoops of ice cream. Enhancing the Garage experience is the captivating Tap Wall, a beverage station boasting 11 taps that offer a variety of signature concoctions.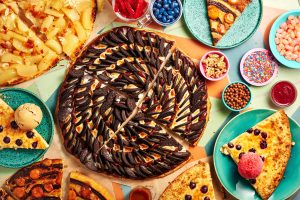 This summer, the venue presents an exhilarating Taste the Race experience inspired by the world's most renowned racetracks. Whether you're looking for lunch or dinner, choose from its delectable three-course menu or five-course tasting menu, paired with unlimited beverages. An extensive assortment of exceptional culinary dishes awaits featuring Tuna Japanese tataki, Coconut noodle laksa, Chicken shawarma, Lamb pita, Tex-Mex platters, Cobb salad, and plenty more.
When it comes to crafting unforgettable dining memories in the capital, Garage surpasses expectations, redefining the concept of an all-day dining restaurant. Immerse yourself in the welcoming atmosphere, stunning decor, and relish the thoughtfully curated à la carte menu, designed to cater to every palate.
Taste the Race experience until September 30. AED99 per person for a three-course menu. AED125 per person for a five-course tasting menu (Additional AED111 per person for unlimited beverages). Call +9712 656 0000. Visit website or Instagram.