Nestled within Riyadh's iconic Kingdom Center, Al Mamlaka Social Dining introduces a world-class dining hall concept that elevates traditional market hall dining with a touch of luxury, highlighting Saudi Arabia's innovative F&B scene.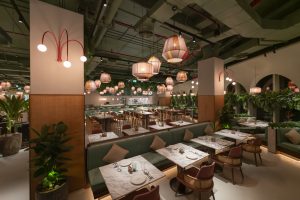 This culinary destination boasts a carefully curated selection of 21 kitchens, featuring a blend of local and international brands, organized across four distinct zones. The International Collection, Deli Collection, and Coffee & Bakery zones offer counter service and engage guests with open kitchens, including captivating features like a sushi counter and live pasta station. The fourth zone, The Destination Dining Collection, housing venues such as Lilly's Café and Assembly, requires prior reservations, while the Deli Dining, International Collection, and Coffee & Bakery zones welcome walk-ins.
Among the noteworthy local concepts are La Rustica, Rare Grill, PAO, Hanoverian, Nozomi Boutique, and Seray Bistro, complemented by pioneering international concepts like CARNEb and Assembly. Additionally, the Blended by Lyre's bar offers coffee and drinks throughout the day.
With its sophisticated design, featuring captivating views, natural hues, and abundant greenery, Al Mamlaka Social Dining reimagines the traditional market hall with an elegant rustic theme, offering a truly immersive and curated dining experience.
Visit website.