Looking for somewhere to enjoy traditional Christmas roast dinner, or perhaps something a little different this year? Here's our round-up of restaurants to dine at on December 25. Festive Gardens, Habtoor Palace, LXR Hotels & Resorts Escape to a wonderland of festivities, buzzing with dazzling décor and a large helping of holiday magic. Set amidst …

Continue reading "The 20 best Dubai restaurants to dine at on Christmas Day"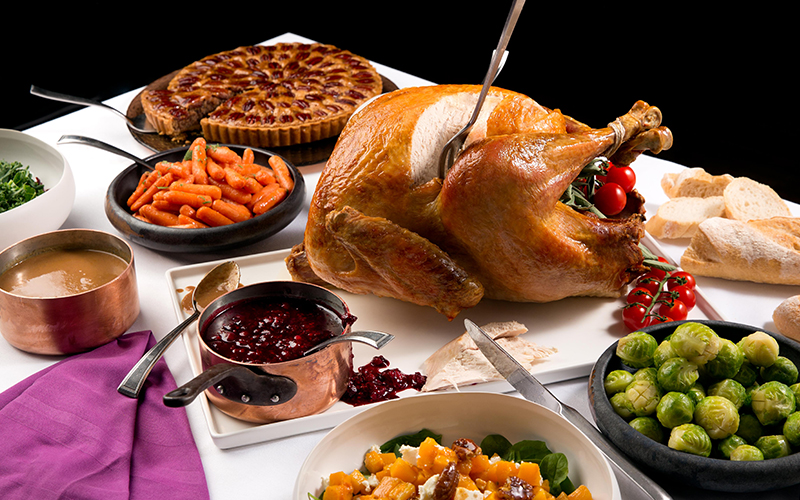 Looking for somewhere to enjoy traditional Christmas roast dinner, or perhaps something a little different this year? Here's our round-up of restaurants to dine at on December 25.
Festive Gardens, Habtoor Palace, LXR Hotels & Resorts
Escape to a wonderland of festivities, buzzing with dazzling décor and a large helping of holiday magic. Set amidst the Festive Gardens, savor a BBQ style brunch filled with seasonal favourites and signature specialties like an oyster and smoked salmon bar, a carving station and an extensive selection of desserts. From holiday-themed activities to a live band and an exciting kids' corner, Christmas Day plans are set. Brunch starts at 12.30pm till 3.30pm, with packages starting from Dhs495. Children 4 – 12 receive 50% off. Children below 4 are complimentary. Call 04 275 1542.
Ewaan, Palace Downtown
Mark the season of celebrations with a lively brunch experience at Ewaan. Set against a backdrop of regal arches, wooden trellises, luxurious drapery and stunning accessories, this restaurant will be the defining moment for a stunning day. Indulge in an exquisite gourmet brunch with traditional and contemporary cuisine, accompanied by fine beverages as you share the day with friends and family as a live band plays. Christmas day brunch takes place from 1pm to 4.30pm, with packages starting from Dhs570 with soft drinks. Call 04 428 7888.
Bleu Blanc by David Myers, Renaissance Downtown Hotel, Dubai
Guests looking for the ultimate foodie feast are in for a treat at the Christmas Day Brunch at Bleu Blanc. The French farmhouse-inspired restaurant is the ultimate picturesque place to celebrate the most joyous day of the year, with festive decorations and photo props as well as a wholesome feast for all guests. The appetising menu includes favourites such as Kelly oysters, grilled king prawns and whole roasted turkey with cranberry sauce. Taking place on December 25, from 12.30pm to 4pm, with packages starting from Dhs350 per person. Call 04 512 5533.
The Tap House, Club Vista Mare
Have yourself a very merry Christmas this year and celebrate Christmas Day at The Tap House! Feast on a delicious Christmas day brunch with friends and family, which offers everything from a traditional roast turkey with all of the trimmings, to Christmas pudding and of course, no Christmas meal would be complete without mince pies. Kids under the age of 12 will be able to eat for free and with plenty of festive entertainment including a magic show, face painting, gifts for the kids, live music and even a special appearance from Santa himself, it's the perfect place to spend Christmas Day with loved ones. Taking place from 12pm to 4pm, brunch packages start from Dhs225 per person. Call 04 514 3778 or visit thetaphouse.ae.
The Restaurant, Address Boulevard
Share the spirit of the festive season as you gather with friends and family in the vibrant setting of The Restaurant. Create splendid moments that will be cherished for a lifetime as you indulge in a sumptuous brunch with all the delicious trimmings complemented by traditional beverages. Live entertainment will set the celebratory spirit as you dine indoor or outdoor with Burj Khalifa views for added esteemed company. Taking place on Christmas day from 1pm to 5pm, brunch packages start from Dhs385 with soft beverages. Call +97148883444, e-mail dine@emaar.com or visit myfestivedubai.com.
Bubbalicious, The Westin Dubai Mina Seyahi
Arguably one of the best brunches in Dubai, offering more than ten live cooking stations across three of Dubai's best restaurants, Bubbalicious offers a festive day full of incredible food and entertainment. Spread across Blue Orange, Spice Thai Emporium and Hunters Room & Grill, brunch on Christmas day will take place from 1pm till 4pm, with prices starting from Dhs595 with soft drinks. For reservations, call +971 4 511 7373.
Galvin Bistrot & Bar, City Walk
This December, guests are invited to enjoy a wholesome three-course Christmas menu, highlighting Chef Luigi's signature festive specials. Offering delicious options from four mouthwatering starters, four main dishes and four desserts, Galvin Bistrot & Bar is the perfect place to enjoy a delicious Christmas dinner with family and friends alike. Highlights from the menu include a Marinated Scottish Salmon, served with fennel salad, avocado purée, truffle & yuzu dressing, alongside roasted turkey with all the trimmings, offering a rolled turkey breast stuffed with sage, chestnut and apricot and served with roast parsnips, gravy and a cranberry compote. Call 04 590 5444.
Café Belge, The Ritz Carlton DIFC
Join Café Belge on Christmas day from 12pm to 4 pm. The Ritz-Carlton, Dubai International Financial Centre has set the scene for a memorable festive day with different stations in true Belgian spirit featuring an abundance of food, drinks and live entertainment. For more information and reservations, call +971 4 372 2777.
Ruya, Grosvenor House
Guests are invited to spend the afternoon feasting on artistically prepared Anatolian cuisine in a lively and entertaining setting. Get in the holiday spirit with a carefully curated menu, start with house favourites including crisped simit coated baby squid, levrek and lahmacun filled with spicy lamb and vegetables. Choose between an array of dishes for the main, highlights include grain fed rib eye with asparagus and a fragrant antep pistachio butter, marinated baby chicken served with pastry wrapped rice pilav and Imam bayildi, a confit of eggplant, slow cooked onion and creamy feta. Indulge this Christmas Day with Ruya Dubai as they put up a joyous celebration with dazzling ambience, authentic cuisine and exciting live entertainment. Christmas Day Brunch takes place from 12.30pm until 3.30pm, with prices starting from Dhs299 for food and soft drinks. Call 04 399 9123.
Loca, Dubai and Abu Dhabi venues
Loca will kick off the Christmas season with a seven-hour party brunch on Friday 14th December, for Dhs285 per person from 12pm until 7pm. Festivities will include a Christmas themed menu designed by the talented Mexican Chef Juan Flores, featuring items sprinkled with heavy burst of flavours. The culinary adventure will begin with the side-table guacamole accompanied by crunchy tortillas chips, followed by mains such as the tasteful fajitas de pavo, tacos de carne cochida and much more.
Palermo, Dubai Polo & Equestrian Club
Join this family brunch buffet featuring international live cooking stations, live DJ entertainment and lots of activities for the little ones. Savour the traditional festive spread with all the trimmings as you watch the kids have fun with pony rides, the jolly old man's visit and plenty of gifts that will make this event truly unforgettable. On December 25 from 12.30pm to 3.30pm with prices starting from Dhs399 with soft drinks. For reservations, call +97143618111, e-mail info@poloclubdubai.com or visit myfestivedubai.com.
FireLake Grill House, Radisson Blu Hotel Dubai Waterfront
Kick-off your Christmas Day with a platter of Fin de Claire oysters, spiced shrimp, crab salad and mussels before moving on to the à la carte small plates. Just ensure you leave room for the mains, as you tuck in to a choice of either smoked turkey leg with celeriac remoulade and all the trimmings. For those that are craving a less traditional meal, you can choose from a range of meats slow-roasted and charred prime rib served with caramelized onion sauce to whole BBQ cod fillets with salsa and pickles. With Down Home taking the stage, you're guaranteed an authentically American Christmas atmosphere. Keep your eyes peeled, the North Pole has confirmed Santa is bringing a sack full of gifts and his naughty list! Prices start from Dhs250 with soft drinks. Dhs95 for children aged 6 to 12. Children under 6 eat free. Call 04 249 7800.
Festive Bazaar at Address Montgomerie
The festive season descends with the festive bazaar at The Academy at Address Montgomerie with uninterrupted views of the Marina skyline. Revel and indulge in the atmosphere of the festive season with stalls selling their traditional festive wares and carts with various food and beverage offerings. With festive carols, festive tree lighting, a ginger bread house, Santa grotto, various children activities all accompanied with a DJ and a band, the ambience is one of tradition, fun and festive indulgence. Taking place on December 14 from 12pm to 11pm.
Shakespeare & Co
Pre-order your holiday turkey dinner (48-hours' notice) from any of Shakespeare & Co's 36 locations in the UAE. The package includes roast turkey with chestnut and veal bacon stuffing, roasted herb potatoes, braised Brussel sprouts, sautéed winter vegetables, turkey sausage wrapped with veal bacon, traditional gravy and cranberry sauce. Prices start at AED 600 for 5.5kg, and AED 750 for 7.5kg. For deliveries, call 04 329 1040 or email catering@shakespeareandco.ae.
Basilico Restaurant, The Cove Rotana
Basilico Restaurant is offering guests a special treat on Christmas Day. Not only you will be able to enjoy the Gourmed Brunch with a Christmas twist; later on in the evening Basilico will also be serving a delicious Festive A la Carte menu.Not to mention the live entertainment, Santa and Elfie will be there, loaded with presents. With prices starting from Dhs199 for brunch from 12pm to 4pm, children below 6 years dine free of charge, while children 6 to 12 years receive 50% discount. Call 07 206 6000.
The Irish Village
Set in the spacious terrace, The Irish Village Christmas Day lunch is the perfect choice for families to enjoy great food in the sun. The traditional festive buffet is laden with Christmas specialities including a carvery, classic turkey with all the trimmings and live music to keep that festive spirit twinkling all day long. As the children have been so good this year, Santa will be dropping by on his rounds to give out presents. It will be a jolly Christmas Day lunch not to be missed! Christmas Day lunch will be served from 12pm-4pm and packages start from Dhs199 per person (food only), and Dhs99 per child below 12 years. Visit theirishvillage.com
Indie, DIFC
Celebrate the festive season at Indie DIFC with a delectable four-course festive roast menu, available from December 1 – 26. Indie DIFC provides the perfect location to sit back and relax whilst enjoying a tantalising selection of home-style dishes. Priced at Dhs299 per person, the festive roast menu includes tempting dishes such as warm beetroot and goat's cheese salad with caramelised walnuts or Scottish smoked salmon with lemon dill and light cream cheese to start. Before main course, enjoy homemade butternut squash and mascarpone ravioli in foie gras sauce, then opt for roast turkey breast or grilled beef with all the trimmings – there's also a beetroot risotto with light blue cheese sauce. For dessert, choose between a raspberry cheesecake or a molten chocolate fondant. Visit indiedifc.com.
The Avenues, Atlantis, The Palm
Following the success of previous editions, Cirque de Cuisine will kick off Atlantis, The Palm's festive season with a Winter Wonderland theme. Taking place in The Avenues on December 6, Cirque de Cuisine allows diners to wander from restaurant to restaurant, enjoying signature dishes, live cooking stations, extravagant buffets, delicious drinks and live entertainment. This gives culinary aficionados a great opportunity to explore and discover some of the worlds' top restaurants including Nobu by Nobu Matsuhisa, Gordon Ramsay's Bread Street Kitchen & Bar, Gregoire Berger's award-winning underwater restaurant Ossiano, Ronda Locatelli by Giorgio Locatelli and the recently opened Michelin star Cantonese restaurant brand, Hakkasan. All signature restaurants are open exclusively for Cirque De Cuisine ticketholders and the venues are located in a two-minute proximity of one another, giving guests the freedom to roam and sit freely in any of the participating restaurants moving from one to the next at leisure. For reservations, call +971 4 426 2626 or e-mail restaurantreservations@atlantisthepalm.com.
DUKES Dubai
Take the stress of hosting on Christmas Day and gather your nearest and dearest for a celebration to remember at DUKES Dubai. For the party animals among you, the Christmas Day Brunch at Great British Restaurant is the only place to be with packages starting from Dhs310 from 1pm to 4pm. If you prefer to enjoy a relaxing day at home around the tree before heading out for an evening of festivities, Khyber and West 14th boast a 3-course set menu with unbeatable views of the Dubai Marina skyline, priced at Dhs185, from 6pm till 11pm. For reservations, call 04-551101 or e-mail dining.dubai@dukeshotel.com.
Chival, La Ville
Take a break from the kitchen this holiday season and let Chival take care of your family's dinner plans. Head to Chival for an a la carte, traditional, Festive Feast in a dreamy social garden setting with friends and family, because nothing brings people together quite like a delicious meal does – available on December 24 and 25. Call 04 403 3111.
If you would rather stay at home this Christmas, check out our round-up of tasty takeaway turkey options available in the UAE.