Sponsored: Celebrate this Christmas and New Year at Waldorf Astoria DIFC with a range of dining experiences
During this festive period, the luxury hotel invites you to enhance your holiday celebrations with thoughtfully curated experiences that incorporate a touch of New York's elegance.
Thanksgiving
The festivities commence on November 23rd with a lavish Thanksgiving dinner at Bull & Bear, featuring a three-course turkey dinner featuring slow-roasted turkey accompanied by traditional accompaniments such as homestyle stuffing, creamy sweet potato mash, and delectable turkey gravy, accompanied by sweet cranberry sauce. Conclude the evening on a sweet note with colossal pecan pie.
Christmas Eve
On the evening of December 24th, join your loved ones for "A Night Before Christmas" at Bull & Bear, where you can relish a customised festive menu. The Christmas Eve celebration features live entertainment, enchanting holiday decor, a vibrant atmosphere, and a sumptuous three-course menu featuring an Oyster bar, Cheese trolley, Mulled grape, Egg nog, and plenty more.
Christmas Day
Experience an extravagant Christmas brunch at Bull & Bear on December 23rd and 24th, featuring premium dishes, live entertainment by a singer, trumpeter, and resident DJ, along with unlimited beverages.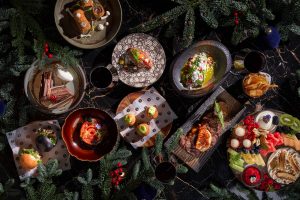 Indulge in a sweet and savoury Christmas Afternoon Tea at Peacock Alley from December 3rd to 23rd, complete with welcoming mocktails, non-alcoholic eggnog, homemade hot chocolate, and a complimentary Christmas gift.
During the same period, you can enjoy the ultimate luxury with Caviar Tasting, including two 30-gram selections, 24-carat gold Blinis toast, and liquid caviar, and elevate your indulgence further with a Premium Tasting Flight. Don't miss the Valrhona hot chocolate & marshmallow trolley in Peacock Alley.
New Year
Welcome the New Year on December 31st with a throwback to the glitz and glamour of Studio 54 as Waldorf Astoria DIFC hosts a New Year's Eve Party at Bull & Bear. Get ready for a night filled with disco beats, dazzling lights, and all the iconic extravagance of the '70s.
Lastly, on December 31st, embrace the New Year in style with the St. Trop New Year's Eve Party, featuring an evening brimming with entertainment, a DJ, a drummer, and the mesmerizing spectacle of Burj Khalifa's fireworks.
Call +971 58 600 6776 or email bullandbear@waldorfastoria.com. Visit website.