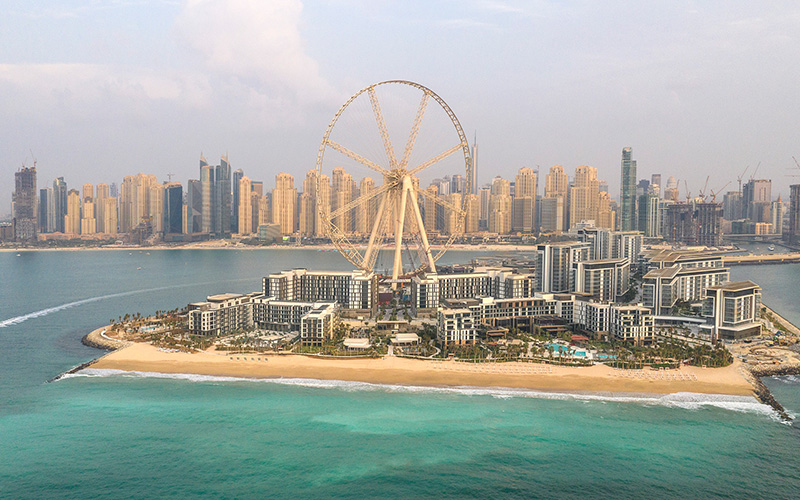 Since Ain Dubai, the world's largest observation wheel, first made its appearance off the coast of Dubai Marina, it has captured the imagination of the city. Making its presence felt, this new landmark-in-the-making has drawn attention to Bluewaters, the island destination by Meraas that has now opened its doors to visitors.
Channelling a distinct vibe that blends island calm with urban buzz, Bluewaters boasts residential, hospitality and lifestyle and leisure and entertainment spaces set to offer new vantage points and a stunning addition to Dubai's skyline.
The Wharf, Bluewaters' lifestyle retail area set against the backdrop of Ain Dubai, will have 132 retail and dining outlets dotted across the boulevard in low-rise structures. Walkways crisscross the district, shaded by trees, palms and visually striking light features.
Food and beverage at The Wharf range from licensed fine-dining concepts at the waterfront to quirky eateries, and an eclectic mix of cafés, restaurants and intimate bistros that serve a wide range of global cuisines. Guests will be able to soak up stunning views of the Arabian Gulf while indulging in an impressive array of global cuisines for breakfast, lunch and dinner. More concepts and stores will be opening gradually over the coming couple of months.
Central Avenue borders the landside of The Wharf, while North Walk and Wharf Avenue edge the waterfront, circling Ain Dubai Plaza beneath the observation wheel. A 265-metre pedestrian bridge, The Wharf Link, connects this area to The Beach on the coast of mainland Dubai. Bluewaters Wharf Station will serve as a dock for water transport.
Meraas aims to pull out all stops to deliver Bluewaters' unique promise of an island luxe vibe, with unparalleled experiences brought to the region for the first time at the Caesars Palace Bluewaters Dubai, The Residences at Caesars Palace Bluewaters Dubai and Caesars Resort Bluewaters Dubai. These five-star accommodations comprising 495 luxury rooms and 80 serviced apartments will be flanked by a 500-seat theatre, The Rotunda, at one end and a state-of-the-art conference centre, Caesars FORUM, at the other. Complementing the glamorous hospitality offerings will be Cove Beach Dubai, a stunning private beach club.
For visitors keen to get up-close to Ain Dubai and marvel at the spectacular engineering feat that forms the destination's centrepiece, Bluewaters will provide access to awe-inspiring sights at its base. At 250 metres, it is taller than the 167-metre High Roller in Las Vegas and the 190-metre New York Wheel planned for Staten Island. Ain Dubai will carry up to 1,400 passengers at a time in its 48 double-glazed capsules, offering unforgettable 360-degree views of Dubai. Each leg of the observation wheel stands at a height of 126 metres and is long enough to fit 15 London buses.
Details: Bluewaters is right across Jumeirah Beach Residences and a 20-minute drive from City Walk. For more details, visit the website.