Home to 20 bars, three restaurants and a beach club, the much-awaited social and dining destination is finally opening its' doors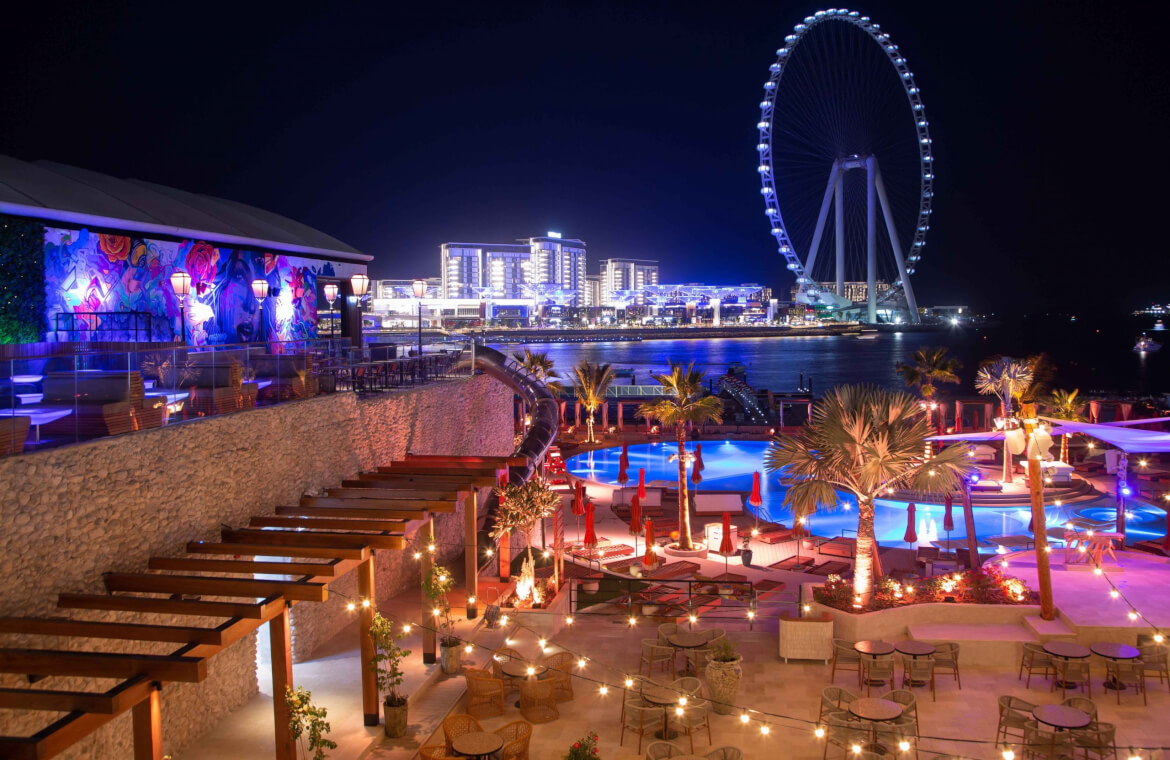 Bla Bla Beach Club is that massive a destination, that it will be opened in two phases this month, with the first launch taking place this Thursday.
Set to revolutionise Dubai's social scene, Bla Bla will cater to all.  Whether you're in the mood to get all dressed up for a night out with friends, or looking to grab a casual beverage in flip flops on the beach, this spot to see and be seen at has something for everyone.
The Terrace
Set along a terrace of almost 100,000sqft., you can find stunning themed bars that overlook the Gulf Sea and Dubai Eye. The LightBox Bar offers twenty uniquely crafted beverages; the Tag Bar mimics New York streets with graffiti, street lamps, uninterrupted views of the Dubai Eye, and get this, a slide that leads straight to the bathroom. For sharing-style beverages, walk over to Lounge Bar.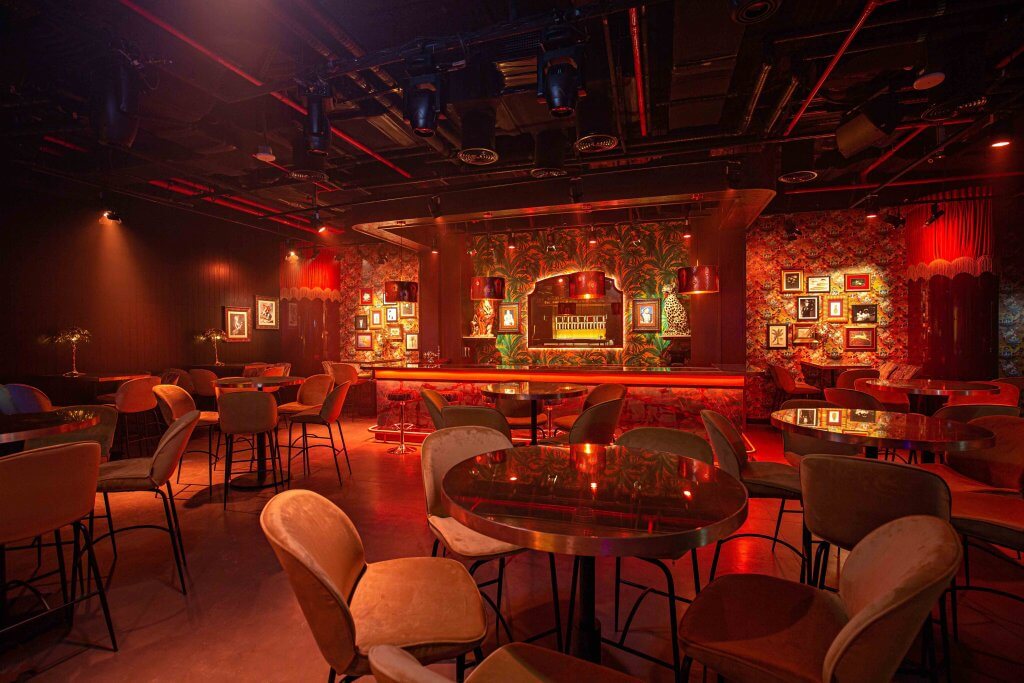 Entering the venue, on the first floor is the Record bar with old vinyl and retro feels; and a traditional Irish tavern with a cosy sports vibe. Hidden away from sight, in an upstairs secret room, are three more bars. The Japanese Bar 'Konpa' (which translates to 'a traditional Japanese gathering') has an Instagram-worthy light-up floor; The Hollywood Bar showcases a special movie star menu, and The Maximalist Bar is just that, the opposite of minimalist with an out-of-the-box menu.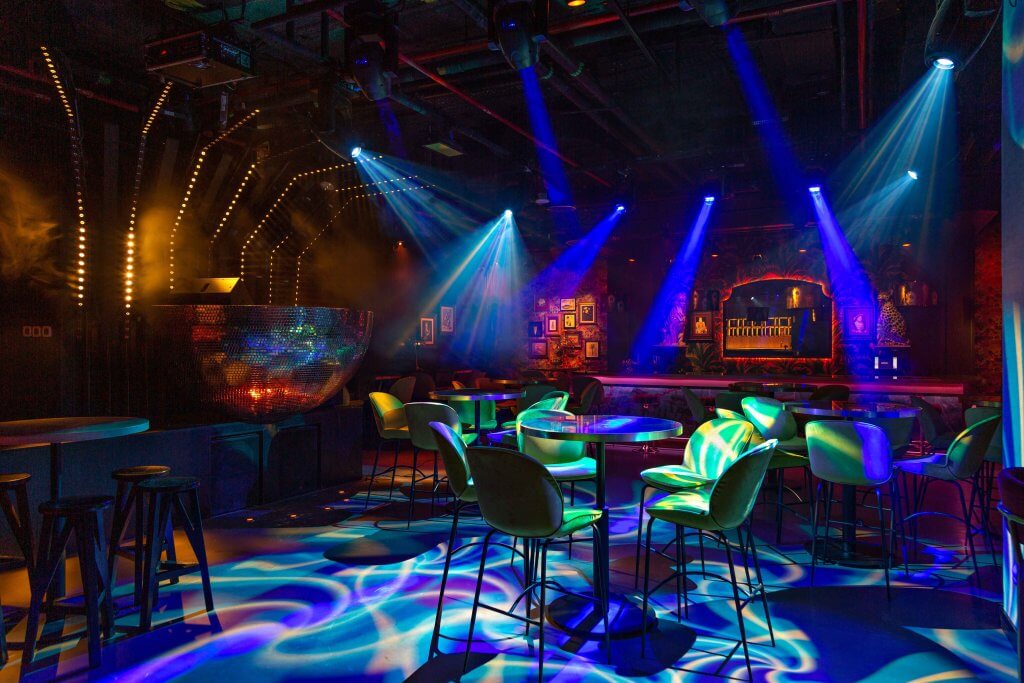 Looking to unwind? Make your way down to The Beach Bar for sundowners, designed to make you feel like you're in Bali. In that same area, you will also find The Pool Bar.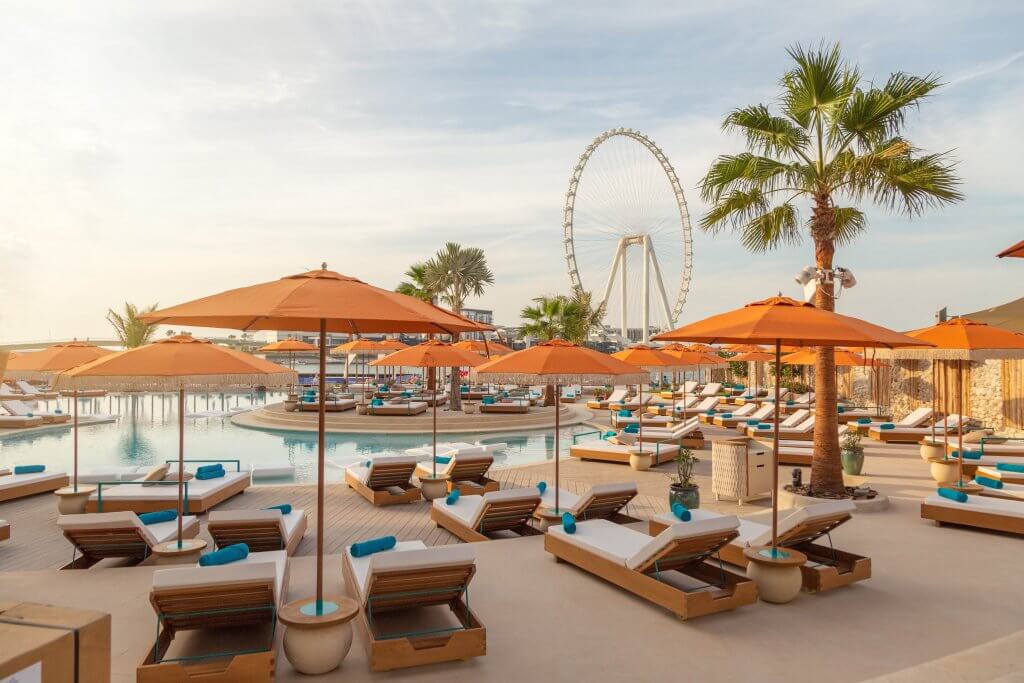 Next up is the day-to-night Beach Club, which promises Ibiza-like vibes with live entertainment and a ladies' day too.
One might mistake Bla Bla to be solely a nightlife venue, but it's much more than that. Bla Bla Beach Club's culinary credentials stand out thanks to Executive Chef Mohammad Islam, who developed his career in the kitchens of prestigious restaurants including The Dining Room at The Ritz Carlton in Chicago.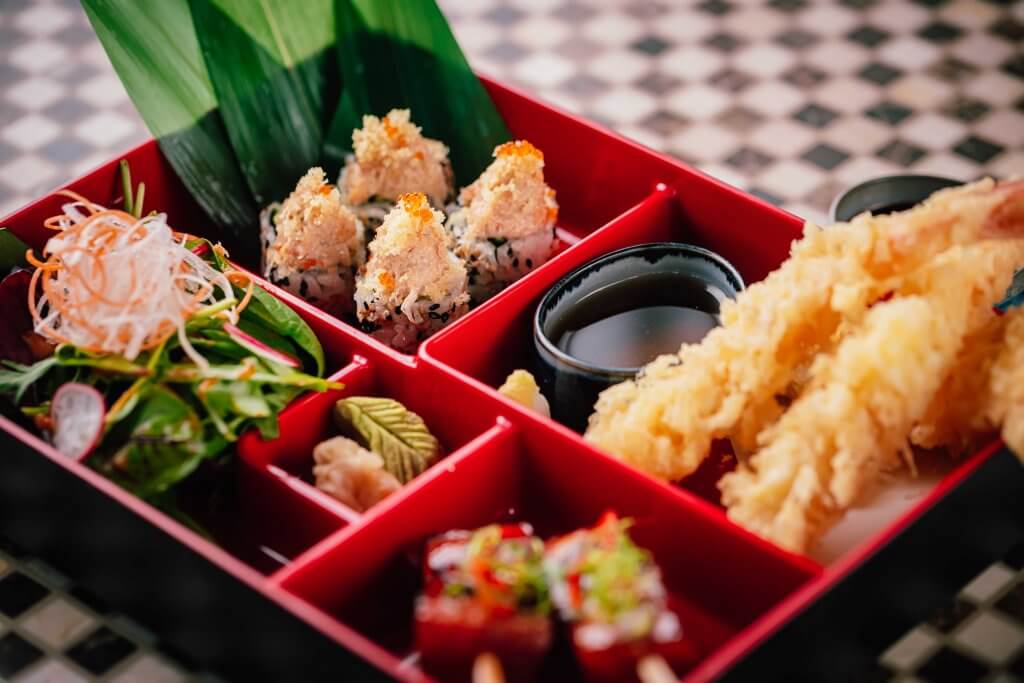 The restaurants at Bla Bla are Onda, an Italian place with a contemporary twist; and Nami, where you will find everything from sushi to sashimi, freshly prepared dumplings and robatayaki.  Fun fact, both Onda and Nami translate to 'wave' in Italian and Japanese. Those who prefer BBQ can visit the Texas-style Smokehouse to grab a brisket, burger or fries.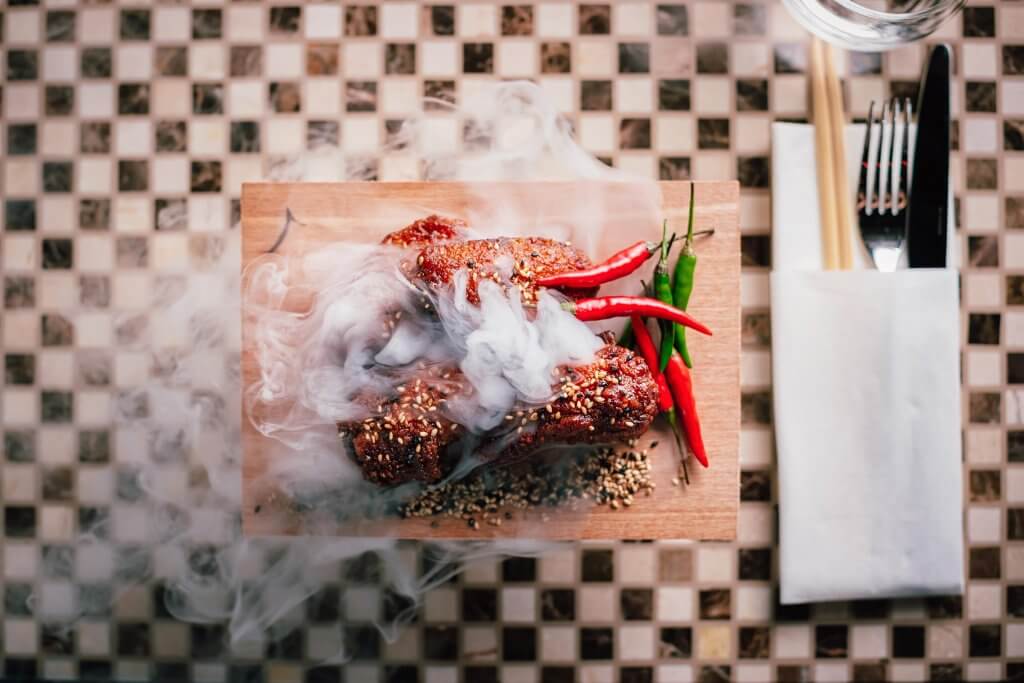 The Tent
The spectacular 22,000sqft tent houses nine incredible and unique bars, each boasting a distinctive theme and style.
Every single pocket of fun will have a special beverage menu based on the theme of the bar, as well as an extensive snack bar menu featuring casual classics like nachos, pizzas, sliders and chicken wings.
The themed bars housed within this enormous tent include The Garrison, a classic English pub from the early 20th century with a secret nook; The Bronx, which is a New York inspired urban space with graffiti adorned walls; The Hydro Bar with a jaw dropping interactive bubble centre piece; The Shaka Bar which is a Hawaiian surf bar with Hawaiian-style beverages and tiki punch; and The Mexican Bar which is the perfect fun and vibrant spot for a catch up with friends.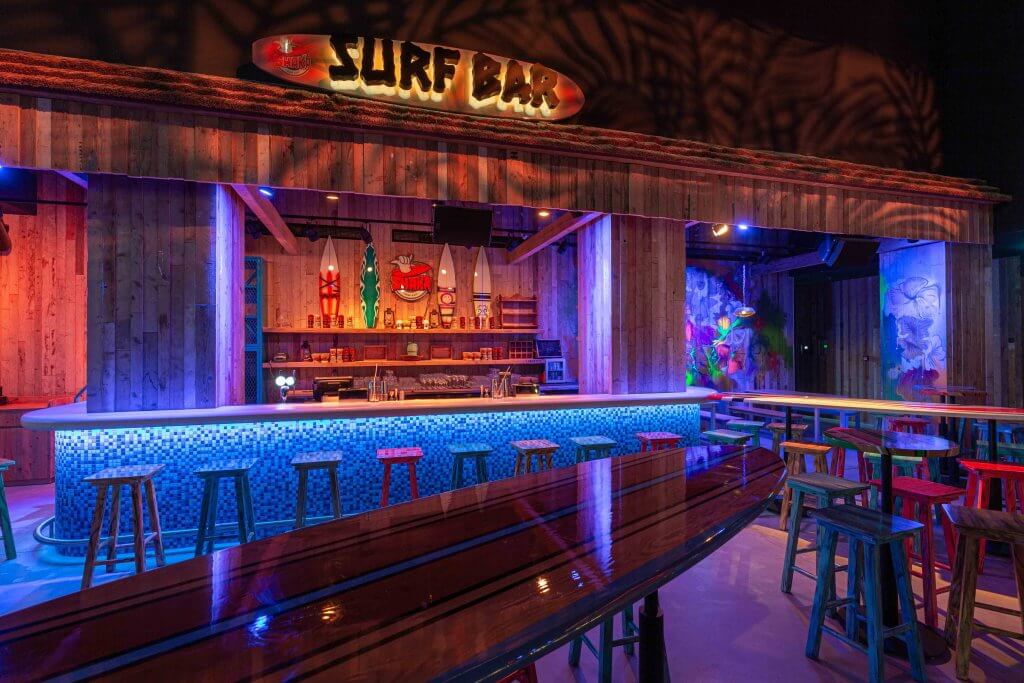 For a romantic vibe, head over to The Butterfly Bar, with over 4,000 breathtakingly beautiful butterflies floating overhead. After that, visit The Bubbles Bar with speciality bubbly to be enjoyed in a red velvet lounge; and the Agate Bar with innovative, moving ceiling decorations.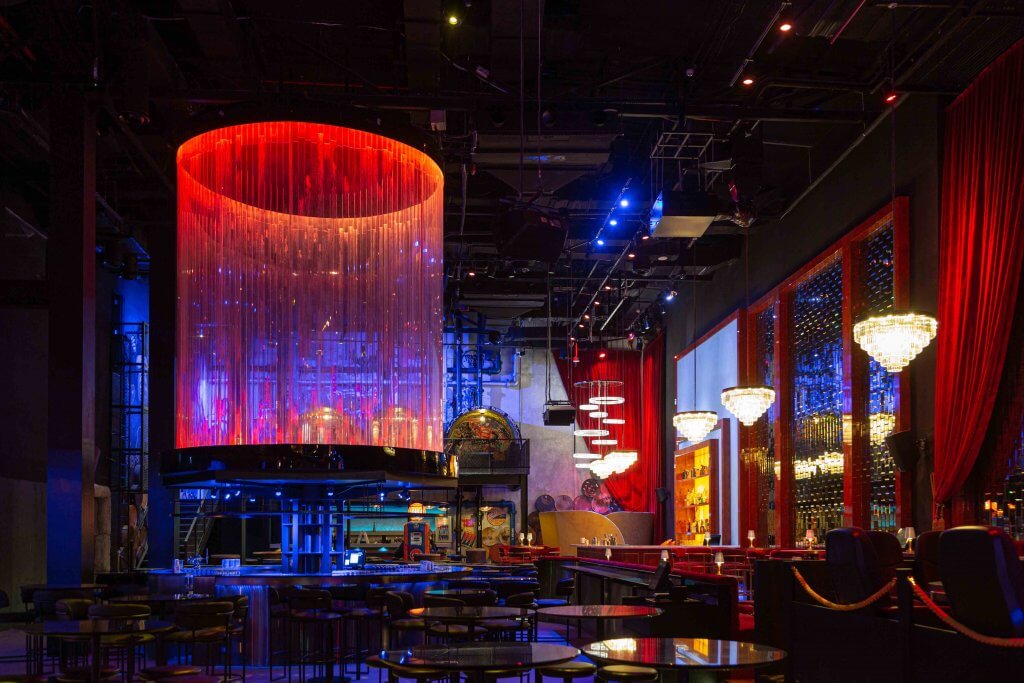 Finally, there is The Stage, which is a central bar where the magic of entertainment happens with the live in-house band 'About Last Night'.
At the moment and in celebration of its launch, Bla Bla Beach Club has introduced Happy Hour deals across its terrace and tent, perfect for that sundowner or late night gathering with friends.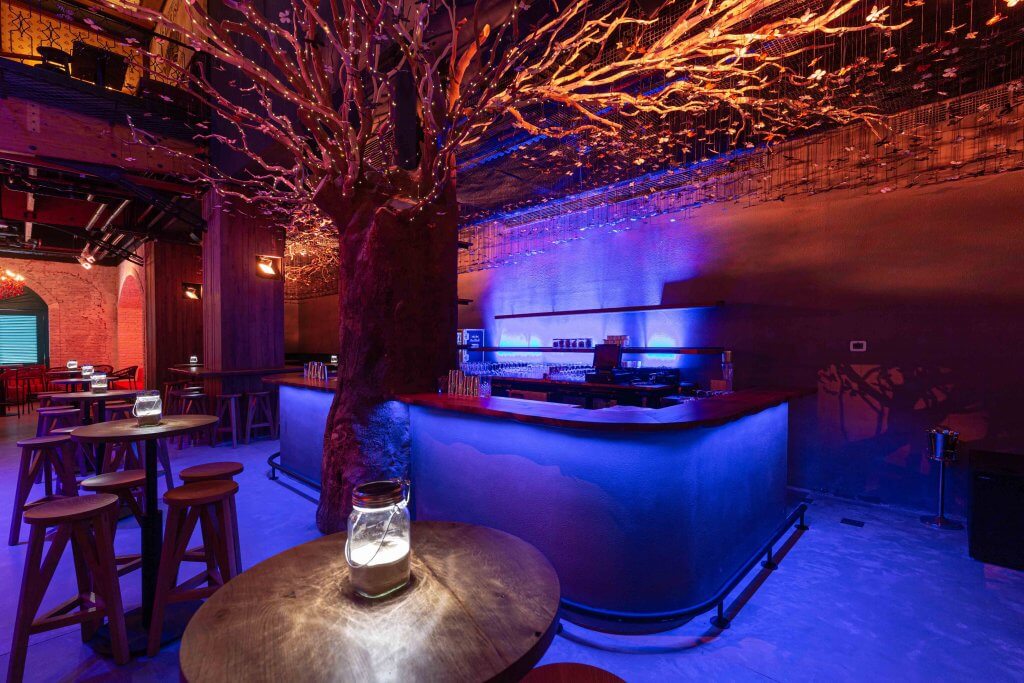 More information on Bla Bla Beach Club's weekly ladies' day-to-night offer, as well as its weekly brunch in the upcoming weeks, so stay tuned!
At The Beach, opposite JBR. The terrace is open daily from 8-2am (until 3am on weekends). The tent is open from 6pm-2am (Sunday-Thursday) and 4pm-3am (Friday-Saturday). Pool closes at 6pm. For bookings, call +97158 606 3535.
Happy Hour will take place on the Terrace from 4-6pm and in the Tent from 6-8pm (Sunday-Monday and Wednesday-Thursday).
Live entertainment only after regulations are lifted.