Sponsored: In celebration of USA's National Dessert Day, top restaurant-quality ingredients supplier Chef ME at Home and their in-house Pastry Chef Amine Hmani have created a Gourmet Chocolate Cake recipe for you to try, using only the best ingredients
Chef ME at Home is your one-stop solution from Chef Middle East, for the finest restaurant-quality produce you could have in your kitchen. Delivered right to your doorstep, the brand boasts an impressive inventory of over 1,000 products sourced from all over the world on their website.
You can also expect to find specialty ingredients at wholesale prices, something you wouldn't usually come across at most grocers. With Chef ME at Home, you and your loved ones can enjoy fresh, premium ingredients at your next celebration or party.
For four weeks only, you can now avail a special discount when shopping exclusively on Chef ME at Home. All you have to do is, shop for your favourite ingredients and enter the code GOODFOODCHEF at checkout for a cool 15 per cent discount on your order.
Read on for the Gourmet Chocolate Cake recipe.
To offer you a glimpse into the brand, Chef ME at Home has teamed up with their very own, in-house Pastry Chef Amine Hmani, to put together the perfect indulgent Gourmet Chocolate Cake. Amine Hmani is a talented pâtissier who has worked in some of the best pastry kitchens in the world, carrying with him a wealth of experience in the art of pastry making.
"I love working with these ingredients; before working with Chef Middle East I would have used most of these items in my time working in 5 Star Luxury Hotels and even as far back as when I kickstarted my culinary journey at culinary school. These ingredients are perfect to use for people who are looking to step into the culinary world, or who are looking to step up a notch their culinary skills," Chef Amine Hmani
Gourmet Chocolate Cake
Prep: 2 hrs, Cook: 35-40 mins, Serves 6-10, More effort 
Ingredients
For the Gourmet Chocolate Cake base
85g almond paste
150g milk chocolate Feves Caramelia 36%
For the whipped cream
12.5g glucose syrup
75g chocolate Feves Guanaja 70%
25g chocolate Feves Andoa Lactée 39%
For the gourmand glaze
250g chocolate Feves Guanaja 70%
75g roasted crushed almonds
Chef Amine offers a baking tip before you get started, "For the best recipes, you need the best ingredients, but most importantly you always bake with love – this is my secret ingredient in all my creations."
Method
Gourmet Chocolate Cake base
Place the raw almond paste in the bowl of the mixer and break it up into small pieces. Add powdered caster sugar (70g) over and with the leaf attachment of the mixer, mix the two ingredients to a smooth paste.
Gradually add egg yolk to thin it out. When the mixture appears blanched, add the remaining egg yolks and whole eggs. Stop the mixer when the blend is creamy and homogeneous.
Whip the egg whites with the remaining caster sugar until stiff. While the whites are rising, sift the flour and cocoa powder on a sheet of baking paper.
At this stage of the recipe, you will have two preparations: the egg whites whisked tightly with the sugar; and the almond paste beaten with the sugar and eggs.
Gently mix the two preparations together by rotating the spatula so as to not break consistency. Mix the sifted flour and cocoa powder together and then gradually add it to the rest of the chocolate cake base.
When the mixture is almost harmonised, take a small ladle of chocolate cake base and mix it with the cooled melted butter. Add this premix to the rest of the chocolate cake base. This premix is required to avoid submerging the preparation, so that it becomes liquid, as this would result in a hard, dry cake. Put this cake dough in a pastry bag.
Garnish the bottom of a 29cm (W) x 4.5cm (L) x 5cm (H) cake mould with the base of the cake. Add pieces of the chocolate Feves Caramelia 36 per cent over. You need about 35g of Feves Caramelia 36 per cent per cake. Cover the top with the mixture.
Bake at 160C for 35 to 40 minutes. At the end of cooking, remove from the oven and cover with baking paper to flatten the surface of the still hot cakes, letting them slowly cool down.
Whipped cream
Pour the whipped cream and the glucose syrup into a saucepan, gently heating through. We use glucose syrup as it has the effect of bringing suppleness to the whipped cream. As soon as it boils, remove the pan from the heat and let it cool slightly at 80C.
Pour the cream over the chocolate Feves Guanaja 70 per cent and the chocolate Feves Andoa Lactée 39 per cent so that they are completely immersed in the liquid; and then mix gently with a whisk until a homogeneous preparation is obtained.
Finally, leave to rest in a cool place, covered, for 4 to 5 hours minimum.
Gourmand glaze
Gently melt the chocolate Feves Guanaja 70 per cent; and then add in the grapeseed oil and roasted crushed almonds.
Glaze the cooled down cakes with this coating preparation and decorate with whipped cream.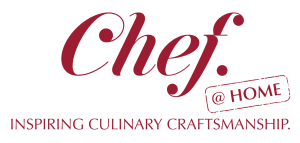 Similar to the restaurant-quality pastry ingredients featured in the Gourmet Chocolate Cake recipe, Chef ME at Home has a selection of epicurean flavours that are exclusive to the brand's online store.
From premium meat, poultry, seafood, dairy and plant-based items such as Wagyu beef cuts, duck liver, bacalhau (dried salted fish) and vegan bites; to exotic Asian ingredients, European foods, pantry essentials, baked goods and beverages, Chef ME at Home will have you spoilt for choice.
Chef Middle East has been a leading food and beverage distributor and hotel supplier in the Middle East for over 25 years. With a client list including five-star hotels and fine-dining restaurants such as The Ritz Carlton, Burj Al Arab, Zuma and CÉ LA VI Dubai, with Chef ME at Home you can bring this fine gastronomic experience to your dining table.
View this post on Instagram
Shop online, with delivery offered across seven emirates, seven days a week (for orders in Dubai). View more recipes here and on Instagram.