Atlantis, The Palm's Atlas Project pioneers a new organic, sustainable and environmentally-friendly way of dining out
Atlantis, The Palm's recently-launched, trailblazing initiative, Atlantis Atlas Project, promises a long-term sustainability drive at a resort-wide level. Diners can enjoy environmentally-friendly menu items from eight restaurants including Bread Street Kitchen & Bar, Hakkasan, Seafire Restaurant & Bar, Ronda Locatelli, Nobu, Wavehouse, WHITE Restaurant and The Shore.
This exciting new step focuses on celebrating local businesses and producers, while driving and growing sustainable action in the region, and reducing the brand's overall carbon footprint. Atlantis, The Palm's culinary team has joined forces with UAE-based farmers, businesses and accredited suppliers to create sustainable dishes featuring the freshest locally-sourced, seasonal and organic ingredients.
Bread Street Kitchen & Bar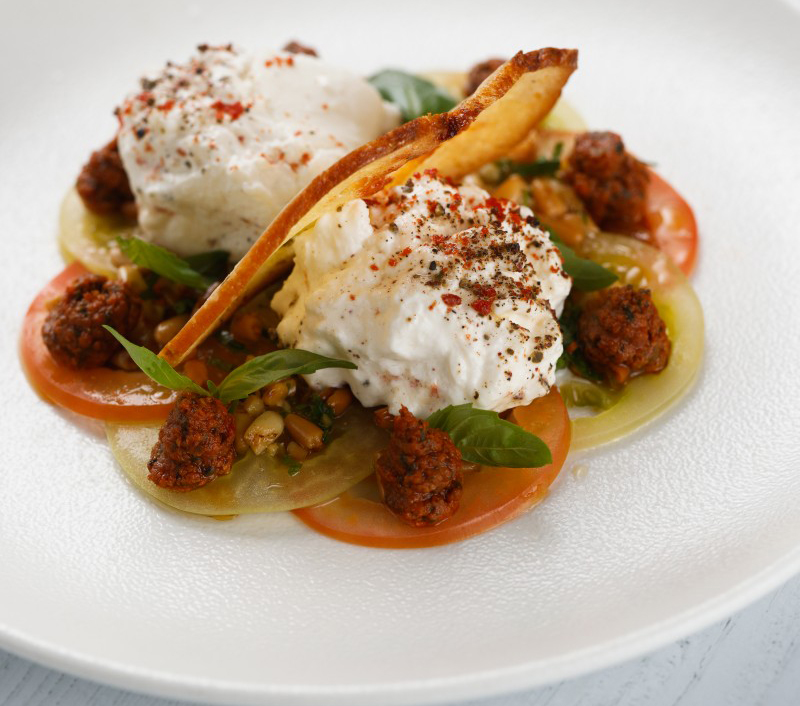 At Gordon Ramsay's popular Bread Street Kitchen restaurant, new-to-the-menu sustainable dishes include a classic locally-produced burrata with sweet, organic tomatoes, sundried tomato pesto and freshly baked focaccia. The superfood salad on the other hand, offers a taste of the region's best, showcasing kale from Dubai-based Uns Farm, alongside fresh cabbage and fennel. For mains, diners can tuck into a delish organically-certified and locally-farmed sea bream with roasted seasonal vegetables, brown shrimps and garlic-butter sauce or a sumptuous rigatoni with seasonal local organic mushrooms with pecorino and truffle.
Nobu
The chefs at Nobu have worked their innovative culinary magic and the sustainable menu reads (and tastes) like a dream. Locally grown shiitake mushrooms have been incorporated into not just one but two sumptuous dishes; diners can enjoy a new take on Nobu's mushroom salad featuring crispy shiitakes in an umami-rich goma truffle dressing, as well as a seared scallop with yuzu and mushrooms. For something a little different, the sustainably-farmed organic sea bream with coriander dressing is guaranteed to please, as is the ceviche of local sea bass with coconut.
Seafire Steakhouse & Bar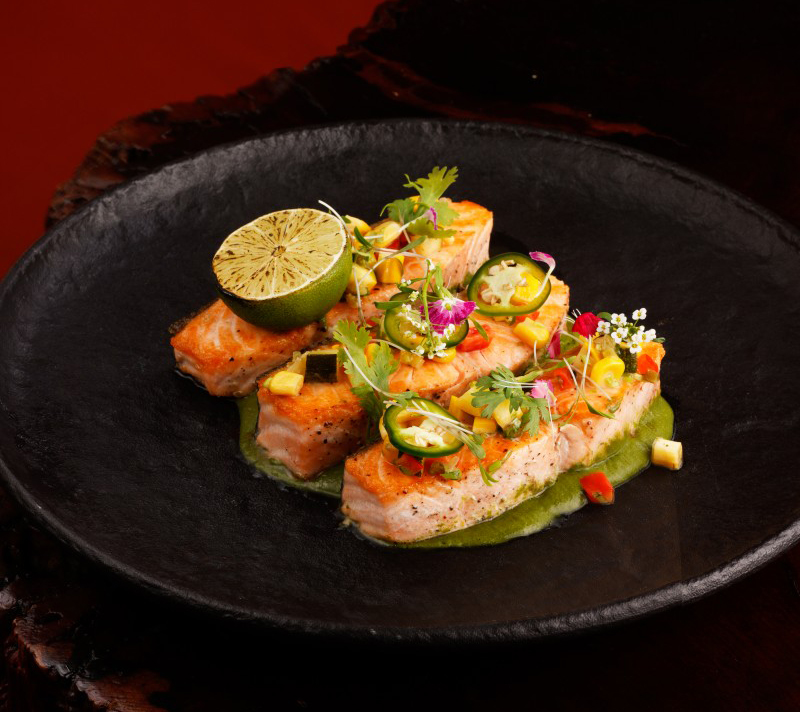 The sustainable section of the menu at Seafire offers an ode to local ingredients, regional flavours and responsibly sourced produce. Must-try dishes include the organic beetroot cured salmon carpaccio, featuring a jus made from UAE-based Green Fields Farms' cucumbers alongside Uns Farms' signature mixed leaves, sustainable salmon and crisp Arabic bread. Adding to that, a mushroom risotto created with a selection of handpicked mushrooms and finished with crispy parmesan poppers and a decadent truffle cream might just be the ultimate, luxurious comfort food. The catch of the day option gives guests the opportunity to sample the fresh certified organic, locally farmed fish available, served with corn salsa, spinach purée and grilled lime.
Wavehouse
New menu offerings at Wavehouse include moreish, sticky free-range chicken wings doused in an aji amarillo and mango sauce; a tomato salad bringing together four types of juicy local tomatoes, pickled shallots and sweet, organic melon; and an earthy local beetroot salad with creamy ricotta, pistachios and balsamic vinegar.
Hakkasan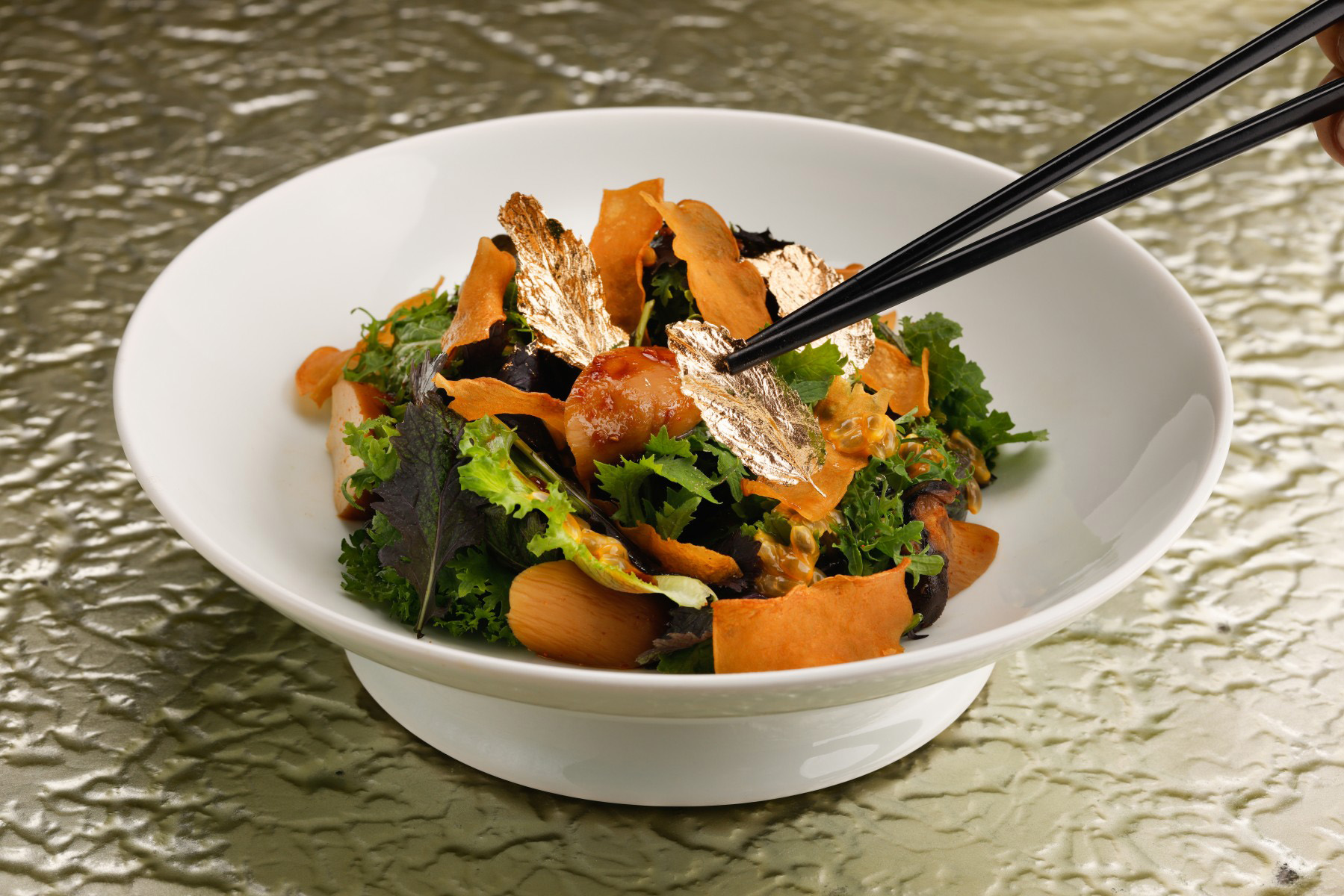 At Hakkasan, the internationally-loved dim sum selection has been given a local makeover, with the popular glazed golden puffs filled with a mix made from chestnut mushrooms grown and hand-picked in the UAE. Further regionally-focused additions to the menu are planned for later on in the year.
The Shore
Packing in all the flavour, texture and colour expected at a popular taqueria, the Mexican salad at The Shore makes a star of Uns Farms' mesclun mix, pairing the salad with black beans, Hass avocados and creamy Oaxaca cheese. The organic hammour ceviche is thinly sliced and finished with lime, coriander cress, jalapeño and black truffle; while the local fish tacos 'baja style' features fresh corn tortillas filled with organic sea bream, cabbage slaw, tamarind sauce and chipotle mayo for a tangy, spicy sensation.
WHITE Restaurant
Sustainable choices at WHITE Restaurant are as chic, contemporary and inviting as the stunning Mediterranean-inspired spot itself. Nibble away at a flavourful organic hamachi, mangosteen and jalapeño dish or enjoy an Uns Farms' fresh salad featuring organic mixed leaves, local heirloom tomatoes, edamame beans and radish. The substantial organic local mushroom cannelloni is made with UAE-grown portobello, chestnut, button and oyster mushrooms and finished Dubai-style with a foie gras and truffle emulsion.
Ronda Locatelli
Fusing Italian flavours and cooking techniques with fresh, local ingredients, new additions to the menu include pizza fritta di grano saraceno, a traditional buckwheat fried pizza topped with delicate, marinated local sea bass, sliced potatoes and parsley cream; while the fettucine e funghi misti is taken to the next level thanks to a selection of local, handpicked mushrooms. The orata all'acqua pazza is a lesson in fresh, seasonal ingredients cooked with finesse – think sustainably sourced organic sea bream, sweet locally-grown candy tomatoes and fragrant basil. Turning to dessert, the panna cotta al melone, made with locally grown melons, is the perfect end to your meal.
Visit the website or call + 9714 426 2626. Visit Atlantis The Palm, Bread Street Kitchen & Bar, Hakkasan, Seafire Steakhouse & Bar, Nobu, Wavehouse, WHITE Restaurant and Ronda Locatelli.