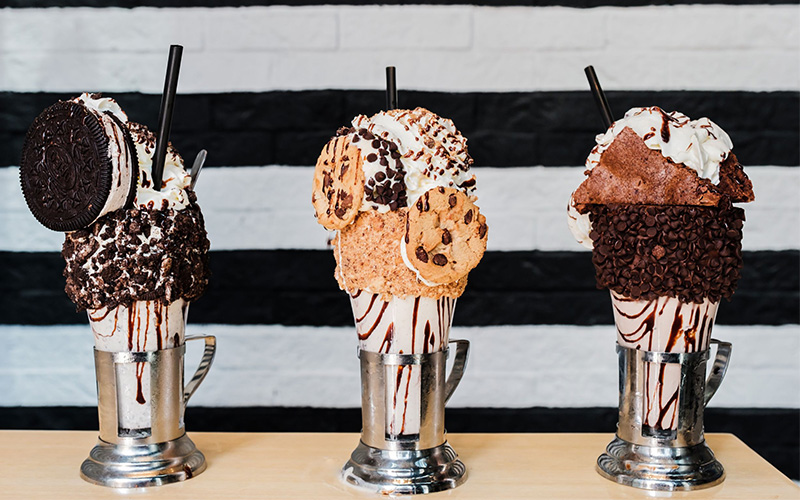 If you're visiting the capital this month, be sure to check out some of these delicious dining deals on offer in Abu Dhabi throughout August.
Black Tap, Yas Mall
Black Tap, the New York-based burger joint known for its signature craft burgers and Instagrammable milkshakes, will open its first Abu Dhabi-based restaurant this month at Yas Mall. Like existing UAE outposts in Dubai's Jumeirah Al Naseem and Rixos Premium Dubai, Back Tap at Yas Mall will serve favourites like the 'Greg Norman burger' with wagyu beef and blue cheese, the classic 'all-American burger' and the 'all-natural Californian' with turkey, avocado, Swiss cheese and truffle mayo. Vegetarians fear not, as the regionally-inspired Falafel Burger is on the menu, as is the popular Vegan Burger, crafted from a black bean patty, pickled onions, salsa verde, cilantro and vegan mayo.
"Black Tap takes the classic American luncheonette, and puts our spin on it, with high quality ingredients, 90s hip hop pumping through the speakers, and a one-of-a-kind atmosphere," says Black Tap owner and famed chef Joe Isidori.
Details: Visit blacktapme.com for more information.
Sho Cho Abu Dhabi, Souk Qaryat Al Beri
Over the summer months, Japanese eatery Sho Cho Abu Dhabi is offering 25% discount on the total bill until September. Located at Souk Qaryat Al Beri, the venue offers views overlooking the Arabian waters and the iconic Sheikh Zayed Grand Mosque. The outlet makes for the perfect spot to unwind with delicious food and sundowners prepared by mixologists, as in-house DJs play the latest music. If you're Etihad crew or a teacher, you'll receive 30% off the total bill.
Details: To make a reservation, call +971 2 558 1117 or e-mail abudhabi@sho-cho.com.
Fairways, Westin Abu Dhabi
Bubbalicious Brunch is back at the Westin Abu Dhabi every Friday from 12.30pm to 4pm. The multi-cuisine brunch features live cooking stations, a new mixologist station, upbeat entertain and free-flowing beverages overlooking the golf course. Priced at AED 348 with soft beverages, AED 426 with house and sparkling, AED 618 with house beverages and French bubbly, and AED 174 per child with soft drinks.
Details: Call 02-6169999 to book your spot now.
Jazz Bar & Dining, Hilton Abu Dhabi
For those who love to listen to live music while they eat, Jazz Bar & Dining has welcomed new band, Blakk Velvet to its stage. Made up on five multi-talented musicians from South Africa, the band has a versatile, growing repertoire of about 300 songs that cover 70s, 80s, classics, RnB, pop, jazz, reggae and dance music. Female vocalist Mbali Siluma guarantees a powerful performance for four hours, six days a week, with Unarine Adoria supporting her on vocals and keyboards. Obakeng Glory joins them on the drums, while Shadrack Fana brings the heart to the performance with his skills on the saxophone and guitar. Mthobeli Malima keeps the whole band together as bassist and sound engineer. Enjoy four hours of live entertainment by the energetic performers from 9.30pm until 1.30pm from Sunday to Friday.
Details: For more information, call +971 (0)2 692 4247.
Verso, Grand Hyatt Abu Dhabi Hotel
Verso, a celebration of authentic Italian cuisine and bistro ambiance has officially opened doors on the Abu Dhabi Corniche. A vibrant, modern space with a large outdoor terrace, the casual Italian trattoria serves dishes from around Italy, including flavours reminiscent of ravioli in Mantova, spaghetti of Sicily, pizza on Napoli and Tuscan pasta fagioli. The seasonal menu will feature locally sourced herbs and authentic ingredients from Italy. Dishes are complimented by an array of creative concoctions and signature beverages. Open daily from 12pm to 11pm.
Details: Call +971 (0) 2 510 1205, e-mail verso@hyatt.com or visit verso.ae for more information.
Prego's, Beach Rotana Abu Dhabi
Italian restaurant, Prego's has introduced an all-new menu that revives a selection of popular classics. Guests visiting the restaurant can enjoy a selection of starters such as bruschetta, burrata, vitello tonnato, grilled octopus and more. The menu includes pasta and risotto dishes such as a spaghetti carbonara, fettuccine alla bolognese, seafood or wild mushroom risotto. Specialties of the house consist of fettuccine with lamb ragù, calamarata pasta with Canadian lobster and scallops, and ravioli with braised beef. The new menu also features over twelve main courses including the likes of grilled prawns with shell, chili and tomato-bread salad, veal piccata with lemon sauce, sautéed spinach and rosemary potatoes, or a seared ribeye steak with rucola, parmesan and rustic bread and many more.
Details: Call +971 (0)2 697 9011 or e-mail fb.beach@rotana.com for reservations. If you like the sound of Prego's, check out this new summer deal that's happening at a Dubai-based Italian restaurant this month.
Stock Burger Co. Abu Dhabi, Holiday Inn Abu Dhabi
International restaurant and bar Stock Burger Co. has opened its doors at Holiday Inn Abu Dhabi. Serving premium burgers and craft brew, Stock Burger Co. uses 100% grass-fed beef from Springbok Butchery. Choose from options like the 'The Stock Burger', the double-paddy 'Boss Burger' or opt to create your own. The menu also features chicken and fish-based options as well as two vegetarian patties. All burgers are served on a brioche bun, or naked with an iceberg wrap. There's also other items on the menu like salads, flatbreads, rib-eye steak and prawn skewers. Round off your meal with one of six homemade desserts including brownie sundae or sticky date pudding.
Details: E-mail stock@stockburgerco.ae or call 800 78 625 to make a booking.