Welcome to a tropical paradise like no other with the newly-opened resort on Baa Atoll
Whether you seek relaxation, adventure, or a blend of both, the Avani+ Fares Maldives Resort promises an unforgettable sojourn. Experience a world of opulence and luxury with a wide range of amenities, from the breathtaking infinity pool boasting panoramic ocean views to the rejuvenating spa offerings. Delight your palate with exquisite culinary creations at the resort's renowned restaurants and enjoy thrilling aquatic adventures or blissful relaxation on the sun-soaked shores, all while sipping on curated beverages.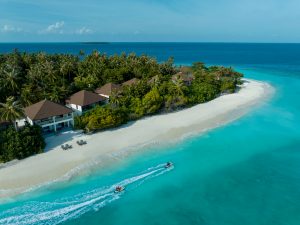 Here, the tropical beauty of the Maldives is paired with unparalleled service and attention to detail, creating a truly extraordinary experience for every guest.
DAY 1
Upon our arrival via a seaplane transfer, we were warmly welcomed by the team and escorted to our beach pool villa, to unwind post journey. The lavish resort provides a distinct array of accommodation options including the overwater villa, four-bedroom beach pavilion, sunset overwater pool villa, and two-bedroom beach pool villa.
The first thing that caught our eye was a small pot filled with candied orange peel dipped in decadent dark chocolate—a testament to the resort's innovative and sustainable no-waste approach. The villa's décor exudes a calming and inviting ambience, comprising a soft colour palette and decorated wall mural, showcasing shades of blue to resemble the sea and pale, creamy yellows reminiscent of sand and sunshine, serving a touch of paradise. The villa boasts a 50-inch flat-screen TV, Bluetooth speakers, an indoor-outdoor bathroom complete with a separate tub and invigorating rain shower, a Nespresso coffee machine, and toiletries from Malin + Goetz. The collection of body care products includes a refreshing body wash, invigorating peppermint shampoo, nourishing cilantro hair conditioner, and hydrating vitamin B5 body moisturizer.
With the hunger pangs kicking in, we made our way for lunch at the picturesque Skipjack bar boasting an expansive infinity pool, poolside loungers, and unrivalled views of the pristine beach waters. To commence our dining experience, the Caesar salad featured baby romaine lettuce, garlic croutons, white anchovy, bacon, parmesan, and corn-fed chicken breast, resulting in a fusion of flavours and textures. We then delighted in the Tuna tataki, showcasing locally sourced fresh tuna with pickled beetroot, citrus, marinated fennel, and a drizzle of olive oil.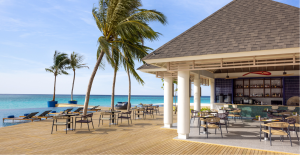 For mains, I opted for the Bolognese, a comforting classic. The spaghetti was topped with a rich Tuscan Bolognese sauce, slow braised with vegetables, and generously garnished with Parmigiano Reggiano. For the finale, the Tropical panna cotta featured an infusion of mango and white chocolate accompanied by a jaggery jelly and mango compote. The combination of tropical flavours and the velvety texture of the panna cotta was complemented by the vibrant and fruity components.
A couple of hours after lunch, we made a beeline for AvaniSpa, where upon arrival, the highly skilled therapist provided a personalized form to outline preferences and areas of focus, ensuring a customised treatment tailored to specific needs, whether it be relaxation or tension relief. The true highlight of the blissful 60-minute signature body massage was choosing from the four exquisite fragrant body oils—boost, calm, purity, or balance – each evoking a distinct sense of serenity and enhancing the overall ambience of tranquillity.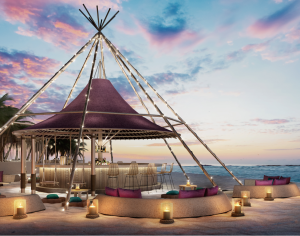 After a restful snooze on our beachfront garden terrace adorned with sun loungers, we looked forward to a set menu dinner at Tribe, taking us on a captivating culinary voyage that showcased highlights from various tribes around the world. The Satay gai, corn-fed chicken skewers marinated to perfection and served with a spicy peanut and coconut dip was a delectable start, followed by the Beef slider, featuring succulent beef, raclette cheese, tomato iceberg, and home-pickled gherkin in a pumpkin brioche bun.
Transitioning to the Amazon River's offerings, we devoured the Charcoal grilled leeks with flavourful chimichurri and smoked almonds, showcasing the simplicity of grilled vegetables. The Prawns wrapped in spring roll pastry served with guacamole and cherry tomato jam, brought a fusion of flavours with its crisp pastry, juicy prawns, and tangy accompaniments. For dessert, the Mango sticky coconut rice, a classic Thai delicacy with marinated mango variations and a hint of refreshing mint, provided a perfect conclusion.
DAY 2
Following a rejuvenating night's sleep, we made our way to Ocean Terrace restaurant to indulge in a delightful breakfast experience. Presenting a choice between a tempting buffet spread and a delectable à la carte menu, we chose a light meal of Chia pudding and fresh orange juice, in order to prepare ourselves for the snorkelling trip hours ahead.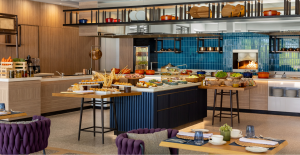 Adventure enthusiasts should add the Snorkel boat trip to their list of things-to-do on the island. The captivating presentation on the diverse species residing in the vibrant reef heightened our excitement before the journey began. The staff's expertise and support were invaluable, providing guidance, answering questions, and instilling confidence, allowing me to fully enjoy my first snorkelling experience.
The one-hour adventure left us craving a hearty feast, and Skipjack's Local platter delighted with its array of bites, including Tuna bajiya, gulhaa (dumplings), masroshi (fried dough), katlas (cutlets), and dhonkeyo kaju (banana fritters). The Caprese salad, featuring juicy tomatoes, buffalo mozzarella, peppery rocket, and aromatic basil, drizzled with aged balsamic and extra virgin olive oil, provided a refreshing start, while Chef Walter's irresistible burger stole the show.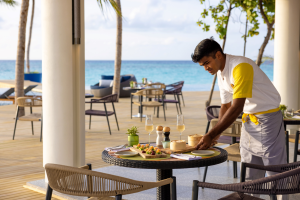 Made with 100% Black Angus beef, it was tender with the right amount of juices flowing, complemented by Swiss gruyere, crispy bacon, caramelized onion jam, heirloom tomato, and pickled cucumber, all nestled between a soft brioche bun and served with French fries. The moist chocolate and olive oil tart and orange salad complemented by a scoop of vanilla bean ice cream, left us truly satisfied.
The sunset cruise was an enchanting experience that immersed us in the unfolding beauty of the seas. With the sun casting a golden glow over the crystal-clear waters, the ambience aboard the cruise ship was magical. An array of canapés and local Maldivian tunes complemented the serene setting as we gazed at the mesmerizing sunset views and spotted dolphins in their habitat.
Soon after, we eagerly dove into an extraordinary dining experience at Charcoal, the highly anticipated restaurant temporarily hosted at Skipjack. From the moment we stepped inside, the ambience emanated a relaxed and modern vibe, accompanied by the soulful melodies of funky jazz in the background. We were presented with an assortment of bread accompanied by beetroot, caramelized onions, and parsley butter.
The appetizers promptly arrived, each a true sensory delight. The refreshing Tuna tartare enticed with its flavours and impeccable presentation, while the Prawn dumplings with spicy chilli sauce offered flavoursome notes. The Char-grilled leeks added a unique twist to the table, infusing the dishes with a smoky and savoury essence. Opting for the cornfed chicken breast as my main, the dish was ideal for a satiating dinner with sides of mushrooms and broccoli.
DAY 3
Immersing ourselves in the rich flavours of Maldivian cuisine, we delighted in a breakfast feast that started with the aromatic Masriha (a mouthwatering Maldivian tuna curry), and a Maldivian chilli-flavoured omelette, served with warm chapati.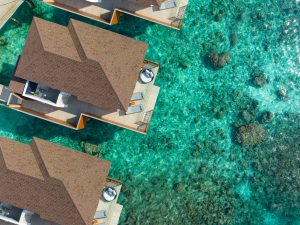 To make the most of our visit to the soon-to-open Overwater villa, we were equipped with snorkelling gear and dove into the ocean from the villa deck. The infinity villa pool, offering unobstructed views of the turquoise waters, added an extra layer of luxury to this villa.
We were treated to a personalized in-villa dining experience featuring a refreshing salad, delectable curries, red snapper ceviche and Indian specialities. From the breathtaking views and the opportunity to explore the vibrant underwater world to the personalized dining experience that exceeded our expectations, every aspect of our stay was thoughtfully curated to ensure a memorable getaway.
We concluded our trip with dinner at Adrift by the Beach – another must-try dining experience for travellers. A beautifully decorated table positioned within a sand circle, softly illuminated by low lights, made up the stunning setting. Melodious tunes played by a guitarist enlivened the mood, creating an intimate ambience to accompany the set menu. We tucked into the refreshing Char-grilled watermelon appetizer, a unique and unexpected combination. The menu presented three tempting options for mains: the Chalmar beef tenderloin, the Maldivian tuna fillet, and the vegetarian choice of Open lasagna.
I indulged in the tenderloin, served with a decadent gravy, sautéed mushrooms, broccoli, and black truffle shavings. To conclude, the Deconstructed lemon meringue dessert stunned, boasting lemon curd served alongside a small meringue bowl, holding a refreshing yuzu sorbet. The dessert was beautifully plated with candied orange, grapefruit, and kumquat jam, adding a burst of citrusy sweetness to every bite.
As we bid farewell to this idyllic paradise, the impeccable service continued to impress. The quick check-out process ensured a seamless departure, while the heartfelt goodbye from the staff as we boarded the yacht en route to the seaplane touched our hearts. Au revoir, Maldives!
BOOK NOW
The Beach pool villa is available from AED2,100 per night. Visit website.