Plan a sojourn in Amsterdam, where you can experience the epitome of luxury at the renowned Amstel Hotel
Amsterdam in the winter promises a unique and enticing experience, especially for those seeking a reprieve from the Middle East's warmer climes. Nestled alongside the picturesque banks of the river Amstel, the Amstel Hotel stands as a lavish haven steeped in history. This 19th-century gem leaves a lasting impression from the moment you enter through its grand white-columned doorway, with a lobby adorned with marble floors, a vaulted ceiling, and a double staircase that compels you to pause and take in the elegant setting.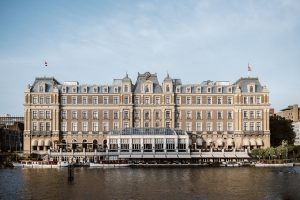 Just beyond the hotel's doorstep, the city's iconic canal belt beckons with its rich historical allure, situated on the opposite bank of the river. Meanwhile, the trendy De Pijp district, renowned for its diverse dining establishments and charming cafes, as well as the bustling Albert Cuyp market hailed for street food specialities and more, can be reached within a convenient 10-minute walk.
For those eager to explore Amsterdam's cultural treasures, the Museumplein is a mere 20-minute stroll away (or a quick 10-minute tram ride), while Centraal Station is readily accessible in under 10 minutes by metro.
A ROYAL-ESQUE STAY
The Presidential Suite oozes an extravagant ambience, defined by an opulent design palette featuring regal blue, cream, and gold. Opting for a suite with a river view adds an extra layer of delight to your stay. The suite is tastefully adorned with antique-style furniture, complemented by Delftware and vintage prints, and you'll find all the modern comforts you desire, from an ironing board to an espresso machine, and discreet air conditioning (apt for a summer stay). Classic services such as shoe shining and mending are also at your service.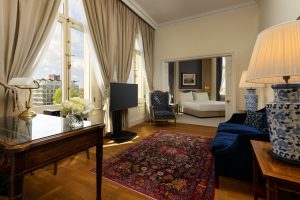 The Presidential Suite is a two-part masterpiece – a bedroom and a living room, each possessing its own unique character while harmoniously enhancing the other. Historical accents are thoughtfully integrated, creating an unforgettable setting. An antique writing desk awaits in a corner of the living room, inviting you to compose postcards to friends back home. The space is completed by a comfortable couch, an armchair, a well-stocked bar area, a TV for your entertainment, and remarkable views of the city.
Sliding doors elegantly separate the two rooms, and in the en-suite bedroom, you can discover a soothing rainfall shower, a bathtub, and an assortment of toilet amenities. Families are welcomed, and upon request, a cot for children can be provided, featuring an adorable animal-print duvet and a cuddly soft toy to make their stay truly memorable.
DINING ON THE AMSTEL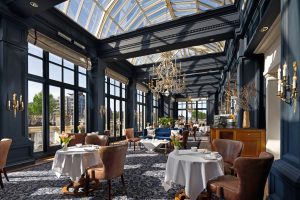 Take a moment to relax on the enchanting terrace at dinner and relish your meal while enjoying the serene passage of boats. Amstel Restaurant prides itself on using freshly harvested ingredients, resulting in a seasonal menu that offers a diverse array of options, from delectable fish and seafood including Dutch cod and Yellowtail kingfish ceviche to dry-aged Ribeye, and a range of vegetarian choices. Don't forget to begin with a refreshing concoction made to your liking.
For breakfast, indulge in made-to-order egg dishes, French toast, and pancakes, alongside a generous ingredient buffet that goes beyond the typical cold cuts and cheese (be sure to sample the Dutch cheese varieties). The spread includes culinary delights such as tabbouleh, muhmmara, and quinoa salad, amongst others. You will also find fresh fruit, parfait, cereal, and freshly baked treats to kick-start your day.
AMENITIES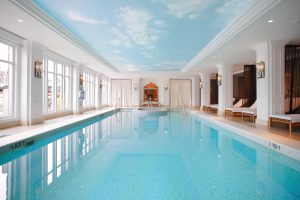 The expansive indoor heated pool, positioned at the same level as the Amstel River, presents one-of-a-kind vistas. Additionally, you have access to a sauna, steam cabin, and jacuzzi. Whether you prefer to start your day with an invigorating swim, indulge in a soothing massage, or let go of stress in the wellness area, the choice is yours. The Health & Fitness Club provides a wide range of options for those who love to stay active or those seeking a well-deserved afternoon of relaxation.
BOOK NOW
Room rates from AED1,400 per night (EUR449). Visit website.