Sponsored: Leading British retailer Marks & Spencer is a one-stop shopping destination for all your culinary needs, this holiday season. Here, Chef Alex Mobsby from Rhodes W1 at the Grosvenor House, a Luxury Collection Hotel, Dubai, uses Marks & Spencer produce to create a sumptuous spread for your celebratory gathering
Braised beef cottage pie served with Marks & Spencer's roast potatoes, glazed carrots, sesame green beans and double Gloucester cauliflower cheese
Serves 6
Braised beef cottage pie
2kg beef, trimmed of fat
75ml olive oil, for frying
3 carrots, chopped
2 onions, chopped
2 celery sticks, chopped
1 leek, chopped
5 tomatoes, chopped
Large sprig of thyme
2 bay leaves
1 small garlic head, split
350ml veal jus/beef stock, to cover
500g British white potatoes
Brunoise vegetable mix
1 carrot, finely diced
1 onion, finely diced
1 celery stick, finely diced
1 leek, finely diced
Preheat the oven to 130C.
Season each piece of beef well with salt and pepper. Cut into 4 x 250g portions, and reserve 1kg of beef for mincing.
In a large pan, heat the oil and sauté half the beef until deep brown on all sides. Remove and drain in a colander.
Sauté the chopped carrots, onions, celery and leeks in a saucepan until well-coloured. Add the chopped tomatoes, thyme, bay leaf and garlic; cook until the tomatoes have softened. Add the stock and beef, ensuring they are well covered. Bring to a simmer, skimming well and braise in the oven for 2 hours, until tender.
Remove the meat from the sauce and set aside.
Push and strain the sauce through a sieve, into a clean pan. Boil and reduce the liquid, skimming off any impurities to a sauce consistency, and season with salt and pepper.
Top the beef with the sauce and set aside until needed.
Shred the beef that was kept aside earlier, ensuring there are no remains of gristle or fat; mix with a little of the cooking liquid/sauce – to keep the meat moist.
Cook the brunoised vegetable mix in a sauté pan.
Cook the minced beef reserved earlier, until there is no more fat released, and add it to the vegetable mix. Add demi-glace or jus to cover and slowly reduce. Add the braised and shredded beef, followed by green peas. Season with salt and pepper
The secret to a good, mashed potato is to boil the milk and cream first, before adding it to your potatoes.
Top the minced beef mixture with mashed potato and using a blowtorch or grill, glaze the top of the pie.
Double Gloucester cauliflower cheese
1 tbsp plain flour
3 tbsp butter
300ml milk
100g M&S Double Gloucester cheese
100g M&S medium cheddar cheese
125g cauliflower, blanched
1 tbsp English mustard
Heat the butter and flour in a pan and cook for 5 minutes. Add the milk and grated cheese, season with salt and pepper. A little trick here is to add a spoon of English mustard. Once the sauce is fully cooked, you're ready to add the blanched cauliflower, making sure it's coated nicely with the sauce.
Sprinkle more of the grated cheese on top and gratin under the grill/salamander.
The accompaniments
125g fine green beans, blanched
125g Chantenay carrots, blanched
1 jar M&S British honey
125g tender stem broccoli, blanched
1 tbsp sesame seeds
500g British white potatoes
1 tbsp of the English butter
Add the blanched fine beans to the pan with the English butter.
Once the carrots are blanched, add 1 tbsp of the honey and toss in a pan until nicely glazed.
When the tender broccoli stems are blanched, season and add a knob of butter. Sprinkle sesame seeds over the top.
Peel and boil 500g potatoes until tender in the middle – for 15 minutes – then add olive oil to a roasting dish, followed with the potatoes, and give it a good shake – making sure the potatoes are covered with oil. Roast with a sprinkle of salt at 180C for 25 minutes. Season and add butter to finish.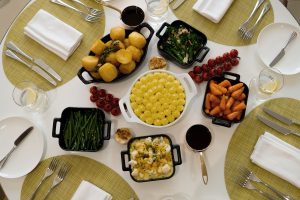 "The inspiration behind the dish is all about family. I'm a very family-orientated person and I believe that comfort and hearty festive food bring family and friends together. This is a great dish to bring people together. Growing up, in most British families, we eat comfort food around the table. I think as we grow older, we still look back at that as nostalgic. Even if I had a Cottage pie now at home, with my wife and kids, it would remind me of having it when my mum made it – she would take us to M&S after school on a Friday and we knew we were in for a treat, the quality of food was always exceptional. I now do the same for my children here in Dubai, as we don't want to lose that special feeling of what food can do," said Chef Alex Mobsby.

"In this recipe, I've used M&S British potatoes and English honey, which are second to none! That element there, that nostalgia, is at the forefront of modern British cuisine. I still think we use the old techniques by our parents or grandparents, and that nostalgic feeling is what British cuisine, with a quality product from British suppliers such as M&S, can do more for me than any other cuisine."
The Marks & Spencer Festive ranges are available in Marks & Spencer stores now including Dubai Mall, Dubai Hills, Dubai Festival City, Mall of the Emirates, Ibn Battuta Mall, Nakheel The Palm and The Springs Souk, as well as the M&S Food delivery application, Instashop, and Deliveroo.