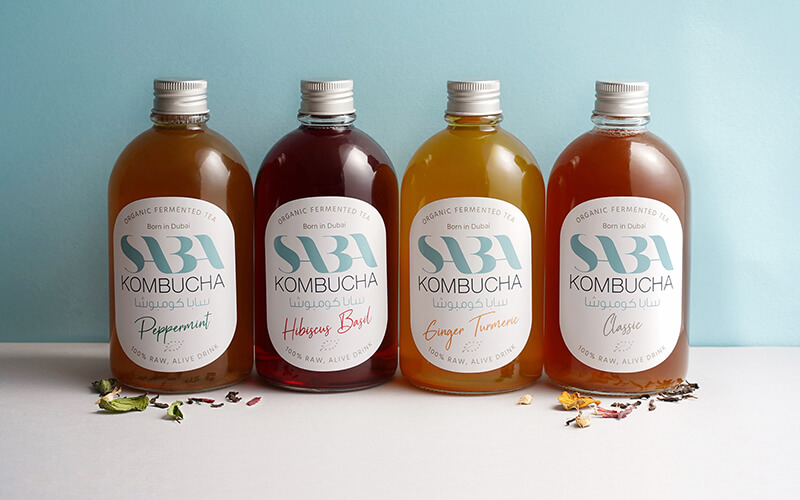 Kombucha, the fermented tea drink that is packed with probiotics has witnessed a rise in popularity. UAE health enthusiasts will be pleased to hear that homegrown brand Saba Kombucha, has launched and is now available online and in select stores across the country.
Brewed locally in Dubai, Saba Kombucha is infused with probiotics and electrifying enzymes – it's a fermented tea that is jam packed with nutrients that are 100% raw, organic, low in sugar and unpasteurized.
"Our body needs good bacteria, which can be killed during pasteurization. This is why all Saba Kombucha drinks are left unpasteurized to keep all probiotics and good bacteria intact, to support digestion and whole body balance. Our Kombucha has been specially brewed for this market using a unique technique to make it compliant with F&B laws and regulations in the UAE," says Vincent Vandenabeele, founder of Saba Kombucha
The all-natural brewed beverage is also known to provide ample health benefits such as strengthening the immune system, aiding weight loss, reducing toxins in the liver, protecting the body against harmful bacteria and improving digestion and gut health.
All Saba Kombucha's fermented tea contains a range of organic herbs, handpicked from a French herboriste and have a perfect balance of sweet and sour taste that tingles the taste bud just the right way. Saba Kombucha can be purchased from Kibsons online and all Organic Cafes in the UAE, including Spinneys and Waitrose supermarkets.
Details: For more information, visit sabakombucha.ae.