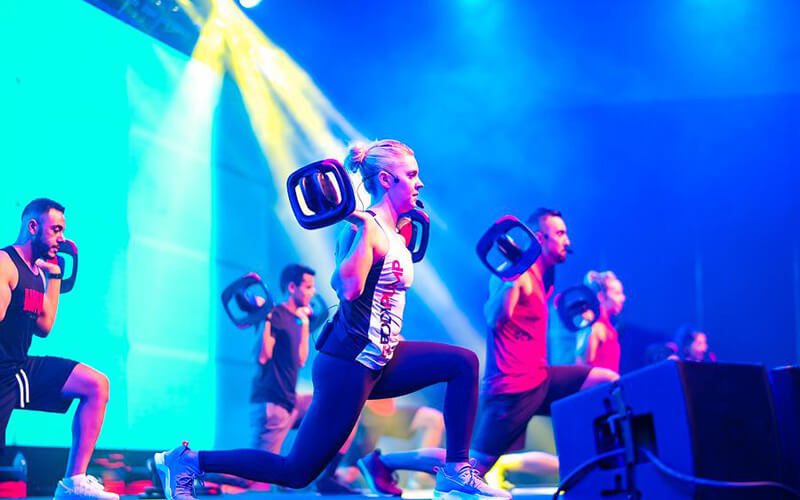 Being healthy and active isn't just about moving; it's about educating and challenging ourselves to maintain the healthiest lives that we can possibly live by focusing on our emotional, physical and mental wellbeing. Dubai Active is one of the biggest celebrations of health, fitness and wellness in the Middle East, and dedicates itself to being inclusive of all in the region. Returning on December 5 – 7, 2019 at Dubai's World Trade Centre, the Dubai Active invites all to come and join its driven and motivating community.
Co-hosted with Dubai Muscle Show, collectively the event forms the largest fitness and wellness exhibition in the Middle East. The impressive 18,500 sqm space lends itself to being a completely safe-haven for all of the 25,000 guests that attend to come and learn, engage with the top fitness and wellness brands in the industry and workout in a protected and comfortable environment.
Have you ever worked out alongside 2,000 like-minded people before? Well now is your chance to take part in the biggest mass workouts in Dubai with some of the top celebrity trainers in the world or come and discover new a skillset that you may not have tried before such as cycling, yoga, weight training, nutrition and more.
Not only will you have the chance to try all of the leading workouts from Dubai's top studios all under one roof, you also have the opportunity to learn and improve your health with tips from leading experts in the wellness industry. The exhibition will house 25,000 attendees who can roam around between over 300 of the world's best wellness brands and be inspired by 600+ professional athletes. Internationally renowned studio and workout brands including Les Mills, Barry's Bootcamp, just to name a few, will lead back-to-back classes all weekend, along with yoga, mindfulness and other workshops.
Details: Tickets can be purchased via Dubaiactiveshow.com and at Virgin Megastores in the region. If you enjoyed this article, you may be interested in reading more about a UAE lifestyle membership that allows members free access to various luxury gyms and fitness classes here.