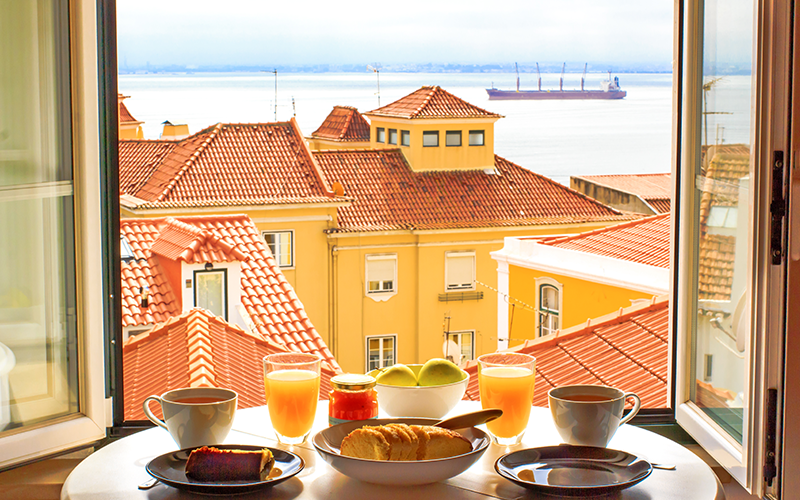 Portugal's capital is one of Europe's bargain city breaks – hotels and restaurants cost half that of other Eurozone holiday hotspots (we're looking at you, pricey Paris, Barcelona and Amsterdam), yet there's no compromising on quality.
The cobbled streets and hillside neighbourhoods of this pretty port city are home to independent boutiques selling Portuguese-made charcuterie, cheese and endless arrays of smoked, cured and preserved fish.
Lisbon is defined by its maritime heritage, with museums exhibiting artefacts from the Age of Discovery, and markets and restaurants still dominated by the fish dishes that fed families long before explorers sailed out to conquer the New World. However, this is not a place stuck in old food habits. Young chefs are revitalising traditional recipes and reimagining petiscos (the Portuguese equivalent of tapas/shared plates) to innovative effect.
Five places to try:
1. Dona Quiteria
This artfully redone 19th-century grocery store, in a teetering hilltop location, serves new takes on classic Portuguese dishes such as bacalhau (salt cod) and ovos verdes (fried, deviled eggs). Book ahead to snag one of the few tables in this friendly neighbourhood hangout.
Details: Dinner for two not including drinks AED 80. For more information, call 00351-213951521 or visit Dona Quiteria
2. Chafariz do Vinho
Classic Portuguese and Brazilian dishes served in the unique traditional setting of an 18th-century former water reservoir, part of Lisbon's historic aqueduct system. This enoteca offers a wide range of Portuguese drinks, each carefully chosen by experts (notably João Paulo Martins). Try the date gratin, along with the various plates of mussels, oysters and cod carpaccio on offer.
Details: Plates from AED 20, for more information visit Chafariz do Vinho.
3. Café Fabulus
Proof that the petiscos concept doesn't conform to the strictly rationed sizes of Spanish tapas, this courtyard café-restaurant lets you graze on small plates or share mains. Don't miss the pêra bêbada, a 'drunken' poached pear & goat's cheese salad; the shamelessly indulgent bacalhau à brás (salt cod with eggs, onions & chips) and octopus salad with red onions & green peppers, liberally sprinkled with coriander.
Details: Traditional dishes brought bang up to date from AED Dhs28. For more information visit Café Fabulus.
4. Ribeira market
This dockside hipster food hall is an atmospheric spot for cheap eats, set in a 19th-century market recently converted and (rather heavily) rebranded by the Time Out franchise. Open until the small hours, come here for bites of cured meats, pungent wheels of Azeitão sheep's cheese and fine delightful local drinks. There are also informal kiosks by top local chefs, such as Marlene Vieira and Henrique Sá Pessoa, along with on-trend stands selling cold-press coffee and hand churned gelato. Small plates from a couple of euros.
Details: Prices vary starting from AED 5. For more information visit Ribeira market.
5. Brasserie Mediterrânica
With eco principles that include a sustainable drinking water programme and a zero food miles ethic, the restaurant at Inspira Santa Marta Hotel (see Where to stay, overleaf) is a clean, green choice for eating out. Its Portuguese/ Med menu is accompanied by a long list of excellent local drinks and fresh bakes including a range of gluten-free options (a rarity for Lisbon).
Details: Mains from around AED 40, a two-course buffet lunch AED 40, for more information, visit Brasserie Mediterrânica.
To get there, Emirates has two daily flights flying direct from Dubai International Airport to Lisbon Airport. For more travel advice visit Go Lisbon.