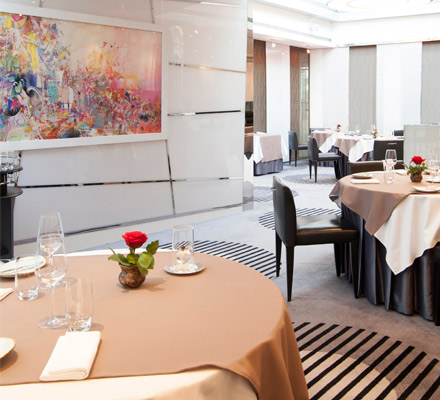 What's it like: The restaurant, previously headed by Nick and Scott, has always been highly lauded. So when Gordon Ramsay's protégé Darren Velvick stepped in as chef patron, he knew he had big shoes to fill. Luckily, we can vouch for that the fact that he has more than filled them – in less than six months since he took over. Table 9's décor isn't flamboyant – they impress on the food front – with a monochromatic black and white colour scheme, beige linens and red roses on the table offering the only hints of colour in sight.
The menu continues the Table 9 tradition with a focus on the ingredient, which means you don't always know what a dish is going to end up looking or tasting like – leaving it to the friendly, hospitable staff to tell us more – and this made for some very pleasant surprises during the course of our meal. My dining partner and I shared three appetisers of foie gras rolled in gingerbread crumbs complemented by apricot sauce; snails doused in garlic butter and served with crunchy bone marrow balls that were meaty and juicy inside; and a crispy curried fried egg on a bed of apple and raisins, which wasn't only beautifully presented, but tasted divine. My dining partner's main course choice was succulent lamb with potatoes covered in a refreshing mint and onion chutney-style dressing, and a side of pomme cocottes (fries) with a buttery anchovy mayo. The moist, saucy braised shorts ribs of beef that I ordered, were topped with steamed cauliflower, and garnished with faintly tangy crispy capers that livened up each bite.
For dessert, we chose the quirky crunchy cereals coated in milk and white chocolate and a scoop of light, milky ice cream, and a good old classic carrot cake with cream cheese. Overall, we were incredibly impressed with the presentation and taste of each dish, and would definitely come back here for more.
If you want to go: Approximately Dhs550 for three-course meal for two, without drinks. Call 04-2127551.
Best for: Classy dinner date
– Nicola Monteath