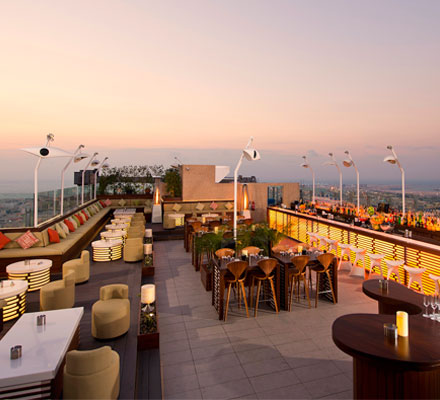 What's it like: Better known as one of Dubai's hottest nightspots in the alfresco season – getting in after 11pm on a weekend is well nigh impossible – but beyond the glamorous rooftop setting (it's located on the 40th floor), stellar sound system, trendy vibe and heaving crowds, there is a really good kitchen that is now offering a newly revamped menu. An international menu, but with distinct Japanese influences, there's everything from sashimi and teriyaki skewers, to goat's cheese wontons (very moreish!) and sliders, as well as innovative cocktails on offer.
Our meal started with a bowl of edamame – warm and tossed through with rock salt; almost without noticing, we polished them off! But that only whetted our appetite for the yellowfin tuna sashimi – which, served with a delicate apple and celery guacamole, and flavoured through with lime, was beautiful – that we had for starters, along with a healthy option, the quinoa salad, with pomegranates and feta cheese and a thyme mustard dressing.
Next, I tucked into the succulent and flavourful Australian lamb rack, served with red pepper dip and baby shallots, while my partner enjoyed the grilled corn-fed chicken breast with parmesan vegetable roulade. Paired with a peanut curry sauce, it made for a very interesting main. The side of homemade potato wedges with truffles and parmesan that we shared, however, was the highlight of the meal for both of us – there's nothing quite like potatoes done really well, is there?!
We were truly stuffed by this stage of the evening (and so was the venue) so dessert was a shared platter of ice cream bon bons – fondant-coated mini scoops of four different flavours of ice cream and sorbet, served like lollipops on bed of ice; this definitely won on the presentation front.
Already boasting enviable views over the glittering Dubai skyline, service that strikes just the right balance between friendliness and professionalism, and vibe-y atmosphere, this creditable menu completes the mix for the venue.
If you want to go: Around Dhs550 for dinner for two, drinks prices start from about Dhs50.
Call 04-3558896.
Best for: A glam night out with friends