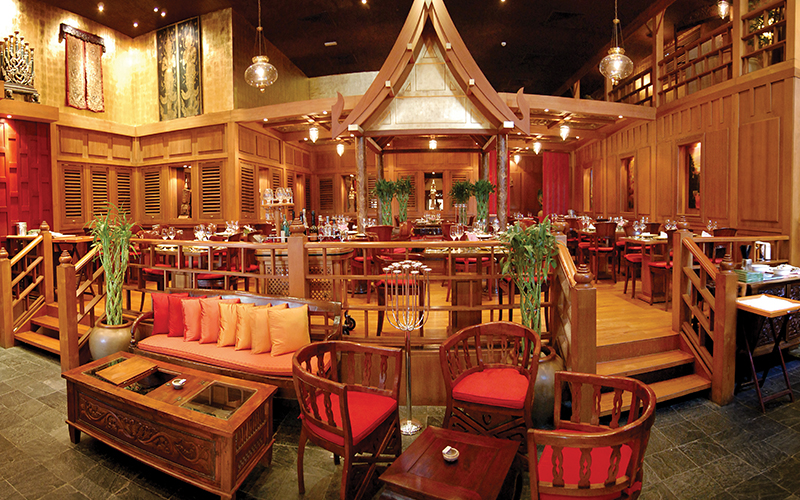 What's the concept?
One of the most established Thai restaurants in town, this charming establishment is nestled in the lush surrounds of the Meridien village, a lovely alfresco-friendly venue that never fails to be bustling and lively any night of the week. With traditional Thai arches at doorways and waitresses in Thai costumes setting the tone, the restaurant interiors are done up in warm woods, but most people, including ourselves, opted to sit outdoors to enjoy the last of the good weather.
What's the food like?
The menu offers a wide array of Thai classics, which we opted to sample with the appetiser selection platter – a spread including Thai fish cake, chicken satay, chicken dumpling, chicken wrapped in pandan leaf, and my favourite, prawn lemongrass, a lollipop of prawn meat skewered on and assimilating the fragrances of a lemongrass stick. What I really liked was the option of ordering most things in half portions, including this platter, ensuring minimal wastage.
For mains, I opted for the chef-recommended steamed seafood wrapped in banana leaves, which paired well with the crabmeat fried rice I ordered on the side. My partner ordered a stir-fried chicken with cashew nuts and vegetables, a dry, spicy mix, with vegetable fried rice on the side – while it was tasty, it felt more like Chinese than Thai in flavours.
Full with our hearty meal so far, we chose to share a baked coconut custard for dessert, to end the meal on a suitably tropical note. And to ensure you take that Thai feeling home with you, diners are also given a little gift when walking out.
Details: Average price for dinner for two without drinks is Dhs350. Call 04-2170000.