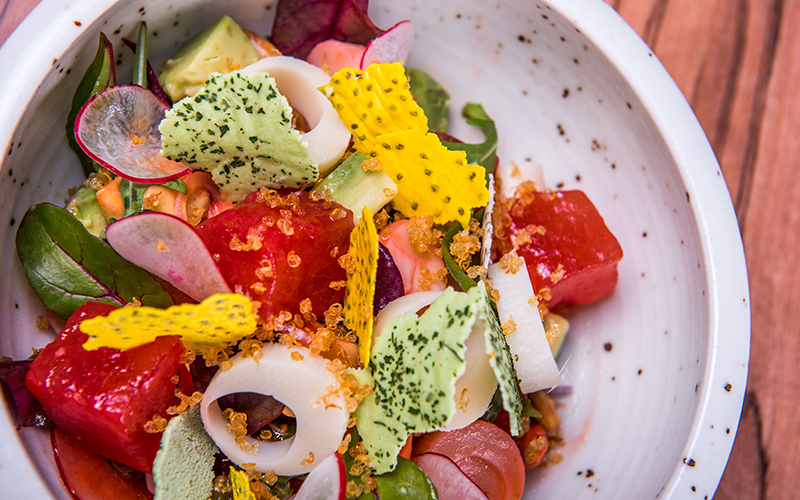 What's it like?
Exposed brickwork, curved ceilings, earthy wood tones and vibrant blues welcome with open arms as you enter Waka. Before even seeing then menu, a warm, authentic Latin American scene is set across a casual bar and lounge area, plus dining room – all located on The Oberoi's lobby level. From gorgeous Acapulco-style thread chairs, to bold and colourful artwork hung on the walls, attention to detail has been carefully curated here, and ensures originality. The outlet is open for dinner service, Friday brunch (they even do a late brunch!), and have special themed nights, including ladies night and the newly introduced 'Waka Maki Mondays', which allows you to enjoy six maki rolls and a glass of grape for AED 150.
What are the food highlights?
Headed up by chef Roberto Segura, the menu here is enticing – with each dish temptingly drawing you in through interesting flavour combinbations and unique ingredients. Offering a fusion of Latin American flavours married with Japanese seasoning and French techniques, the selection is creative and explores items including ceviches, maki rolls, tiraditos, salads, tacos, anticuchos from the Josper, tapas, signature mains and chifas – a fusion of classic Peruvian ingredients and traditional Cantonese elements. It's a must to begin with a dish of 'wakamole', Waka's take on guac, in which they smoke the avocado and serve with crispy nachos. The 'del marcado' sea bass ceviche with aji ararillo comes mixed with sweet potato chunks and crispy calamari on top – a beautifully balanced dish of delicate zingy and savoury flavours. A must-try plate of 'conchas y coral' looks almost too pretty to eat (Instagrammers at the ready), and luckily tastes as good as it looks as tender, thinly sliced Japanese scallop medallions pair wonderfully with smoothed rocoto puree and leche de tigre. From the 'chifa' section, the spicy Cantonese marinated spare ribs are a tender dream, and ooze mouth-popping flavour. While the Korean BBQ lamb chops with yuzu koshu dip and spicy pickles are juicy and a delight to eat – especially when paired with a side of 'arroz con coco' (sticky rice with coconut). Entertaining us with his creative nature, chef Roberto joined us tableside to serve an interactive and intriguing dish of raw tiger prawns cooked on hot stones on the table with yuzu and butter – a true treat for the senses as the smell sizzles around. For dessert, the 'chocolate bomb' is the perfect surprise for those celebrating a birthday. A scrumptious mixture of lime and raspberry sorbet with meringue and chocolate brownie squares comes disguised in a 62% Peruvian chocolate sphere, and is revealed after you smash into it with hot chocolate sauce drizzled on top.
How was the service?
The Waka team is hospitable, genuine and truly passionate about the food that's served, and it shows.
The bottom line:
Waka exudes so much character, and serves up wholesome, high-quality food in a relaxed, chilled-out environment. The perfect spot to head after work, or on weekends with friends and family.
Details: Priced at around AED 250 per person for three-courses, without beverages. Call 04-4441455, or e-mail reservations@waka.ae.