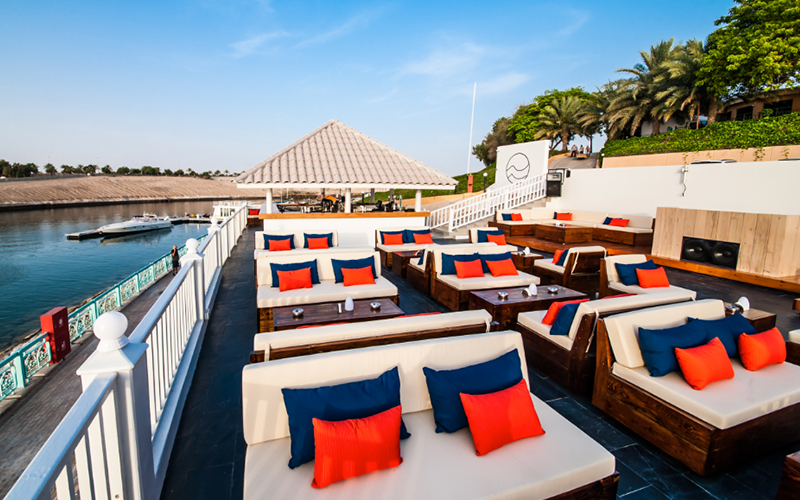 What's it like?
Launched in October last year, La Cala is a new boutique bar and restaurant nestled within the Ghantoot Marina waterways. From the guys behind Pier 7's popular British eatery, The Scene, this new opening presents a refreshing way to brunch. Comprising a restaurant, bar and lounge area, La Cala transports you to Spanish shores with hues of blue and orange, comfortable sofas and relaxing sounds of the Balearics throughout the afternoon. If you choose to stay after sunset, prepare for dancing as the tunes are turned up.
What are the food highlights?
The menu draws inspiration from both Asia and the Mediterranean, and for brunch the experience begins with a lovely selection of starters to share delivered to the table. Scoop up a serving of creamy burrata with heirloom tomato, or delight in the refreshing tuna ceviche. And, as messy as they look – the smoky chicken wings are a must (incredibly tasty!). For main, you're given the choice of a dish from the menu that features things like salmon skewers, stone-baked sourdough pizza topped with succulent Asian duck, and grilled angus sirloin – all served with a choice of sides.
How was the service?
As a small venue, there's a sense of family between the team here, which was so nice to see. All staff were extremely friendly and went out of their way to ensure that you were comfortable and having a great time.
The bottom line:
La Cala offers sunset bliss – it's the ideal place for putting your feet up with your loved one, or a few friends, to enjoy bites, drinks and great music while the sun sets in the distance. A little oasis, just 30 minutes from Dubai.
Details: Friday Balearic Brunch, available every Friday and Saturday.Priced at AED 295 for three-hour brunch package, 1-6pm. There's also a Thursday night special for AED 249 from 7-10pm every week, including unlimited pizza and bubbles. E-mail info@ lacalabeach.com or visit La Carla for more information.