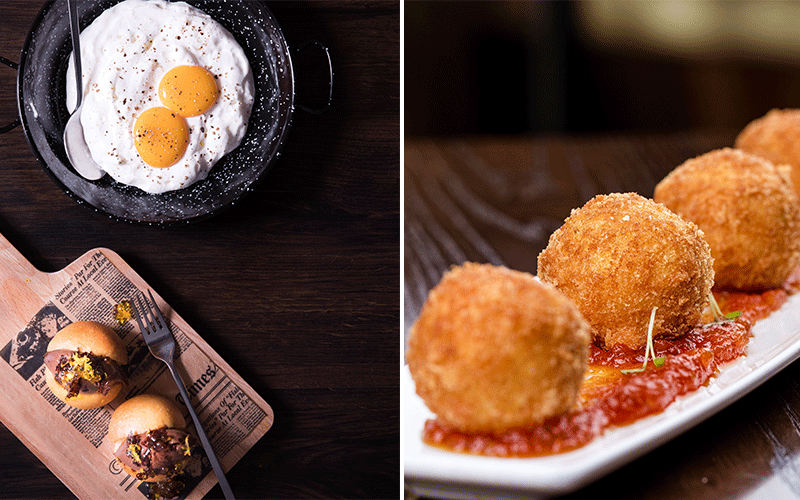 What's the concept?
This popular Spanish eatery has been situated on the same spot close to Dubai Marina for nearly five years. "El Sur" means "the south" in Spanish, and as is expected – the restaurant focuses on food from the southern Andalusia region of Spain. The restaurant was launched by El Bulli alumni, executive chef Juan Carlos González Hernandez in 2013, who ran the kitchen until March this year.
What is the food like?
A nod to the number one world restaurant that closed in 2011, El Sur serves up tasty liquid olives alongside a Spanish cheese selection for starter, which is well worth a try. There's plenty of tapas-style options on the menu, and one dish not to miss out on is the restaurant's famous croquettes. All flavours on the menu are delicious, but our favourite is the leek and brie cheese option.
For main course the roasted suckling meat and the turbot with cuttlefish and green sauce are both tasty. Similar to the theatrical liquid olives on the starter menu, for dessert there is playful "fried egg" option. A delicious creamy sweet dessert which is built to look exactly like a fried egg. Also on the sweet menu is rich tasty peanut coolant which is worth a try.
How was the service?
Many of the serving team hail from Spain and are well-versed in the menus on offer. Be sure to ask advice from the waiting team on which drinks you should pick too. Although the restaurant doesn't offer a set price drinks pairing menu, the staff excel at recommending flavour pairings to match the different dishes on offer.
What is the atmosphere like?
Be sure to book ahead, the restaurant tends to get busy quickly, especially during the cooler months when the restaurant's fabulous terrace is in full use. The place has laidback, cool vibe with modern Spanish art on the walls. It's popular with well-heeled expats enjoying a taste of the Costa del Sol, thousands of miles East of the Mediterranean.
Details: around AED 400 for two people dining with soft drinks. For more information, visit El Sur Dubai. If you enjoyed this story, you may like this review on Salero – Tapas & Bodega.