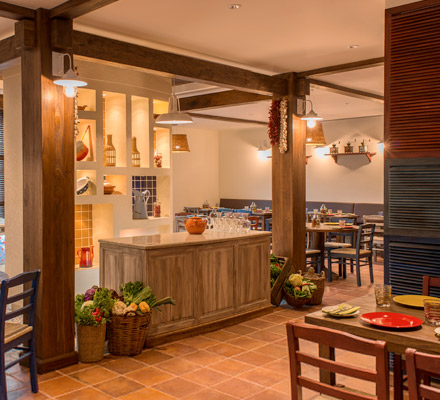 What's it like: Most people associate Portuguese food with just piri-piri chicken. But this eatery, popular with Brazilians, Angolans and Portuguese – a sign that it is authentic food – features other highlights from various regions of the country. Wooden tables with a pattern of the map of Portugal, tiled floors and windows with wooden blinds in blue, beige and dark brown, and kitchen-island in the centre of the restaurant, with baskets of vegetables plonked around, give the restaurant a cosy feel. The restaurant also has an outdoor terrace, by the hotel swimming pool, which is where my partner and I enjoyed our dinner.
Even though the night was chilly, we opted for a pitcher of fruity sangria to wash down our food with. To begin with, we shared a platter of batter-fried croquettes with tender shredded beef, crusted shrimp cake with cheese oozing out, and small chicken pies. The portions are rather big, and so we shared mains as well. These included a Portuguese specialty (Bacalhau confitado with bras), a cod fillet seeped in olive oil, potato mashed with flaked cod, and dried olives. The warm mashed potato with cod was a bit salty, and while I demolished both scoops on my plate, my partner merely nibbled on it. We also shared pan-fried lamb chops – made medium rare to suit our taste – with sweet mashed potato, sautéed mushrooms, caramelised dates and jus. This was one of our favourites, as the lamb chops were juicy, while the sweet potato and dates gave it a sweet touch. For desserts, we had to try the classic Pastas de Nata – a hard shell tart with gooey custard cream that's flambéed on top – which tasted exactly like what I'd had in Portugal, and rabanadas, deep fried bread on a bed of chocolate mousse with oodles of cinnamon powder, sugar and flaked toasted almonds sprinkled over, which my partner enjoyed very much.
If you want to go: Around Dhs250 for two, excluding drinks. Call 04-3977444.
Best for: A traditional, home-style meal
– Nicola Monteath