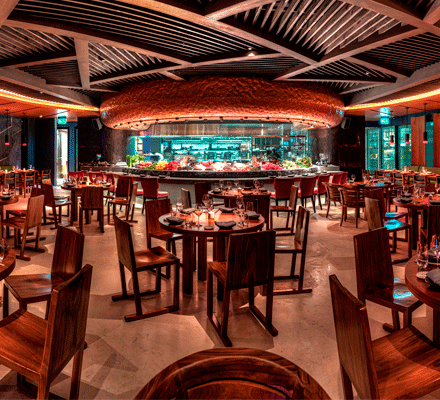 This swanky restaurant and bar recently opened its doors in the region, following the success of its London branch, and is rapidly making waves in Dubai's culinary scene.
As you enter, you'll find a bar with ample seating and super-friendly bartenders who'll be sure to fix you up with a delicious drink. The elegantly-furnished venue is full of quirky, chic décor with 'dinosaur egg' lighting, beautifully-carved wooden ceilings and more.
Take a stroll to the 'seafood market' displaying the freshest and finest catches that can be selected for dinner before being seated. The portions are surprisingly generous and Chef Shane McNeil can whip up options for every palette. We opted for salt and pepper tofu along with a selection of sushi and Maki rolls to start. I ate the portion of scrumptious tofu single-handedly, while my dining partner relished rolls of tuna, avocado, salmon and more. Following a green salad with truffle, which was flavoursome without being overpowering, our mains arrived. I tucked into the fried tofu rolls – tofu encompassed in nests of fried noodles complemented by a tangy mango dip – while we shared the Novkiov grilled black cod, which was tender and cooked to perfection.
To finish, the chocolate fondant served with ice cream is an unmissable dessert.
I have already returned to Novikov since, so it's safe to say that I would thoroughly recommend a visit!
If you want to go: Dhs350+ per person, excluding drinks. Call 04-3888744