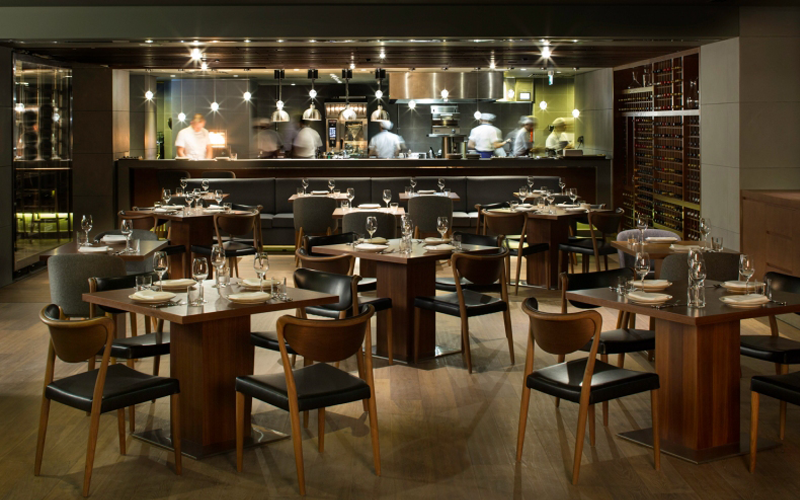 What's the concept?
Set up by British celebrity chef Jason Atherton, the venue is one of 17 restaurants worldwide under the Atherton brand. Akin to the rest, it's split in two, with the first half – known as The Social Room – acting as a standalone bar while the second half – Marina Social – is an open plan restaurant and kitchen. The restaurant menu is based on sharing dishes and mixes some of the theatrics of fine-dining (watch out for the 'English breakfast mushroom, bone marrow, gentleman's relish teapot) with a spin on many traditional British and Mediterranean flavours.
What are the food highlights?
If you visited the restaurant when it first launched back in September 2015, you will recognise some of the dishes on the menu; the Italian beef tomato with hidden burrata remains, as does the English breakfast mushroom and the goat's cheese churros (all are as delicious as when the restaurant opened). The kitchen team (led by Tristan Farmer, formally of Pollen Street Social and maze) are incredibly skilled. One of the best options on the menu is to put yourself in their hands – with their 'feed me' 4, 6 and 9-course options, with the chef choosing different surprise dishes to serve to the table.
How was the service?
If you want to impress your dining partner, be sure to stop off at the bar before dinner. There's plenty to of fun beverages to be had (from 'shakey Pete's ginger brew' to 'cereal killer') and the experienced bar team are more than capable of throwing together a drink from scratch based on your preferences. At the table, serving staff were good and could easily answer questions about the different dishes on the menu.
What's the atmosphere like?
BBC Good Food Middle East visited midweek, and the venue was two thirds full and felt busy. The open plan kitchen is visible from all tables inside the restaurant and adds to the 'relaxed dining' dynamic of the restaurant. During the cooler seasons the best seats are outside on the balcony, where there's spectacular views of Dubai Marina.
Details: For more information visit Marina Social and The Social Room