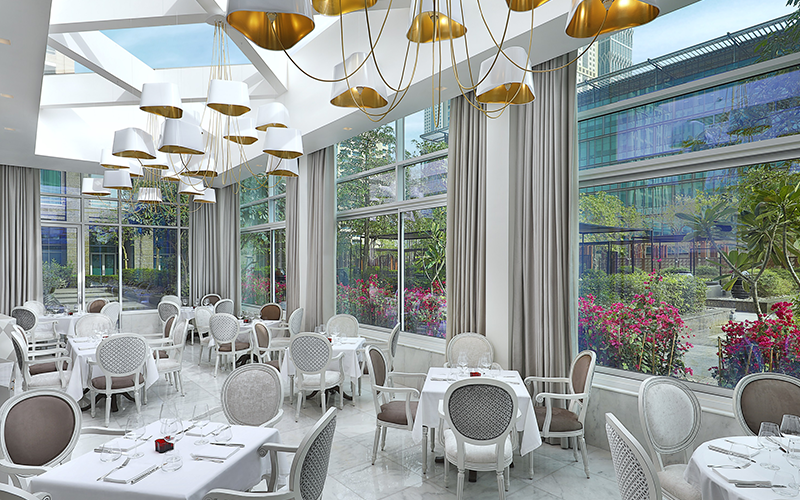 What's it like?
A timeless classic originating from New York, Le Cirque Dubai oozes class and elegance. Inside, the décor is sophisticated, with contemporary paintings on the walls, crisp white table clothes and neutral grey tones throughout, paired with artistic lamp shades. The outlet is made up of a dining area, bar, conservatory and winter garden that overlooks the DIFC terrace area, and is open for business lunch and dinner, however, is also a great spot for stopping by for evening drinks. Aside from its beautiful interiors, what strikes me first is the level service and expertise shown from serving staff and the sommelier. Paired with soothing sounds from a live pianist, the stage is set for a classy, intimate meal.
What are the food highlights?
The menu here promises classic French fare married with Italian influence – and does exactly that. Made up of sections including entrees, salads, pates and risotto, mains, plates to share and desserts, we'd recommend taking the four-course route and choose for a couple of sharing starters, a risotto or two to share (group size depending), individual main, followed by dessert (usually I'd pass on dessert, but here they are a must!). Across the board, dishes are modest, light and contemporary, with refined flavours coming to the forefront. Considering the outlet has not been open long, the level of cookery here is perfected and shows through in the dishes. Highlights from the experience include the yellow fin tuna tartare served with chili-infused watermelon, pomegranate, coriander and lime, the lobster risotto was bursting was flavour and incredibly moorish, while the veal ragout with crispy sweet bread, braised fennel and pecorino was perfectly balanced and succulent. For main the chargrilled tenderloin was melt-in-the-mouth perfection, served with light, fluffy pomme puree, and the slow cooked Norwegian salmon was tender, moist and flakey. Desserts here are made by chef Silvia Pardini who joins Le Cirque Dubai from the New York outpost. She's clearly transferred the standard, as the sweet offering truly wowed. Must-try items include the 'Paris best' salt caramel cream with lemon and almond ice cream, the soufflé and the Italian-inspired bomboloni with spiced plum and cherry jam.
How was the service?
Service and hospitality here is meticulous. The front of house team is made up of French and Italian nationals, with an Arabic speaker too. They are clued up entirely on the restaurant's offering and boast high-standard European service.
The bottom line:
Le Cirque Dubai is the perfect place to share dinner with a loved one or a small group of family or friends. It's a truly beautiful dining experience that I'd highly recommend.
Details: Priced around AED 290 per person for four-courses, without beverages. Call 04-3722444 or e-mail reservations@lecirquedubai.com.