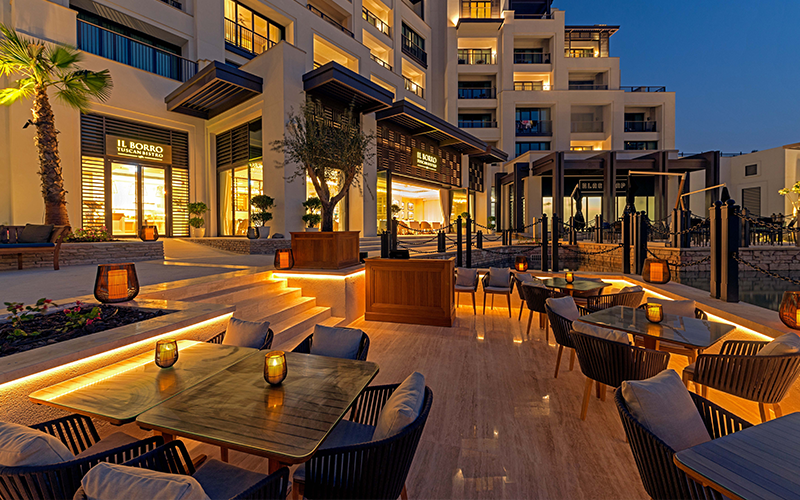 What's it like?
In its first venture outside of Italy, Il Borro is a Tuscan estate owned by the Ferragamo family, steeped with over 1,000 years of culinary heritage (and trust me, on taste of the food here, and you can really tell). Perched idyllically on the side of Jumeirah Al Naseem's turtle rehabilitation lagoon, Il Borro offers a warm and welcoming, homely feel with a neutral colour scheme throughout. Inside there's a central bar area, restaurant with open kitchen and a terrace that overspills out onto a sunken terrace next to the turtles. From stepping through the door, you'll see a fresh display counter showcasing fresh fish, aged meat and a selection of fine cheeses – which all successfully get your taste buds eagerly awaiting what's to come.
What are the food highlights?
Il Borro's menu celebrates the best of organic and ethically grown produce, and it shines through in every dish. On offer you'll find organic red and white, beautiful olive oils and honey – all brought in from Tuscany to accentuate the region's rich flavours. The food here is gorgeously presented, rustic and deep with flavour. Executive chef Andrea Campani successfully takes the best in raw ingredients and transforms them into exquisite dishes that boast simplicity through texture variations. Highlights on the menu for me include the pappa al pomodoro (admittedly, I've day dreamt about this dish on several occasions since having it) – it's a thick soup-like Tuscan dish served to start with crunchy garlic bread to scoop it up with – incredibly delicious. For main, the homemade pumpkin tortelli with black winter truffle, followed by the Mediterranean sea bass in herbs and salt crusted roasted rosemary baby potatoes. To finish, the selection of homemade profiterole stuffed with different flavours of custard were simply divine – and easier to polish off if you're feeling a little full by this point.
How was the service?
Although not everyone was of Italian decent, the entire team did a really fantastic job of offering true Italian hospitality. They were unobtrusive, however, always on hand to offer knowledgeable input about the menu should you need it. You could tell that they'd all been taught by the founders through soul, history and enthusiasm – every dish had its own story.
The bottom line:
A place to go to enjoy a fantastic meal with family, friends or your other half for a special occasion. A truly warming, high-quality dining experience.
Details: Around AED 300 for three courses without drinks. For reservations call 04-2752555 or e-mail reservations@ilborrotuscanbistro.ae