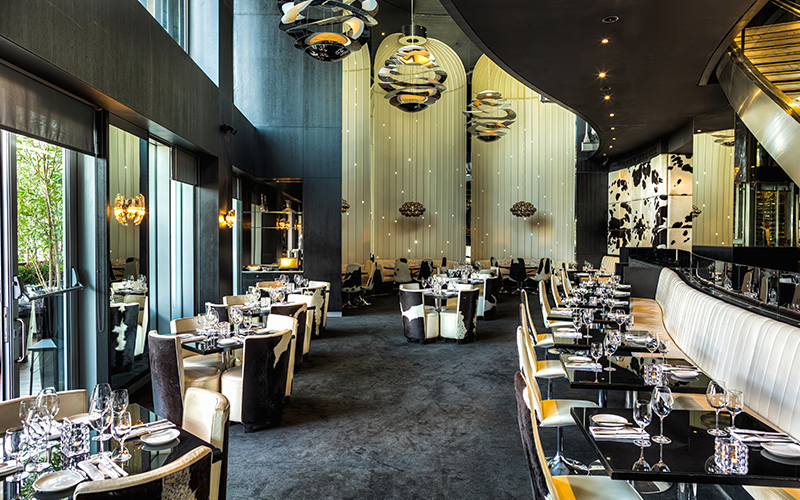 What's it like?
One for the carnivores, Gaucho Dubai is an Argentinian Steakhouse, priding itself on offering premium speciality beef directly from Argentina to the plates of diners worldwide – including outlets in the UK, Hong Kong, Buenos Aires and of course, Dubai.
Inside, the scene is stylish and contemporary – the restaurant and bar/lounge area boasts casual sophistication and an upbeat atmosphere. Sultry black carpets and tables paired with chairs and walls adorned in sleek cow hide, plus shined silver light fixtures, give the outlet quite a glamourous feel.
What are the food highlights?
Dinner here is indulgent, so come hungry! We get off to an impressive start when the bread basket arrives with incredibly delicious pandebono cheese-infused bread – it's so good that we ask for more (which, in hindsight we probably should not have, seeing as courses to follow are generous and filling – but nonetheless, it's just that good!).
Steak is the obvious meal choice and faced with a large selection to choose from, our server kindly brings out a tray of cuts to the table to explain the varieties on offer.
Sharing-style starters arrive and my dining partner and I delight in a serving of fall-off-the-bone, braised beef back ribs glazed in hoisin and chili orange sauce with sesame seeds – these were to die for, and I'd highly recommend treating yourself to some. Secondly, the crisp lobster tacos offered a subtle kick with coriander mayonnaise, reed onion, iceberg lettuce and fresh lime. For mains, we shared a tasting plate of three cuts – the lomo fillet, which is lean and tender with subtle flavour, the ancho rib-eye, which is full-bodied in flavour and delicately marbled throughout with a little more chew to the previous, and lastly the tastiest of the three, the cuadril rump, which is the leanest cut with a pure, distinctive flavour. I'm not one for putting much – if any – sauce on my steaks, but the chimichurri marinade and salsa verde sauce here is a must-try and finishes the meat off perfectly. On the side, the himita saltena, served in a corn husk with sweetcorn, mozzarella and basil is an Argentinian treat not to miss. Try, if you can, to save room for dessert as the dulce de leche fondant with Amaretto curd, is dreamy indulgent excellence.
How was the service?
Attentive and informative. The menu's heavy use of Spanish terminology made it a little difficult to understand what certain cuts and dishes were, but the team here were well-versed and always on hand to help and ensure comfort.
The bottom line:
A stylish and lively venue, perfect for enjoying with family or friends over a wholesome, hearty meal. We'll be returning to check out the restaurant's newly introduced 'Meat Me Mondays', which offers diners dinners a meat-feast dinner paired with half a bottle of grape for AED 395 every Monday, or AED 250 for food only.
Details: Priced at around AED 450 per person for three courses, without beverages. For more information or reservations, please call 04-4227898, or e-mail events.dubai@gauchorestaurants.com.