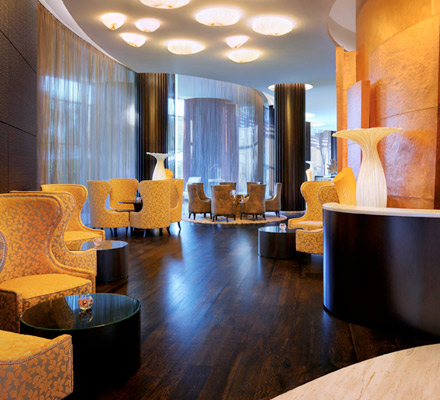 What's it like: An all-day dining hotel restaurant is probably not the first choice that comes to mind when you crave sushi. But, Fazaris' recent menu makeover, which now includes only Italian dishes and sushi is definitely one to try. Marine themed interiors, seen in the jellyfish-style ceiling lamps, shimmery gold pillars, and white couches exude a relaxed elegant vibe that seem to suit both cuisines equally.
Instead of choosing our favourite Japanese appetisers, my partner and I tried the Tempura Udon from the concise menu. The broth with slippery soba noodles, shitake, nori slices, and eggplant tempura was served warm, but heavy to begin with. Up next was a Signature fountain, and Blow-torched dynamite roll which were presented on a wooden plank with wasabi and ginger slices on the side. We weren't sure what to expect, but both rolls offered an orchestra of flavours. The fountain roll was a heavenly combination that resembled a fountain, with drizzled teriyaki sauce flowing down. The crunchiness of the cucumber, sweetness of the teriyaki, soft cream cheese, and wagyu beef on the outside made every ingredient stand out – we loved the uniqueness of this roll! The Blow-torched dynamite roll on the other hand, was lip-smacking, to the point where we saved a bit for the end, so that the taste would linger until dessert. The salmon, avocado, cucumber and pickled relish stuffed roll, is covered in deep-fried nori, with a dollop of creamy, buttery mayo, a flicker of teriyaki sauce and fried tempura on top. Desserts included a selection of green tea, lychee, and chocolate and coconut flavoured mochi ice creams, a Japanese specialty, made from pounded sticky rice and ice cream filling. Presented to look like a traditional Japanese river boat, the ice creams were served with edible flowers, on a leaf on a black plate, and offered a subtly flavoured end to the meal.
If you want to go: Approximately Dhs200 for two, food only. Call 04-8883444.
Best for: A sushi fest with a difference
– Nicola Monteath