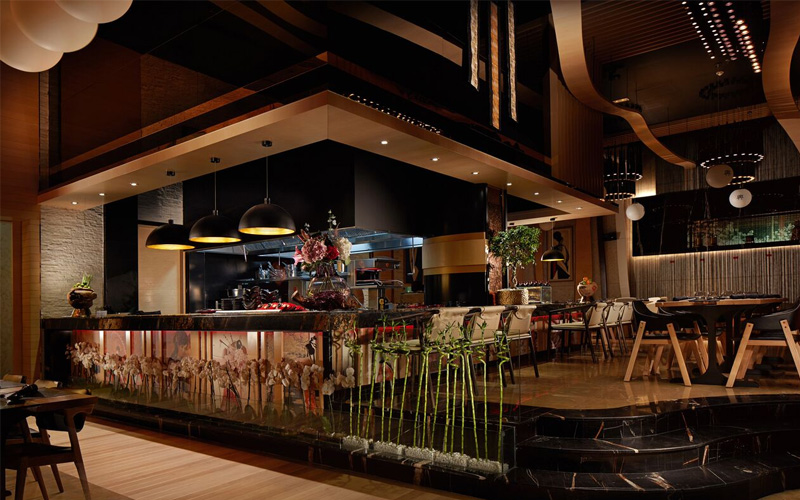 What's the concept?
Kyo is perched right at the beginning of the Golden Mile Galleria shopping complex, but it is by no means your standard mall café. The interior design rivals any of the top restaurants in Dubai (there's high ceilings, tasteful Japanese art and a chic monochrome colour scheme). Outside there's a spacious seating area to take advantage of during the cooler months, although it doesn't have the best view (it overlooks the running track and mono rail).
What are the food highlights?
If you are a fan of gyoza, there's some great dishes on the menu. The 'ebi no gyoza' is delicious (filled with prawn, banno and negi and comes with a watercress wasabi dressing). For dessert, the more experimental gyoza with 46% milk chocolate and calamondin dip is equally tasty. Elsewhere on the menu you can find plenty of Japanese staples including a wide range of makizushi, nigirizushi and sashimi. Kyo does not have a license, but there's a range of mocktails on offer for those with a sweet tooth.
How's the service?
Upon arriving at the restaurant we were seated promptly, and were talked through the menu by our friendly waitress. She had a vast knowledge of Japanese food, and was able to easily explain the nuances between the different styles of sushi available.
What's the atmosphere like?
Many mall restaurants can fall down when it comes to atmosphere, as they're often overwhelmed by the noise from the shopping complex they are attached to. Kyo however, has eluded this problem. The restaurant has a separate outdoor entrance from the mall and successfully creates its own relaxed Japanese microcosm. Another highlight is the open plan kitchen, which dominates the centre of the restaurant.
Details: Meal for two costs around DHS 500. Address: Kyo Restaurant, Golden Mile 1, Palm Jumeirah, Dubai, UAE. For more information click here.