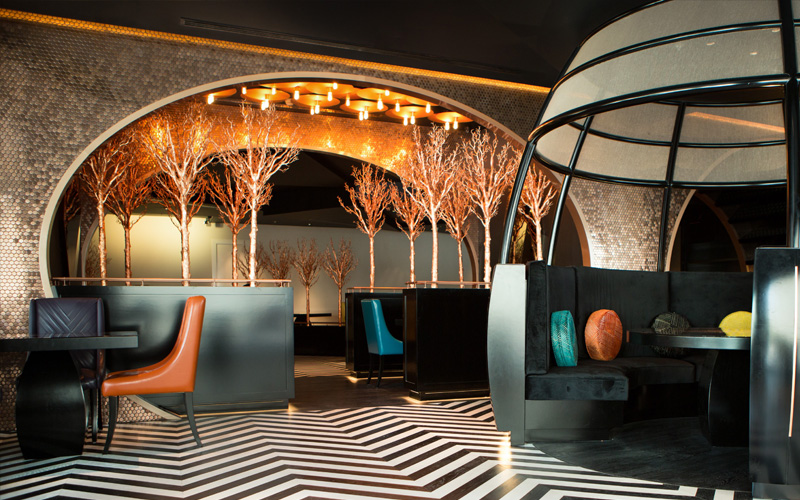 What's the concept?
Like its sister restaurant, Tresind, this recently opened Indian eatery is no ordinary curry house. And, while Carnival by Tresind follows suit in its molecular, Alinea-style ways, it differs completely from Tresind in a very fun, jovial way.
What are food highlights?
Although there's an a la carte menu available, I'd recommend opting for one of the chef's tasting menus (like we did), in order to fully immerse yourself in the exciting experience on offer – there's vegetarian options available if required. It all begins with a bread replacement of a sweet and sour pumpkin kilcha, a moist and soft flatbread filled with chutney – I could have filled up on these, but with 14 degustation courses to come, I thankfully refrained. Menu highlights for me was a starter dish of chicken pakora with curried mayonnaise, a South Indian ginger prawn cooked in palm sugar caramel and a curry leaf crisp (I could have eaten a whole bowl of these – so good!), plus the mysore masala grilled lamb chops, which were served beautifully tender. A range of sweet treats will follow, but be ready to be impressed with a stunning dessert of caramel, peanuts and chocolate.
What's the atmosphere like?
The interiors make you feel like you've entered some sort of Wonderland, there are trees, zig-zags and stripes leading you to the table where a bubble machine 'to refresh' greets you – opposing the standard cold towel regime, in a fantastically playful way. All in all, Carnival by Tresind offers the perfect recipe for an entertaining night out with friends, paired with playful food, packed with a whirlwind of unmissable flavours.
Details: Tasting menus are available from AED 250 (vegetarian) or AED 270+ for non-vegetarian, excluding beverages. Address: Carnival by Tresind, Burj Daman, DIFC, Dubai, UAE. For more information, click here