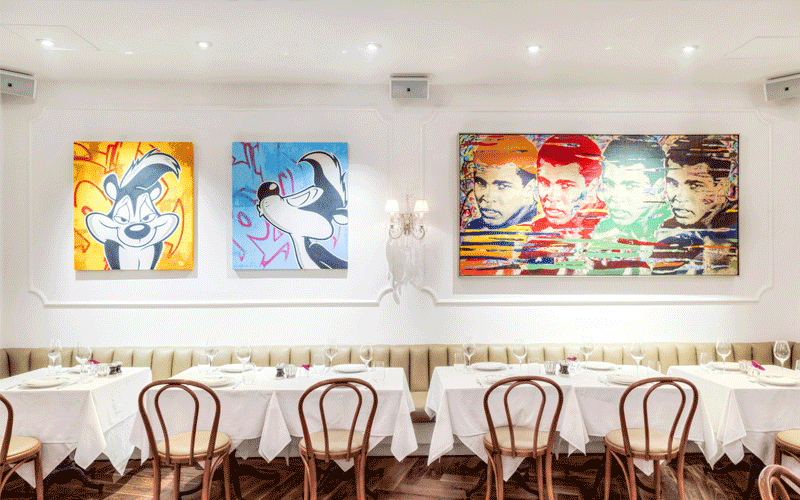 What's the concept?
On the surface, Bistrot Bagatelle in Dubai's Fairmont Hotel looks like a traditional French restaurant. There are white table cloths, matching early 20th-century décor and a brassy French singer, crooning jazz and blues songs late into the night. But like its sister branches from St Tropez to New York, there are also playful hints towards subversion, most apparent here through the Lichtenstein and Marvel-inspired Pop Art plastered across the walls.
Food highlights
Bagatelle's kitchen has made the bold choice of appropriating different European dishes and putting a French twist on them. There's 'pizza à la truffle noire' (black truffle pizza), 'gnocchi à la parisienne' (Parisian style gnocchi) and 'gambas rôtie' (roasted prawns with sauce). The decision pays off. The menu pays homage to the heritage of the dishes, while subtly creating something new through using French techniques and flavours. This follows through to the dessert menu, where there's the playful (and delicious) British-French mash up "le tipsy cake".
How was the service?
The serving staff were faultless. The team could easily talk through the nuances of the different dishes on the menu, and were on hand throughout the evening without being overbearing. If you are a fan of red and white, Bagatelle's grape pairing expert is a rare find in Dubai, astutely picking drinks that work both with your palate and the subtlety of the flavours on the menu.
What's the atmosphere like?
Bistrot Bagatelle doesn't open until 8pm, and the atmosphere doesn't get busier until much later. The restaurant is windowless with soft lighting, and successfully creates the illusion of being situated in the middle of Paris's Montmartre district. It's worth visiting when you don't have an early morning alarm, and can stay to enjoy the late-night music and a digestif at the bar.
Details: Meal for two costs around AED 600 without drinks, for more information visit Bistrot Bagatelle.