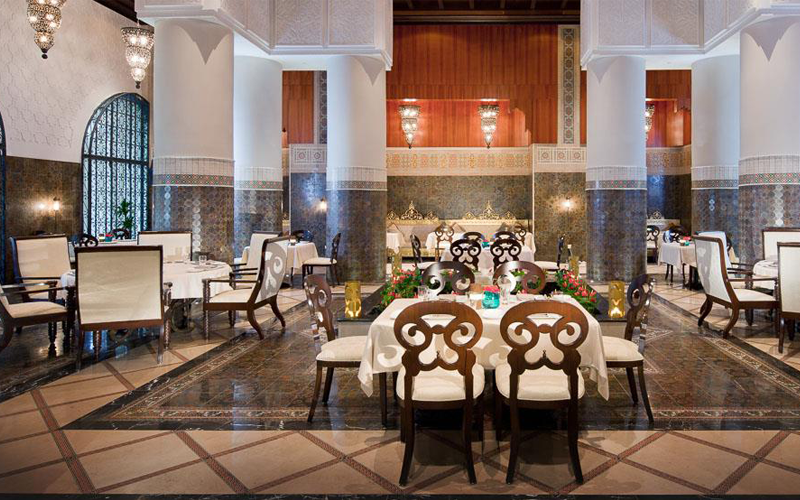 What's the concept?
This Indian restaurant is based in the palatial Jumeirah Zabeel Saray hotel on Palm Jumeirah. Although Amala is largely focused on North Indian cuisine (particularly Mughali with plenty of Ottoman flavours), it also has a Malabar set menu, for those who prefer southern Goan-style dishes. The décor veers more towards the Mughali style, with decadent floor to ceiling pillars, and marble walls and floor.
What are the food highlights?
Expect a feast of Lucullan proportions. Food is served in a traditional manner, with no theatrics or dry ice – which is no bad thing. Be sure to try the sounfiya paneer tikka and the Seekh kebab (lamb skewers, with onion, peppers, mint and coriander chutney). Standout dishes were the delicious Goan fish curry with Nile perch fillet and coconut milk, and the papadi murgh tikka (with marinated chicken, cashew nut, spices and cheese) which was equally tasty.
How was the service?
The serving team were personable, and knew the menu thoroughly. The head chef also made an appearance, and was happy to talk through different dishes.
What's the atmosphere like?
The atmosphere was busy, this stood out due to the distance the restaurant is from the mainland (it's near the far end of the outer palm crescent) and the fact that it was midweek when BBC Good Food Middle East visited, arguably the crowds of people at the restaurant were a testament to the fact the food is very much worth travelling a distance to eat. The best seats can be found outside, with heaters or coolers depending on the time of year, and views over the hotels lush green gardens and water features.
For reservations email jzsrestaurants@jumeirah.com for more information visit Amala.