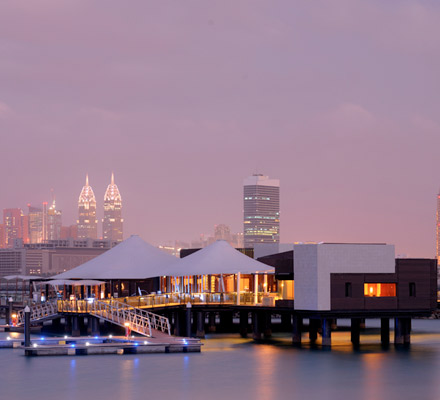 What's it like: Located on a jetty over the gently lapping waters of the Gulf, this glamorous restaurant will take your breath away with its flaming torches and chic, marine-inspired décor. The best way to get here is by the boat that ferries between sister hotel the One & Only Royal Mirage and the jetty (but be warned, the frequency of the boat changes after a certain point in the evening – so double check the timings, and plan your meal accordingly). With floor-to-ceiling glass windows, the indoor melds with the outdoor seamlessly, while the city lights twinkle in the distance.
You can choose between sitting down to a proper meal, or tapas and drinks in the outdoor lounge – probably a better option as the food menu is quite limited. We chose to start with a Cod fish salad with rocket, celery and fennel, and Sauteed baby spinach with chicken chorizo, pine nuts and manchego cheese. Both were light and fresh, with an interesting interplay of flavours. For mains, my partner opted for a Josper grilled baby chicken with grilled potatoes – it was tender and flavourful but the sides felt like they were wanting in quantity and variety. I opted for a seafood paella, which, while generously portioned and pleasant, lacked authentic fragrances, and didn't taste as fresh as I'd have liked. Desserts more than made up for these shortcomings however, as my choice of Berries – a concoction of meringue, whipped cream, strawberry sorbet and fresh berries was light and absolutely delicious. My partner's frozen ice cream choice – sort of a gourmet version of a Choco bar with vanilla ice cream encased in hardened chocolate was also polished off with ease. The average and slightly over-priced food doesn't live up to the spectacular setting, but it still makes for a very special evening.
If you want to go: Around Dhs550 for two, without drinks. Call 04-4401030.
Best for: Making a great first impression
– Sudeshna Ghosh