The Lavazza Coffee shop offers an insight into innovative concepts such as sustainable coffee made with the sun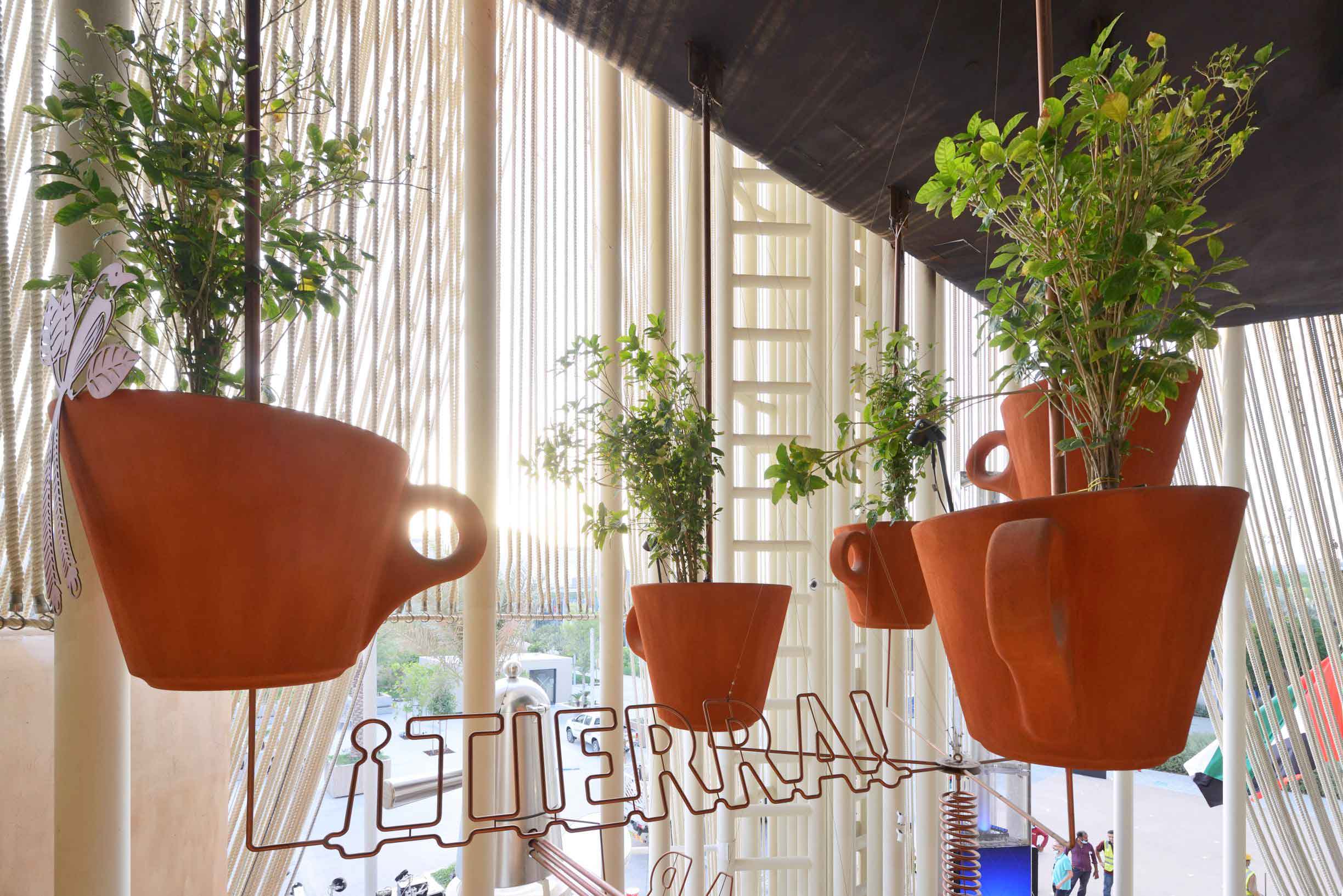 Lavazza, a new coffee shop at the Italy Pavilion of Expo Dubai 2020 is a project by Carlo Ratti Associati. It is designed to create an immersive coffee experience by leading coffee enthusiasts through a narrative made up of aromas, innovation and sustainability, as well as by appealing to their imagination and senses with the Solar Moka, a people-friendly installation powered by solar energy.
The Solar Moka showcases the coffee production process as a continuous cycle, combining natural and artificial elements, revealing the potential reuse of every component and underscoring the importance of a transparent procurement chain.
A combination of special finishes and materials offers a multi-sensory experience involving taste, in the form of the finest Italian coffee, hearing and smell, thanks to the sounds of grinding and the coffee aromas released; and touch, through contact with the organic materials used for the decor, such as the coffee beans set in resin featured on the work top.
The project also reminds visitors of the relationship between coffee production and local communities that represents the beating heart of this special story.
A story in three chapters
Coffee Plants
A series of medium-sized coffee plants are suspended in mid-air, showing visitors the initial stage in the production process. The plants will be cultivated throughout the period of the World Expo event and when ready, their beans will enter the production cycle.
Solar Moka
Inspired by the climate in the Middle East, the Solar Moka incorporates a series of mirrors that follow the sun to produce heat. The concept of the 2.2-metre-high moka pays tribute to the iconic Carmencita moka pot, designed by Italian designer Marco Zanuso for Lavazza in 1979. This innovative technology reduces energy consumption in the subsequent stages of coffee preparation. When heated, the water runs through copper pipes surrounding the cafeteria, revealing the process of preparation in a multi-sensory experience.
Coffee Countertop
Inspiration, as offered by the circular economy, can be seen in the design of the counter, which is made with reused coffee grounds and has a tactile surface top made from coffee beans and resin.
Visit the website.