We sat down with chef Mickael Bertho from Habtoor Palace's French brasserie, BQ – French Kitchen & Bar, to discuss Parisian delicacies, family cooking and culinary legends.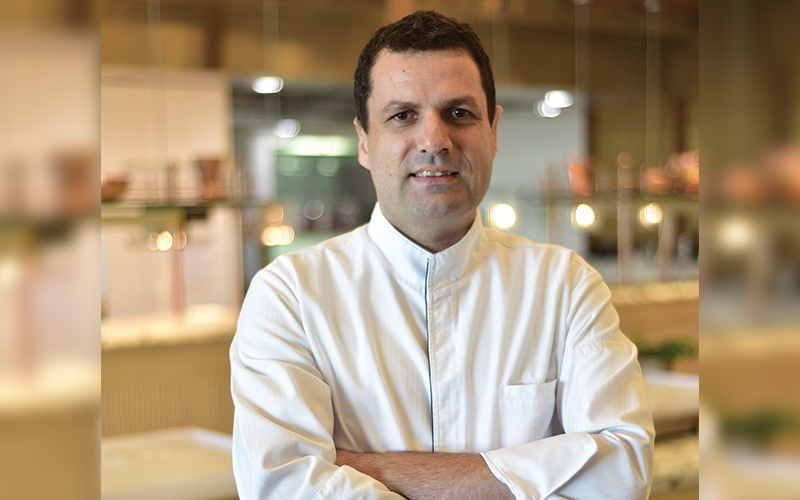 What can guests expect when they visit BQ for the first time?
BQ is a very Parisian place to be; it's a unique space, where guests will discover and enjoy some of the flavors and traditions of French delicacies.
How is the restaurant's French influence reflected in the menu and the restaurant's ambience?
BQ is an authentic French brasserie, and our menu reflects regional specialties throughout France's broad culinary delights. Classic favorites include garlicy escargots, onion soup with melted cheese, the delicious Bouillabaisse, turbot a la Grenobloise. We also serve a selection of delicious classic French desserts – le pain perdu au caramel beurre salé, and les crepes suzette flambé au Grand Marnier. Each dish is created and prepared with care in the French culinary tradition, and served in copper utensils (Mauviel 1830) – as is the case in the most prestigious establishments in France.
What is your favorite dish on the menu, and why?
I particularly like the sole of Grandmother (AED 160), because it's my grandmother recipe that really resonates wih my childhood and my family.
What brought you to the UAE, and how does life in the kitchen differ here to that of other kitchens you have worked in across the globe?
After hearing a lot about Dubai, I came to the UAE to access a new experience – it's a big city with a great perspective and an innovative vision in the hospitality and culinary industry, which I decided I wanted to be a part of. I'm regularly meeting and working with great famous chefs. I have always been curious to explore new opportunities and cultures, so Dubai seemed like the ideal choice.
I have worked in France, the USA and Morocco throughout the course of my career. Working in the kitchen in Dubai is a very rewarding experience, unlike any I have encountered before, and this is mainly down to the multiculturality of my team. This helps the exchange of ideas throughout the kitchen, as they have a different perception and taste to me when it comes to preparing dishes because of our different backgrounds and cultures. I believe this is truly how we grow; through the sharing of ideas across cultures.
Are there any new dishes coming to the menu in 2019? If so, what can diners expect from these?
We're launching a new three-course set menu for AED 199 per person, which I believe is great value for money as it includes a selection of our signature dishes. We also have a new sharing menu on offer for two-people.
What are your three favorite ingredients to cook with, and why?
I find that fleur de sel (flower salt) is one of those small, but indispensable touches, that changes an ordinary meal into a culinary experience. Exceptionally mild, delicate and smooth on the palate, fleur de sel is the perfect flavour enhancer. I also particularly enjoy cooking with fresh truffles; their flavour and aroma are truly unique, allowing it to transcend any dish and brilliantly complementing any sophisticated preparation. Personally, I find there is nothing better than enjoying fresh truffles grated over warm eggs, or a plate of pasta! Finally, I'm a big fan of scallops; refined, succulent and delicious, Brittany scallops, when flavoured in carpaccio or tarte and grilled in a pan are simply delicious.
Who do you admire most in the culinary world, and why?
Definitely Joël Robuchon. He rebelled against the stuffy world of fine dining, and elevated mashed potato into an art form. His food was described as simple because he preached the use of only three or four ingredients in most dishes, and his goal was always to show off their flavours.
For our readers looking to venture to France and experience true, authentic French cuisine, where would you recommend?
I'd recommend a trip to Pré Catelan by Chef Frederic Anton, located in the heart of the famous Bois de Boulogne. This treasure of French cuisine received three stars in the Michelin Guide, and offers a taste of French fine-dining cuisine which is seemingly classic and simple, but both subtle and generous. In addition, I'd recommend heading to The Café de la Paix, which has been considered a Parisian institution tradition and modernity. The dining experience can be described as a "contemporary classic," and this establishment has always attracted famous personality like Emile Zola, Oscar Wilde, Guy de Maupassant, and Marlene Dietrich.