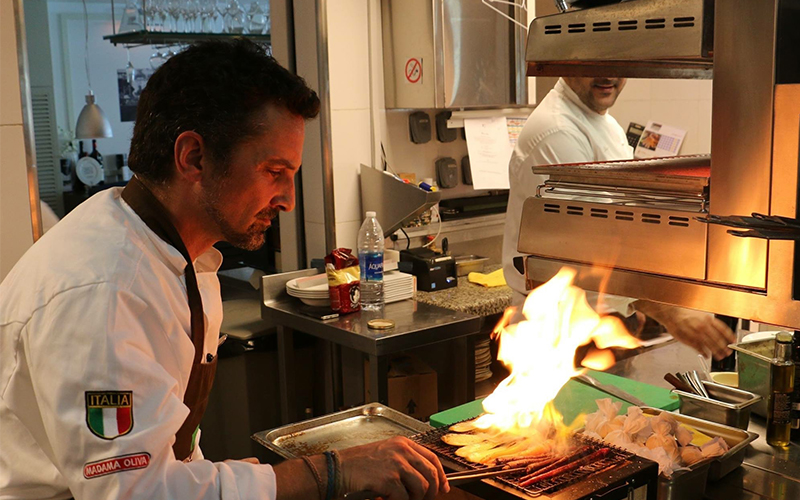 Founded by a team of professional Dubai-based chefs, 'Your Italian Chef' is a new home cooking service that allows you to enjoy a stress-free, fine dining experience from the comfort of your own home.
Tailored to your needs – whether it be an intimate dinner with family or a party with friends, 'Your Italian Chef' allows you to customise your next dinner party without having to spend all night in the kitchen – because they'll take care of the hard work for you. Luca Cima, the Italian chef behind it all tells us more.
Tell us about your home cooking service 'Your Italian Chef' and how it works…
It's a newly launched concept with me and several other chefs at the helm. Day to day I am based as a chef at Bice Mare Dubai in Souk Al Bahar with chef Leonardo Maltese, who has played a crucial role in creation of 'Your Italian Chef'.
As a team, we offer high-end, gourmet Italian dining experiences at customers' homes. We take over home kitchens to cook a full meal at the same high standard experienced in a fine dining restaurant – the only difference is that it's all served from the comfort of our clients' homes.
Menus are completely tailor made for each customer, depending on their requirements. We offer handmade pasta, risotto, seafood and meat, plus a range of side dishes and desserts. Our 'Inspiration Menu' is made up of all the classic Italian dishes, however, we are able to customise dishes based on individual tastes.
Once the menu is decided upon, my team inspects the client's kitchen to check for equipment requirements a few days before the event. On the day of the event, we arrive with plenty of time to set-up and prepare the meal. Once served, we clean the kitchen thoroughly before leaving.
How many people are you able to cater to?
We have served up to 35 people, but ideally to have that special touch and greatest attention to detail, we recommend a maximum of eight to 10 people. We're not a mass catering company.
Can you cater to all budgets?
Yes, we're able to cater to nearly all budgets, however a client must bear in mind that quality products come with certain costs. We like to work with the best ingredients on offer in Dubai, such as French oysters and foie gras, beautiful Irish lamb, wagyu beef from Japan or Australia, plus more. Of course, the selection depends on the client's requirements and budget, but even for simple dishes such as seafood risotto, we always endeavor to source the freshest and tastiest seafood we can find.
Tell us about some of your favourite dishes that 'Your Italian Chef' offers…
We are very proud of our handmade pasta and risotto dishes. Porcini mushroom risotto with truffle for example is very popular, as well as seafood. Lobster alla Catalana or lobster ravioli are both special too. Seafood platters are requested a lot.
I like regional dishes like beef carpaccio with burrata, 'cotoletta alla milanese' or even a nice and simple grilled seabass with a caponata of vegetables. I am personally a very big fan of classic cuisine, despite popular modern trends. We keep it classic and make our own demi-glace, bisque, bread, dough and mozzarella, following traditional recipes.
Where do you source your ingredients from?
Working in restaurants, the team of chefs behind 'Your Italian Chef' have access to all food distributors in the UAE. So, for all the ingredients we need, we can choose from the best suppliers daily.
For example, recently we needed a big line-caught tuna that was sushi grade and believe it or not, we have no difficulty sourcing it the very same day.
Searching for the perfect ingredients for our guests is a privilege.
Looking at your background, how did your journey in the kitchen begin?
Like many kids born in the early 70s, I spent most of my young age in the kitchen doing homework while my mom was cooking. My dad was very picky, so my mother tried her best every day to make really special meals at home, which is where my love for great food began.
When I grew up, I travelled with my dad a lot. He always made time to stop at the best restaurants – lunch and dinner became sort of a religious moment for him that could not be spoiled by poor food. He certainly imprinted this love for good food in me.
I developed my personal love for food and always cooked at home, where I'd experiment and try to re-create dishes I'd tried at restaurants. Over the years, I made friends with chefs and spent a lot of time in restaurant kitchens as a helper, preparing vegetables, cleaning fish, making sauces and one day a chef asked me if I wanted to start cooking for real, and that's where it all began!
Why did you choose Italian cuisine to specialise in?
I was born in Italy and grew up tasting arguably some of the best food in the world. Italy is made of 21 regions and all of them have their own specialties, their seasonal ingredients, their own stories and dishes. It's virtually impossible to learn it all. There are great food traditions all over the country, so growing up there it's hard not to automatically learn about the country's cuisine. I chose to specialise in Italian food because it's where I feel at ease.
Details: To book a private culinary dining experience at home with 'Your Italian Chef', contact Luca on lucacima71@gmail.com or find him on Instagram @youritalianchef