With a renowned knack for seamlessly fusing tradition and innovation, seasoned chef Alfredo Russo of Vivaldi by Alfredo Russo, Sheraton Dubai Creek Hotel & Towers, reveals the key to modernising Italian cuisine while maintaining authenticity.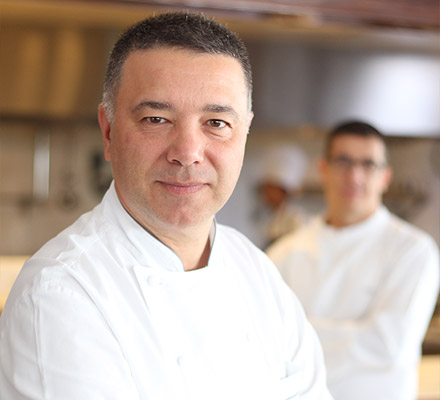 "I like it when diners are surprised to see something new in a dish, yet can still identify it and relate to tradition"
In town for the launch of a new mozzarella menu at Vivaldi by Alfredo Russo, which aims to take diners on a journey across Italy's various regions, Michelin-star awarded chef Russo is best known for his modern Italian fine dining restaurant, Dolce Stil Novo alla Reggia in his native city, Turin. "I found my passion in the kitchen at 13," he admits. And, ever since has strived to continually innovate while maintaining his respect for Italian culinary traditions. Here's how he does it:
You're known for marrying Italian traditions with innovation, what's the key to maintaining a balance between the two? It's important to modernise the classic palate but it's also vital to retain the link with traditional ingredients so that people recognise the dish. I like it when diners are surprised to see something new in a dish, yet can still identify it and relate to tradition. It's important to retain simplicity with innovation too, because when a dish becomes overly complicated, diners will not understand it.
What's your latest 'innovative dish?' Oyster ice cream. It's quite simple, but it's innovative because it's unique and has a delicious taste – when you eat it there's an explosion in your mouth. When you bite into it, you get the flavour of the sea and this surprises people because of the powerful taste. It's also healthy, and is not only modern because it is new, but because of the mixed concept it offers – it's healthy, delicious and recognisable.
What's your take on the Middle East's Italian culinary scene – do you believe it's authentically represented? Yes, the Middle East is a destination for many well-known chefs to open restaurants, especially in Dubai. I think for the most part Italian dishes are authentically represented here, and the key to being authentic and retaining Italian traditions and flavour is ensuring that you are using authentic Italian products and ingredients.
For all of our home cooks out there, what's the secret behind creating the perfect pasta dish? The secret is to use the best quality of pasta. It's very simple. Cook the pasta al dente, but make sure you don't overcook it so that it's not too crunchy. You need to find the perfect moment to stop cooking. Then add a few drops of olive oil, some parmesan cheese on top and you're done.
You've just introduced a new Mozzarella menu at Vivaldi. What's the inspiration and concept behind it? Mozzarella is very commonly used in many dishes but it's not very well known that in different regions and villages there are many different kinds of mozzarella. The idea is to show our guests'mozzarella in a different light, while preparing it in different methods and dishes.
What's the next step for you? Can the Middle East expect to see any further developments from you at Vivaldi by Alfredo Russo? My main restaurant is in Italy, but the company is looking to expand. We have two restaurants in Mexico; the second one just started and we're planning to open a third one early 2016. In addition, I'm a consultant for many restaurants in Asia including China, Korea, Thailand and Japan. We only have one project in Dubai, which is Vivaldi but as it just opened about a year or so ago, I like it when diners are surprised to see something new in a dish, yet can still identify it and relate to tradition. Photographs SUPPLIED the goal is to consolidate the consistency and eventually develop it in the near future.
In terms of current trends across your global restaurants, what are the hottest menu picks at the moment, any new flavours of the month to be on the lookout for? People like to feel at home. I believe there's been a strong trend where the focus is more on the presentation of the dishes and the restaurant rather than the food; however, this is shifting so that the food is now more of the focus. In addition, vegetarian options are staring to pick up.
What advice would you give to upcoming chefs, aspiring to be successful in the culinary industry? Reality is very different compared to a TV show such as MasterChef; so make sure that you're passionate about what you want to do before you decide that you want to be a chef.
Quick Q's with Chef Alfredo
Something we don't know about you? I'm a Juventus football fan. 5 ingredients you can't live without? Parmesan, cheese, olive oil, pasta, tomatoes and bread. Your personal top 5 global food destinations? Argentina, Korea/Japan, Italy, Mongolia and Alaska. Your top 5 dishes to make at home? We normally opt for very simple dishes such as pasta, salads, steamed fish like sea bass and mackerel, and ice cream – homemade of course!