Array
(
    [ref_id] => 738
    [photo_file_name] => Dubai_Winter_Festival_800X500.png
    [posted_by] => Emma Hodgson
    [text_display] => <p>
	<span style="background-color: initial;">BBC Good Food Middle East caught up with François Robin, cheese expert at Meillleur Ouvrier de France, ahead of his master class at the Dubai Winter Festival.</span>
</p>
    [cover_photo_file_name] => Dubai_Winter_Festival_200X181.png
    [slider_images] => 
)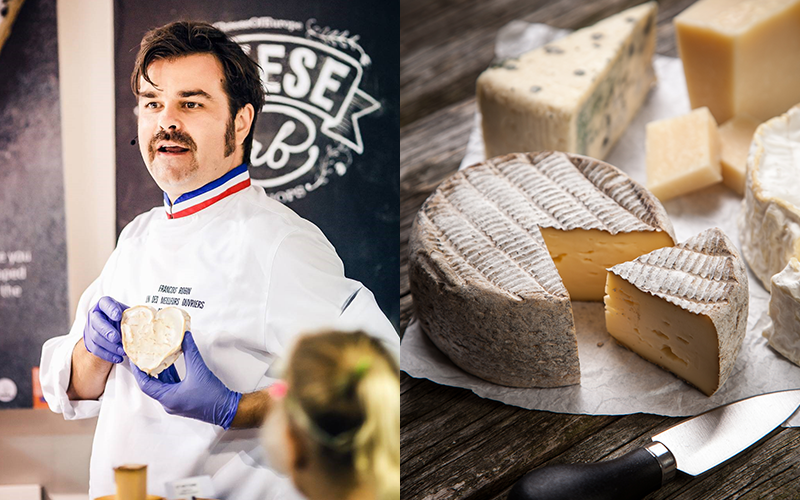 BBC Good Food Middle East caught up with François Robin, cheese expert at Meillleur Ouvrier de France, ahead of his master class at the Dubai Winter Festival.
What tips would you give to BBC Good Food Middle East readers, when they're shopping for cheese?
If you're lost in the cheese world, the best thing to do is to follow the red and yellow PDO labels in the shop. This certification ensures you the quality, area and process of cheesemaking. Then you can purchase different kinds of milk (cow, sheep, goat) and textures (fresh, creamy, runny and hard). There's a wide variety of cheeses available, too suit different tastes.
What festive cheeses do you recommend?
For Christmas, I would recommend an aged Comté, a Mont d'Or (a decadent creamy cheese in a wooden box that you eat with a spoon), a double-cream / double pleasure Brillat-Savarin stuffed with black truffle and a classical and everlasting Roquefort.
What flavour pairings work best with cheese?
Fresh fruits like apple, fig and pear are perfect to compliment the flavours that one may find a bit extreme. Dried fig along with dried dates or apricots do the job too. If you want to bring crunchiness, you can also go for nuts, almonds or roasted pistachios.
Which cheeses are the best ones to use when cooking?
There are tonnes of recipes with almost every French cheese, so it's hard to answer. But Christmas is the season for Raclette (a cheese that you heat and pour on baked potatoes) and French fondue, a delicious mix of melted alpine cheeses. Trust me, if you taste it, you'll be caught for life. Brie is also perfect for simple sandwiches, cold or hot.
What's the best cheese you have ever tried and why?
My favourites would have to be mountain cheeses such as Tarentais goat and Bleu de Termignon, rare wonders with long lasting sensations that will be in my memory for a lifetime. I particularly like them because they are unusual and have a different balance of flavours to many cheeses. I discovered them whilst travelling in the French mountains, which also made the experience incredibly memorable.
What can readers look forward to at the cheese workshop you are holding at this year's Dubai Winter Festival?
We will do a blind-taste of cheeses (literally, with nose clips and eye masks). There will also be fondue, raclette and we will try some easy and delicious cheese recipes (for example stuffed dates, mushroom Brie) and discover how cheese is made. In short, have cheese and fun!
Details: for more information about François Robin's cheese workshop, visit Dubai Winter Festival. If you enjoyed this article, you may like thisD story on the world's fastest butcher.