We sat down with Chef Dermot O'Flynn, executive chef at Ramada Plaza Jumeirah Beach Residence, to talk failed weddings, the perfect steak, and what makes Foguiera stand out from Dubai's churrascaria scene. Talk us through the concept behind Fogueira. Dubai has seen a few churrascaria venues pop up around the city, but the folks over …

Continue reading "Foguiera's Dermot O'Flynn on standing out from Dubai's churrascaria scene"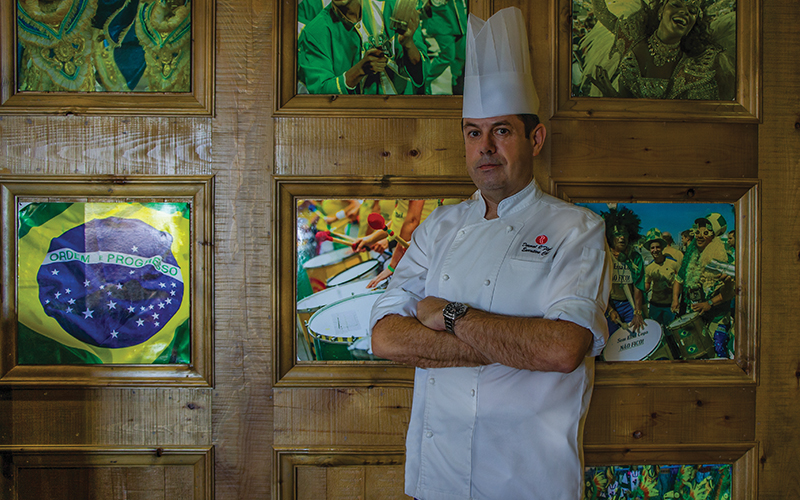 We sat down with Chef Dermot O'Flynn, executive chef at Ramada Plaza Jumeirah Beach Residence, to talk failed weddings, the perfect steak, and what makes Foguiera stand out from Dubai's churrascaria scene.
Talk us through the concept behind Fogueira.
Dubai has seen a few churrascaria venues pop up around the city, but the folks over at Fogueira in Ramada Plaza Hotel Jumeirah Beach Residence were the first to bring a truly authentic experience to the city's taste buds.
For the uninitiated, churrascaria dining is an all-you-can-eat concept with various inclusive packages available, where tall skewers of freshly barbequed meat cuts are brought to your table by passadors, and carved right in front of you.
The experience begins with an amazing introduction of how your pampering will unfold. All of this takes place whilst sipping, tasting and soaking up the breath-taking views from the 35th floor with an elegant atmosphere and the foot tapping sounds from the live Latino band.
Each diner is given a flip card which is green on one side and red on the other – should you need to take a break from the meaty goodness, just flip it over to red. Then flip over to green once you're ready to tuck in again.
Where do you source your meat from, and what factors must you take into consideration to ensure you're sourcing top quality ingredients?
Our meats are sourced from the most reputable suppliers and we only use the highest grade beef, lamb and poultry in the market.
The most important rules I follow when looking to buy ingredients is that products must be fully traceable from farm to plate. They must also be free from pesticides, preservatives and other undesirable additives.
The meats are naturally aged with the correct marbling (white flecks and streaks of fat within the lean sections of meat). The marbling adds flavour and is one of the main criteria for judging the quality of cuts of meat. I also require certification from suppliers of farms where the cattle is being bred for consumption. They must be stress free with very low locomotion to the muscles, being fed from the best pastures and grains and that they are not older than the legal limit. This ensures that we get chilled products which are tender and at premium readiness for consumption.
Can you please talk us through the process of cooking the meats ahead of service?
Only the larger cuts are skewered for grilling first, and they are exposed to the fire approximately 30 minutes before our first guests arrive to their tables to ensure that the heat sealing and browning has taken place to the right temperature. These larger cuts continue to cook internally as they are carved and returned to the barbeque. Smaller cuts are put under sous vide and slow cooked to ensure taste retention and natural juice quality and finally being fully cooked before service. Our churrascaria chefs are well versed in batch cookery and rotation cooking to ensure that the first guest has the same experience as the last guest of each sitting.
What differentiates Fogueira from other churrascarias?
We pride ourselves on being the first in Dubai. We are also an all-inclusive restaurant with authentic Brazilian drinks, recipes and ingredients on offer. We have over twenty different cuts on the menu, along with a friendly atmosphere offering sprawling views of the Dubai Marina, with gorgeous panoramas of JLT, the Marina and JBR. I highly recommend the outdoor seating for great views while the cooler weather lasts. Our great food offers and selections will have any meat-lover coming back again and again, but the best part is that our team members are always very glad to welcome you back!
How do you cater to vegetarian guests?
We offer an extensive vegetarian menu which would suit any non-meat eater. We also cater to vegan preferences and requests of your individual tastes outside our menu. Basically, if we have the ingredients in stock, we'll cook it with pleasure.
How do you personally prefer your meat to be cooked?
I like my meat to be rare to medium all the way. Why destroy a beautiful creation from Mother Nature by char grilling all the goodness out of it? Makes no sense to me at all.
What top tips can you offer our readers when it comes to cooking the perfect steak?
Keep it simple. If you start with a bad product, you'll be hard pressed to make it a good product, so source properly, and butcher it carefully. Ensure its aged nicely, and don't over season when approaching the heat, (you can always add salt, – you can never take it away). Get the heat up to a blue haze stage with a good quality dripping or oil, and lay the meat gently and ensure to seal it on each side with a nice brown colour. Keep turning and cooking until you reach the desired cooking stage. Never prong it with a fork, and leave it rest for a minute before serving.
Have you had any kitchen nightmares during your career?
One of my most memorable was just outside London, when I was head chef in a hotel. Picture the scene – it's a dark, rainy, British winter afternoon. We lost all power just as the bride and groom arrived for a wedding reception. It was hot and dark in the kitchen and we had very little gas appliances. It was my first wedding as the head chef. The extraction, lights and holding units all shut down and the ovens said no. My sous chef tripped and banged his head and had to leave the kitchen. I proceeded to the banqueting room where the bride was crying uncontrollably in a candle lit room with no sign of her new husband. And it gets better – two kids had swung off the cake ribbons, causing it to smash to the floor.
Most of the hot food is now cold, so out came the charcoal barbeque and we set up a buffet in the room with the bride still weeping. The pre-plated starters were served, we turned all the vegetables into salads, mixed with lots of quick thinking recipes every other acceptable ingredient, grilled under umbrellas outside the function room external doors. It ended up being quiet a party regardless the hand of faith we were dealt.
Unfortunately, the bride left very early with no husband at her side. The smug head waiter later told me that the bride's father-in-law had a heart attack just as she walked up the aisle – that's why most of the guests and the groom were missing. I later found out on her next visit with her husband and the recovered father-in-law that she didn't really care about the catering, and actually thought we did a salvage job!
Why did you choose to become a chef?
Whilst I was waiting to follow my Dad's footsteps as a carpenter, I went to work in a fast food restaurant in Ireland in my home town Limerick. The restaurant had a chef in the back who catered for proper daily lunches in a separate room off the back of the establishment. I got a job in a hotel as a commis chef through the connections of the chef, whilst still waiting to join the same joinery firm with my dad. I feel in love with the brigade system, the atmosphere and the buzz of a big kitchen. I went to college to study hospitality and needless to say, never became a carpenter.
What are your favourite ingredients to cook with and why?
Farinaceous ingredients, Fish, Shellfish, Secondary and prime cuts of all meats.
Who do you admire most in the culinary world and why?
My first would be one of my previous executive chefs, David Evans – former president of the Culinary Guild of France. He was my first major mentor in London and gave me the confidence to succeed and master whatever method and recipe he set before me. He had a passion that made me watch in awe. I wanted to be like him.
If you enjoyed this article, you may be interested in reading about what BBC Good Food Middle East thought of Fogueira.