Chef David Myers, AKA the 'gypsy chef', gives us the low-down on his two new restaurants at Renaissance Downtown Hotel, Dubai. Famed American chef and restauranteur David Myers made his Dubai debut late last year at the Renaissance Downtown Hotel in Business Bay, with restaurants Bleu Blanc and BASTA!, plus intimate cocktail bar, Poppy. With …

Continue reading "David Myers: the gypsy chef discusses his hot new Dubai restaurants"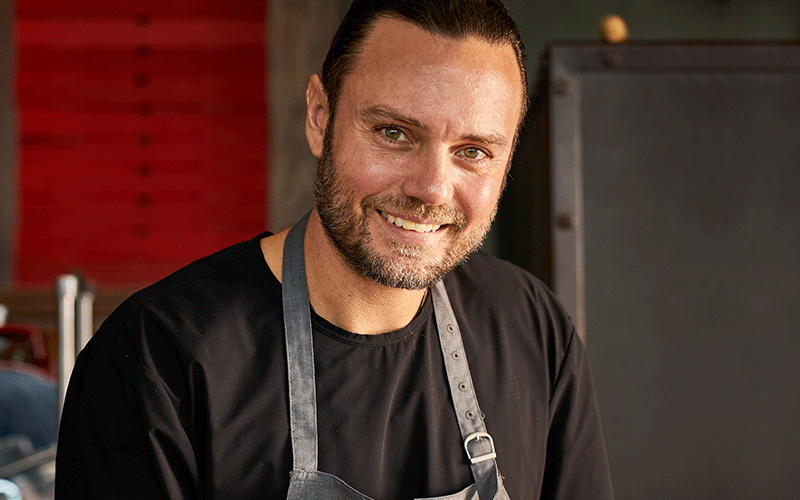 Chef David Myers, AKA the 'gypsy chef', gives us the low-down on his two new restaurants at Renaissance Downtown Hotel, Dubai.
Famed American chef and restauranteur David Myers made his Dubai debut late last year at the Renaissance Downtown Hotel in Business Bay, with restaurants Bleu Blanc and BASTA!, plus intimate cocktail bar, Poppy.
With restaurants globally, chef David spends much of his time jetting between his international eateries in destinations including the likes of Tokyo, Los Angeles – where he has a Michelin star, Hong Kong, Singapore, and now, Dubai.
Travel is not only a big part of David's day-to-day life, but also his approach to food. With every new city explored, he discovers fresh, seasonal ingredients and techniques that influence his cooking style, which you'll be able to experience firsthand at Bleu Blanc and BASTA! – serving French and Italian cuisines.
During his travels, David's natural presence and charisma have also gained him a following through TV appearances on shows such as Iron Chef America, The Today Show, The Early Show, MSNBC's Your Business, Top Chef, Master Chef US, Master Chef China and Hell's Kitchen.
You're known as the 'gypsy chef' – how did you gain this name?
I was given this title from a good friend while we were working on a TV show pitch that was all about travel, moving around, and creating a concept in a very short window of time. Afterwards he said, "Man you know what, you're a gypsy chef! You have to be the gypsy chef." And it was born out of that. The idea really with "gypsy" is this insatiable wanderlust, and curiosity of different cultures and food that make you happy in any of these places in any moment.
As a very well-travelled chef, where's your favourite place in the world for its food and why?
My favourite place in the world when I travel and when I eat is Tokyo. Japan in general always holds my heart. I can get such an amazing array of dishes and types of cuisine, like French or Italian but really I stick with Japanese. Sushi or yakitori, tempura, and teppanyaki, all of these are my go-to favorites. Even soba at lunch makes me happy every day.
For fellow food-travellers reading, what three destinations would you recommend planning trips to for food in 2018?
At the moment, I think 2018 is all about Sri Lanka. The cuisine is unbelievable. The way that the locals are cooking seafood with the use of coconut and spices is incredible and very healthy, resulting in vibrant foods, which are not to be missed. On another note, I think Tokyo is always a go-to destination and highly recommended for sushi. If you're going to have sushi, go to Tokyo! Argentina is another great place to explore steak. Their grass-fed focused beef is really great. Grass-fed is a great movement right now and quite healthy as well.
When you're not in the kitchen, what do you like to do?
I love to get out into the ocean and surf, and into the nature and hike. Whichever it may be, it's all about trying to get out into a very natural environment. When I am not doing that, I love to read and really reconnect with myself, allowing me to focus on what is important in life.
How often can we expect to find you in your Dubai kitchens?
I will be in my Dubai kitchens every month.
David's new restaurants
BASTA!
Tell us about the concept at BASTA!…
I think the fact that BASTA! has three different sources of inspiration from Italy is what makes it such a fantastic experience. The pasta is inspired by Rome, with all the classic pasta sauces that you know and love like the carbonara, amatriciana and even dishes like spaghetti with meatballs. It's really simple, but it's classic. It's something that everyone understands. In addition to that, the pizzas that we make are inspired by our trip to Naples, which really is the pizza capital of the world, so you'll enjoy some thin, crispy pizza bases with different toppings. Finally, you'll get a taste of Florence and their world-famous 'bistecca Fiorentina', cooked to perfection over the wood-fired grill. To top off your culinary experience, our bar program is entirely curated by Sam Ross, the owner of Attaboy in NYC and also the brains behind many modern classics, who's a good friend of mine.
For our readers at home looking to visit BASTA!, what must-try dishes would you recommend?
BASTA! is all about the classic Roman pastas, the Neapolitan pizzas and the bistecca Fiorentina. We would love for you to try one of our traditional pastas, whether it is the cacio e pepe, the amatriciana or the carbonara. For the pizza, go classic and try our margarita, it's insanely good! There is a lot of work that has gone into creating our pizza dough and making sure it's perfectly thin and crispy. Then you should of course try our bistecca Fiorentina, or even the veal scaloppini Milanese, another classic Italian favourite. And try to save some space for our desserts, like our crème fraiche panna cotta with cherries, nothing beats a sweet ending to a meal!
Bleu Blanc
What type of food and environment will diners experience at Bleu Blanc?
If I were to have a home in southern France, this would be it. It's where I'd like to invite my friends over to cook for them, and pop open a nice bottle of wine. It has that very homely vibe where our incredible wood-burning grill is representative of the fireplace, or the heart of the house. 85% of our menu is cooked on the grill, either over a live flame or directly on the embers. There are candles all around, vintage items such as our mismatched silver cutlery and classic cook books scattered about. Some of the go-to dishes that we love to serve to our guests are the steak tartare, which is done very simply with just freshly squeezed lemon, olive oil and parmesan. Our grilled king crab legs with beurre noisette and capers is phenomenal. I could eat it every single day. Any of our dishes from the wood-burning grill are delicious. We have some pumpkins that we cook for 12 hours over the fire, served with a little bit of yogurt, porcini and mushroom velouté that is beautiful.
This season, what type of dishes can we expect to find on the menu at Bleu Blanc?
This season at Bleu Blanc, I think you can expect to find a lot of wood-grilled dishes that really hit home, like the whole grilled turbot over the fire, which is just fantastic. We have different rare cuts of beef, four to five pieces that are unique and have different flavours and textures to them. Our grilled oysters are exceptional, something we highly recommend. We cook them over coal so they just pop open, and to have them like that is delicious, as they are cooked in their own juice.
To find out more about David Myers, follow him on Instagram @gypsychef or visit Gypsy Chef. For more information about Bleu Blanc visit bleublanc-dubai.com or call +971 4 512 5533 for reservations. For more information about BASTA!, visit Basta-dubai.com or call +971 4 512 5522 for reservations.