In Dubai for the upcoming Gather by JW event, we catch up with Bobby Chinn – international chef, TV presenter, restaurateur, and cookbook author, and perhaps most famously known in this region as a judge on MBC's 'Top Chef Middle East.' He pinpoints the fundamentals of Vietnamese cooking for those looking to try dishes at home, and offers his two cents on the region's culinary scene.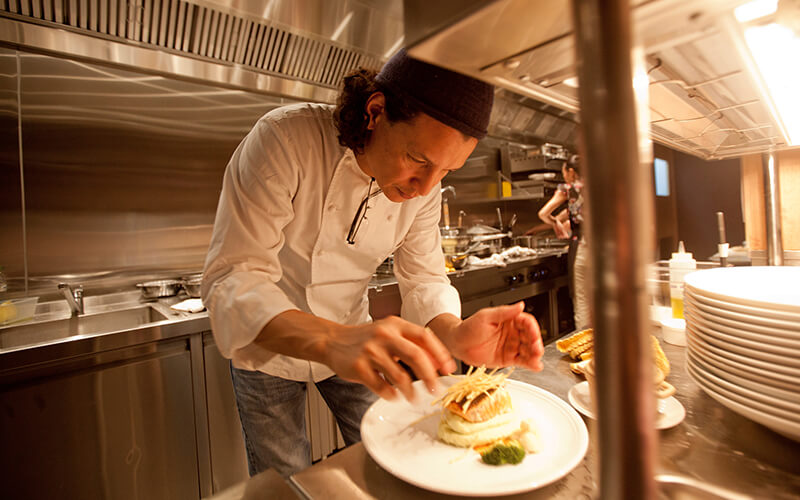 You're best known for your culinary prowess in Vietnamese cooking. What was it about Vietnam and its cuisine that originally drew you in when you first arrived in the country more than 20 years ago?
I'm not sure about that! It really depends on where you are and who you ask. Sometimes I'm known for street food from travelling the world with the World Cafe Show on Discovery TLC, amongst the expats in Vietnam I brought them a taste of home. In the Middle East I'm more known for Top Chef on MBC and between the UK and foodies that were regulars to my Hanoi and Ho Chi Minh (Saigon) restaurants for my modern take on Vietnamese food whilst retaining the authentic flavours.
Can you name five ingredients that a beginner in Vietnamese cooking should have in their kitchens?
A really good fish sauce, ideally from Phu Quoc that displays at least 30 degrees of nitrogen – which indicates the protein level of the fermented protein. In addition, stock up on Vietnamese soy sauce, coconut palm sugar, garlic and lemongrass – that should get you through a lot. Then there are all the herbs…
When were you last in the Middle East, and how does it feel to be back?
Actually, I've been spending quite a bit of time in the Middle East of late, namely Cairo and the north coast in Egypt. I've been filming in Beirut for the last two years and traveling to Dubai and Abu Dhabi occasionally. I always enjoy returning – if it's not for family and friends, it's for the hospitality, the food and the spectacle of it all.
What do you like most about the culinary scene here?
There really isn't much of a middle ground! I seem to be caught up between swank chi chi and expensive, or absolute holes in the walls. I am well-versed at both and enjoy them equally. These days I'm more into the holes in the walls. High-end expensive dining experiences are a dime a dozen globally, but you can't always find authentic cheap eats everywhere these days.
Are there any particular restaurants in Dubai/Abu Dhabi that you're fond of or would like to try?
Unfortunately, my time in Abu Dhabi was always limited and I never got an opportunity to really go out and check it out. I generally like 'hole in the wall' joints and would really like to try authentic Emirati food. I prefer a plant-based diet but will yield my dietary preferences to learn and understand more about the spices and flavours in the cuisine here. I've actually asked many times and everyone I've asked has said I need to visit their house! Tragically I've never had the time, but maybe one of these days…
You've travelled a lot during your career. Can you pinpoint your most memorable dining experience for us?
With all honesty, I really couldn't. I have had the incredible privilege to taste some really phenomenal dishes from the hands of the masters, like Toshiro, Virgilio and Pedro Miguel Schiaffino in Peru, to Yu Bo in Cheng Du to Alvin Leung, Gaggan, Dan Barber to the Costardi Brothers. All pretty big names and all remarkable dining experiences. Having said that, a burrito at La Taqueria in San Francisco, or a stuffed pigeon at Farahat in Old Cairo, or Banh Cuon on the back streets of Hanoi and even a selection of dishes from Jay Fay in BKK or a hawker center all share an equal standing to those master chefs – and most of them would agree with me!
What took you down the "TV chef" route? Do you have any ongoing TV projects or future ones in the pipeline?
Honestly? It just happened. A childhood friend who became a documentary film maker thought I could be a decent TV chef, doing one of those "dump and stir" shows. He flew out to Hanoi and filmed a day in my life and that teaser got picked up in the UK and Asia. I didn't think much would come out of it as I'm just a chef cooking in Hanoi, Vietnam. Simultaneously, film crews from Canada, the UK, the US started making their way across to film travel food shows and I was used as a contributor, showing them the markets, explaining the food and taking them to my favourite street eat joints. I guess one thing led to another. It wasn't really planned, but it did pan out. No matter what task you give me, I will try and improve on it. I'm a work in constant progress!
When can we hope to see you in the region again?
The reason why I am doing this event with Marriot to begin with was to come out and promote a restaurant concept I was developing for the brand in Riyadh, except the deal fell through. But off the back of Top Chef with MBC, my appreciation of this region has been reignited. I feel I have something to offer and want to spend more time returning to the love that made me.
Chef Bobby will be in Dubai at the Gather by JW event from the 24 – 26 October. For more information, visit the website.