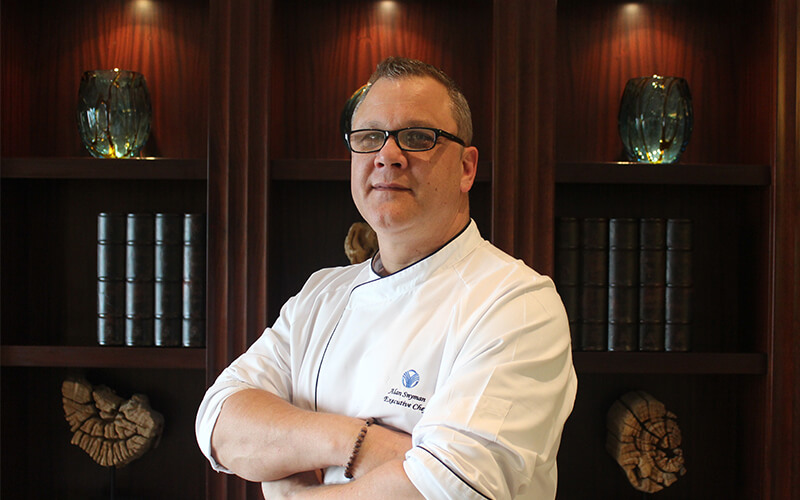 We sat down with Alan Snyman, executive chef at Amwaj Rotana Dubai, to learn more about the hotel's culinary offerings, and to get the lowdown on his favourite dishes from two of the outlet's new menus. 
Tell us a little bit about yourself and how you've got to where you are today.
Being from Cape Town, South Africa, I naturally love the sea, the forests and winelands that make my city so special. At some point when I was younger, I longed to be a lawyer. But it turned out cooking was my greatest love. I pursued the training, long hours and hard work, before the path led me to the city of Dubai. I started working for Rotana 12 years ago and even though I have gone to work for several Rotana hotels elsewhere in-between, I feel fortunate to be in Dubai, working at Amwaj Rotana that initially brought me here.
You've worked across the Middle East, Africa and Europe during your career. How does running a kitchen in the UAE differ from your experiences elsewhere?
One must come to grips with the amount of diverse nationalities in the kitchens here. This requires more patience to understand the cultural differences while paying attention to the communication divide. The diversity of race and cultures in Dubai requires adaptability "jack of all trades", to cater for the different tastes. Most, if not all, all-day dining restaurants in the hotels serve multiple cuisines from all over the world, blending together Asian, Indian, Arabic, Emirati and Western dishes, so as the executive chef you need to be able to direct your team to cook authentic recipes from these global regions.
Talk us through your day-to-day role as executive chef at Amwaj Rotana.
I start my day before 7am, going around checking the breakfast areas of the hotel, making sure standards are being adhered to, all my team members are in place and have what they need to complete the service session. Afterwards, I go online to see guests reviews and feedback, not only to figure out which areas need improvement but also to know where we are excelling. The next step would be to approve all orders internal and external for all kitchens.
By 9am, I join our morning briefing with the GM, to catch up with the different department heads. For the rest of the day, I focus on our lunch service in each outlet, meeting suppliers, taking care of administration work.
By 4pm, I have a meeting with all my senior chefs, to discuss the evening service, issues needing attention, forecasts for the next day etc. From 6pm, dinner service is the priority in our outlets, and I do rounds to ensure all areas are ready for service. I usually leave the hotel by 8.30pm, unless I'm needed for large functions or events.
Can you briefly summarise the dining options available at the hotel?
Amwaj Rotana houses five signature restaurants. Firstly, we have Horizon, our all-day dining outlet, serving international buffet and hosting exotic theme nights.
If you are in the mood for classic, unprecedented Italian cuisine, then Rosso should be your destination. The venue offers an option to dine inside overlooking the open kitchen or out on the al-fresco terrace soaking up the buzz in JBR. This is also part home of the Friday brunch sharing custody with Benihana, bringing together dishes from all our signature restaurants.
Thirdly we have Benihana, a world-famous Japanese restaurant, combining quality food and great entertainment with its signature cooking style, "Teppanyaki". Imagine the thrill of having your juicy steak, tender chicken or succulent seafood prepared to delicious perfection right in front of you.
Then JB's Gastropub is very popular on JBR for its sharing platters, sausages by the metre, smoked meats and of course, live sports action and a live DJ.  JB's is undoubtably a lively venue and the eclectic menu is packed with British and American favourites.
Fumo Lounge by Rosso is our latest addition to the culinary list, a laid-back chic venue perfect to unwind with cold beverage, quality bites and a grape mint, the lounge is closed for the summer and will resume operations 1st of October 2019.
You've recently launched new menus at JB's and Rosso. What are some of the 'must try' dishes that you'd recommend ordering?
I highly recommend the Neapolitan pizzas, Oven-baked Branzino, Saffron scallops, Pappardelle lamb ragu, Beef fillet Rossini and our much-famed Tiramisu at Rosso.
In JB's, the stand out dishes would be the pulled beef doughnuts, lobster and prawn cocktail, steak cobb salad, the seafood stew, beef brisket pie and skirt steak ciabatta sandwich.
Are there any standout offers taking place at the moment that our readers should know about?
During the first two weeks of September, from the 1st to the15th, JB's Gastropub will join in the famous German festival celebrations, "Octoberfest" serving German sausages and traditional delicacies.
What are your three favourite ingredients to cook with and why?
Fresh thyme – it's flavour is so deliciously savoury and delicate.
Spanish smoked paprika (pimenton de la vera) – can be used on fish, poultry and red meats, adding a delicate smoky richness.
Italian cervia salt – has a rich depth of flavor without the bitterness of other salts.
Your favourite place in the world to visit for culinary offerings and why?
San Sebastian – Spain, it's well known as the world's top food spot, because of the amount of Michelin star restaurants. In truth, the real secret is that even the every day food offered in the small tapas bars, is of the highest quality and guaranteed to please the most discerning palate.
What has been your fondest culinary experience to date?
The World Gourmet Summit in Singapore, where I was a special guest at a culinary safari. We had to go to different hotels to experience different cuisines during the day and the cherry on top is we were driven to all these locations on a Harley Davidson.
Details: To learn more about the Amwaj Rotana and it's culinary offerings, visit the website here.