We head on a thrill-seeking, gourmet getaway to the capital to experience Yas Hotel Abu Dhabi's newest culinary addition – The Best of Blighty Brunch.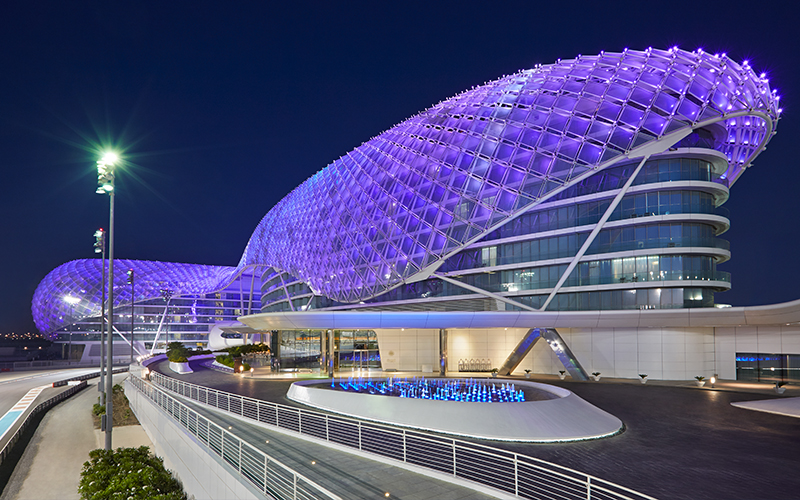 After a quick 50-minute drive from Dubai, we reach Yas Island's most sought-after destination, Yas Hotel Abu Dhabi, previously known as Yas Viceroy – and if you're booking a stay at the property, it's currently transitioning to become a 'W' hotel.
Set right in the middle of Yas Marina Formula 1 Circuit, Yas Hotel guarantees front row seats to thrill-seekers looking to enjoy exhilarating races taking place – namely the world-famous Abu Dhabi Grand Prix. The hotel also offers beautiful views of the yacht-filled Yas Marina.
Inside, the hotel's interiors are designed to mimic curved circuit lanes, with winding hallways and rooms that are finished with clean, modern touches. Yas Hotel is nothing short of impressive with its sleek design and draw-dropping exterior structure that features a full LED-studded canopy of glistening lights, which change colour under the night's sky.
During our visit, we stayed in a spacious Deluxe Suite, which offered more than ample space across the lounge area, separated bedroom, two bathrooms, dressing area and balcony.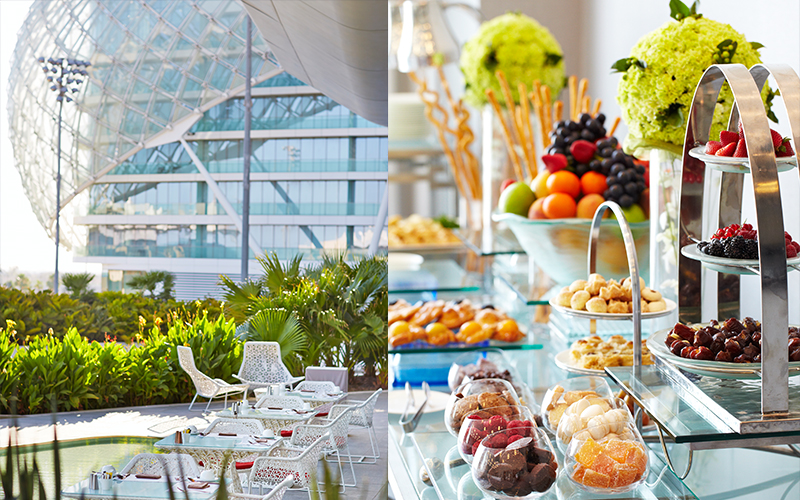 Dining
Yas Hotel has several restaurant and bars to enjoy during your stay – there's also night club called Empire.
We checked-in on a Thursday evening and decided to visit Amici for dinner, the hotel's Italian restaurant that offers both indoor and outdoor seating. Making the most of the UAE's gorgeous winter weather, we sat outside and to our delight discovered a guitarist and singer offering live entertainment for the night.
To start, the bruschetta made with heirloom tomatoes and baked ricotta is a delicious option, as is the Burrata with cherry tomatoes and rucola. For mains, don't miss the Milanese veal cutlet served on the bone – it's a generous portion and comes accompanied by a side salad and fries.
The next morning, we visited Origins all-day-dining restaurant. The buffet-style outlet features cuisines of the world, including a section with traditional breakfast favourites such as sausages, beef bacon and made-to-order eggs, a fresh fruit with yoghurt and granola area, plus sections dedicated to Arabic, Asian and Indian specialities. What I loved most about breakfast at Origins, was dining overlooking the track – though early, the Friday morning local track drivers were out and about, whizzing by on motorbikes, which provided a fun start to our Friday.
Later in the day, we headed over to Yas Hotel's gorgeous Palm Gardens to experience the inaugural, al fresco 'Best of Blighty Brunch', which takes place mid-monthly. If you'd like to check it out, the next dates are secured for February 15, March 15 and so on, until the weather becomes too hot to be outdoors again.
Perfect for families, the new brunch is well-equipped for enjoying with little ones in tow as there's a dedicated children's zone complete with lawn games and bouncy castle, ensuring they'll have fun all afternoon.
The once-a-month brunch takes place from 1pm to 5pm and is a quintessential British affair – expect picnic tables, live music by The International Playboys band, bean bags for chilling out on post-feed, a dance floor for letting your hair down, and an abundance of food and drinks stations, all of which overlook Yas Marina Circuit – it's a true garden party.
Highlights from the buffet really showcase the best of Britain. Crispy fish and chips with mushy peas are a first port of call, followed by a trip to the carvery station, where we find all we need for a fantastic roast dinner – there's lamb shoulder, roast beef, salt-crusted salmon, short ribs and all the trimmings.
In addition to the buffet selection, starters of scotch eggs and cheesy bread, followed by a giant tray of Yorkshire pudding filled with roast chicken and vegetables are brought to the table. We also spot other tables tucking in to large, sharing-style trifles for dessert.
With brunch packages starting at Dhs285 with soft beverages, The Best of Blighty Brunch is great value for money for a fun-filled afternoon in the sunshine for the whole family.
After brunch, head to the Skylite Rooftop Lounge, which offers classic mocktails, cocktails and refreshing beverages throughout the day and evening whilst overlooking the track under the stars.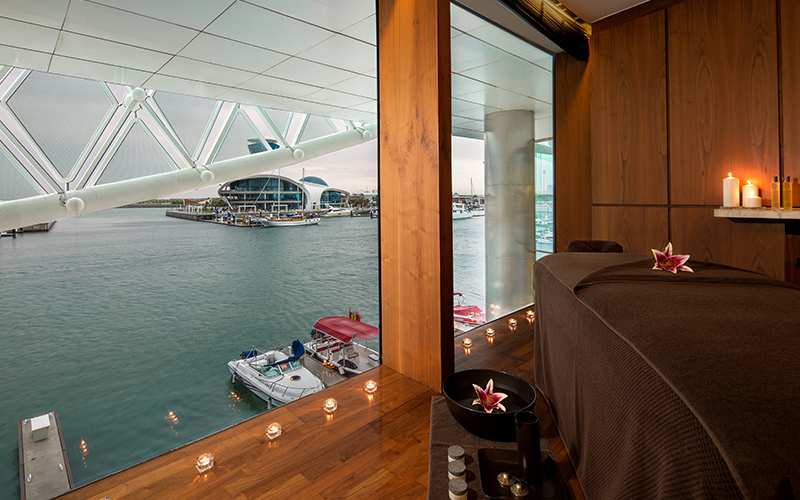 Relax & revitalise
In attempt to work off the indulgences of brunch, we visit the hotel's gym which is expansive and includes a wide range of top tier equipment.
Once the hard work's over at the gym, the ultra-luxurious ESPA offers a warm welcome. Set over two-stories, the dimly-lit spa takes us on a sensory journey through its tranquil spaces that are harmoniously furnished with deep walnut woods, heated marble, bronzed glass and relaxing water features to enhance the experience.
Escourted to the most impressive couples suite I've ever seen (it even has its own private elevator), we indulged with a 60-minute aromatherapy treatment, which left me feeling fully soothed and relaxed.
To follow, we were invited to enjoy the in-room Jacuzzi for half an hour to complete our rejuvenation journey. For those wishing to stay a little longer, the ESPA also offers a sauna and steam rooms, as well as the hotel's two roof-top pools.
If a visit to the spa isn't really your thing, Yas Hotel's concierge are extremly helpful with offering guidance on things to do around the island, like Yas Waterworld, Ferrari World and Yas Beach.
Whether you're looking to relax and revitalise or spend a weekend amping up the fun, Yas Hotel Abu Dhabi offers it all.
Details: For restaurant reservations, call +971 2 656 0600 or email dining@marriott.com. To book a stay at Yas Hotel Abu Dhabi, call +971 (0) 2 656 0000 or email yas.reservations@marriott.com