Situated at the very end of the yawning stretch of luxurious hotels dotted along The Palm Jumeirah is the jewel in its crown, Rixos The Palm Dubai Hotel & Suites. It proves to be the perfect tonic and remedy from the stresses of the hustle and bustle of city life.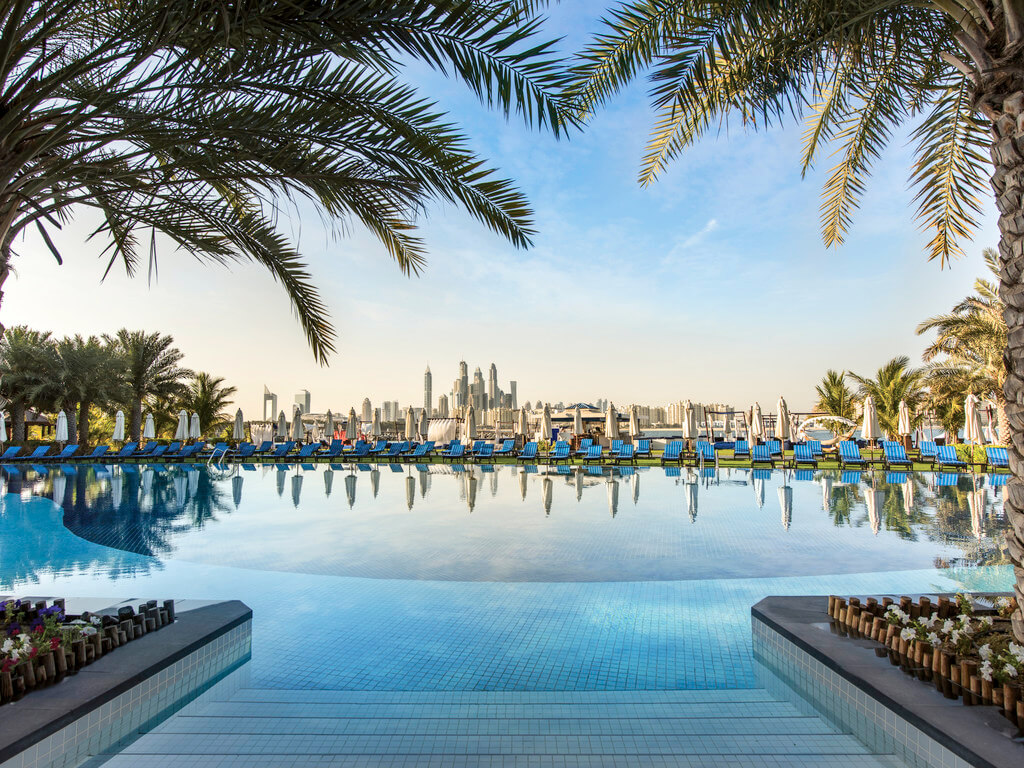 Rixos The Palm Dubai Hotel & Suites was the first in Dubai to have launched an ultra all-inclusive concept offering F&B, fitness activities, and Rixy Kids Club, all part of the room package. A masterstroke indeed, because it simply takes your staycation to another level.
Guests are invited to leave their wallets behind, thanks to the all-inclusive package, and enter a world of limitless experiences at no additional costs. The private beach, 11 award-winning restaurants and bars, and a fully-supervised kids club truly make this 5-star luxury resort the ultimate staycation hotspot.
Upon arrival, you can't help but marvel at the stunning fine marble finish of the lobby and reception area, which radiates a feeling of pure luxury. Check-in is a seamless process, and I was incredibly impressed at the safety measures and protocols taken to ensure that strict social distancing rules and regulations were adhered to at all times, even when the reception area was crowded.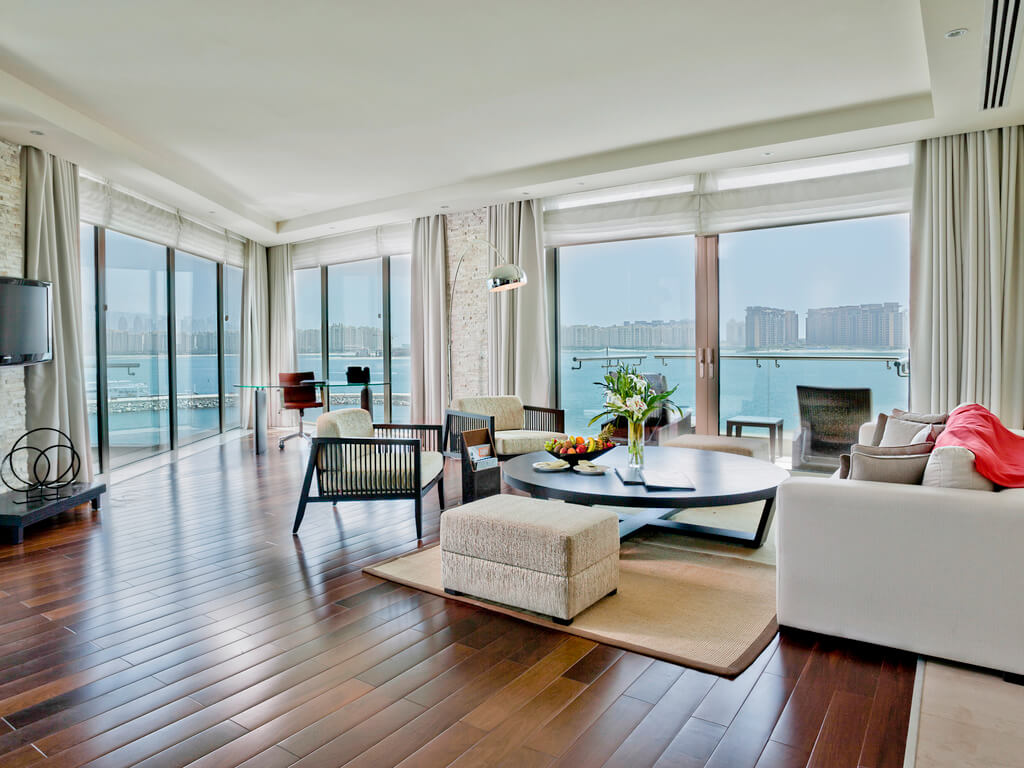 Accommodation
To call the Senior Suite spacious would be doing it a disservice. The sheer size of the suite truly was something to behold, and we likened it to that of a penthouse that you would typically find in London or New York. What really took our breath away were the jaw-dropping views of Palm Jumeirah on display from not one, but four balconies that were part of this stunning suite. Another eye-catching feature was the traditional dry-stone finish of the walls, blended perfectly with the overall contemporary interiors. Other elements of the suite include a business desk in the living room area, a comfy sofa, HD plasma TV, king-size bed and a large bathtub with complimentary salts if you are in the mood for a relaxing soak.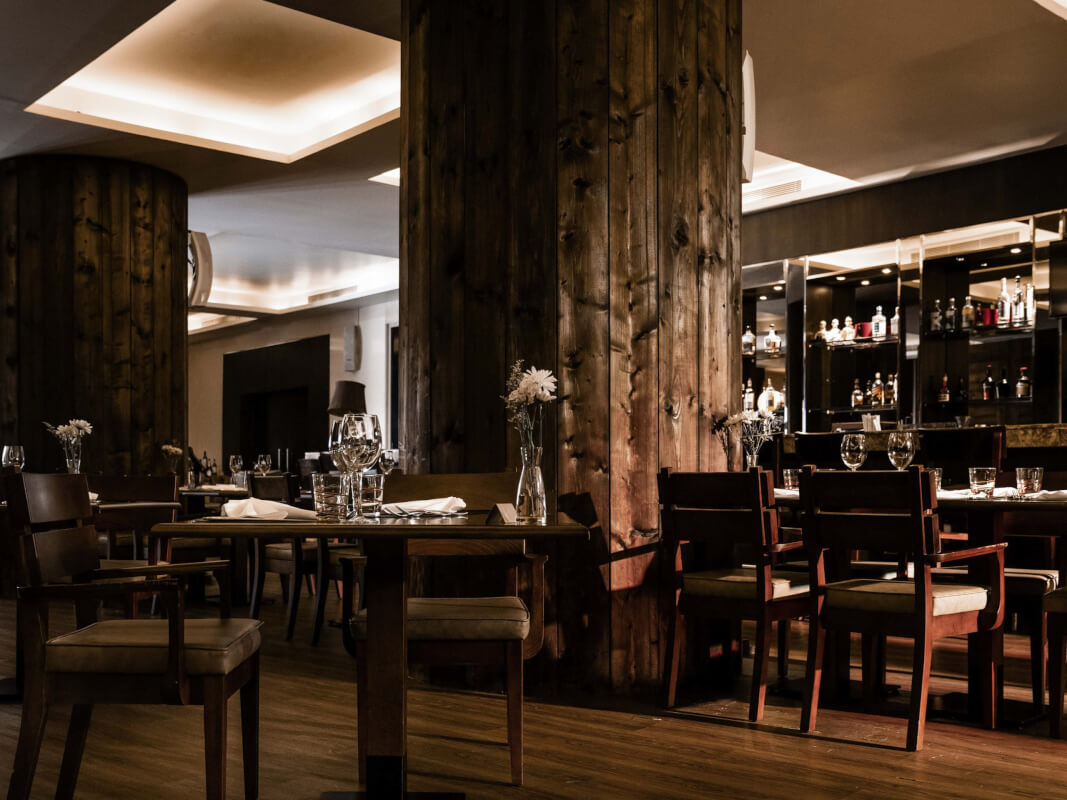 Culinary Offerings
Feeling slightly peckish, we decided to explore the vast number of award-winning restaurants at our disposal in the hotel. Having assessed our options, we opted for lunch at A La Turca Restaurant, which had an open buffet concept that provided a diverse range of international cuisines for us to choose from. The chicken supreme with rice is a must-try, bursting with flavour and best eaten with a side of bread. We were tempted to divulge ourselves further, but with a booking reservation at Toro Loco Steakhouse later in the evening, we had to be tactical and not use up all our stamina.
Excited by the prospect of sampling their culinary offerings, I can state emphatically that it did not disappoint. Dinner began with sucuk carpaccio with gherkin pickle, Turkish cheese and truff le mayo; dynamite prawns served with masala mayo and lemon cream, and cheesy beef roulade with alfredo cheddar sauce and shoestring potatoes. The three-hour slow-cooked beef simply melted in our mouths. All starters packed in a wealth of textures and flavours, however, the prawns stole the limelight and truly were 'Dynamite' (pardon the pun). My only complaint was that I was left wanting more!
For entrées, we were served the Wagyu tenderloin Grade A steak along with other prime cuts including Argentinian rib-eye and Canadian dry-aged striploin. The steak was without a doubt one of the best I have ever tasted, delivering an incredible, unrivalled taste with the meat cooked to perfection. There are genuinely not enough superlatives to describe how good the steak was. To accompany the meat, we had pepper and mushroom truffle sauce, sautéed spinach topped with parmesan – I was surprised by how much I liked the spinach – steamed vegetables and mixed fries.
Dessert was a scrumptious sight, with an assortment of fresh fruit and a deconstructed egg drowned in heavenly chocolate goodness.
Room rates from AED1,180 per night. For more information, visit rixos.com