Sponsored: Discover a luxurious stay with multiple gourmet dining venues, comfortable accommodations, and picturesque views of the capital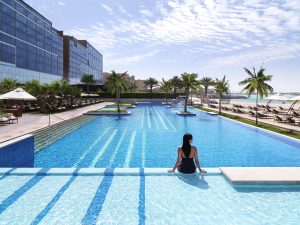 Situated in Abu Dhabi's captivating locale, the renowned hotel beckons visitors and residents alike with a tranquil escape and breathtaking vistas of the Sheikh Zayed Grand Mosque. The sojourn commences with a seamless early check-in, offering generous time for guests to discover and indulge in the hotel's exquisite amenities.
Don't miss the renowned Fairmont Saturday Brunch, an epicurean feast boasting a plethora of over 145 exquisite global delicacies. From tantalizing international flavours to delectable local cuisines, the experience promises to satiate every discerning palate. Following the brunch extravaganza, guests can retreat to their home abode to rejuvenate for the forthcoming day.
Wake up the next day to a delectable breakfast, before delighting in a poolside lunch featuring gourmet hamburgers and expertly crafted seasonal beverages, set against an enchanting backdrop of Abu Dhabi Creek and the Sheikh Zayed Grand Mosque. Finally, the relaxing journey ends with a late check-out at 6pm, allowing guests to savour every moment of their staycation.
Available for two people, with early check-in and late checkout until 6pm. Starting from AED850. Call +9712 654 3333 or email babalbahr.reservations@fairmont.com. Visit website.