Located in Emirates Towers, The Nice Guy features indoor dining as well as an outdoor patio and terrace, looking out to the remarkable Dubai skyline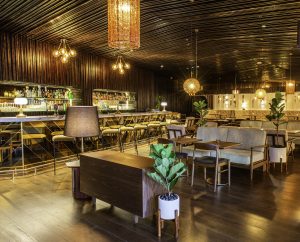 DIFC's latest culinary import The Nice Guy is an exclusive reservations-only venue, where once checked in, we were escorted through the ambient passage with candles and lush greenery, paving the way to the indoor seating area. My dining partner and I went in for an early dinner and were mesmerized by the opulent, masculine-led wooden interiors, an eye-catching marble and brass bar, an intimate setting, and a sense of added exclusivity with no photography permitted inside the premises.
The highlights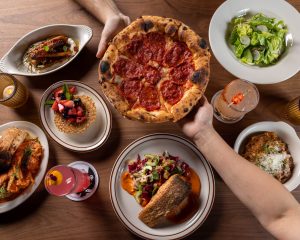 The menu features a vast array of Italian delicacies such as the Lobster pizza, Shrimp scampi, and Saffron arancini, as well as the vegan-friendly Meatball pizza. Although it was quite a task to choose from the extensive selection, our server came to the rescue with splendid recommendations. We started with the signature MO's Meatballs served with spicy tomato sauce, creamy, stringy Stracciatella and grilled bread. The flavourful sauce with meatballs pairs perfectly with the buttery grilled bread – it's no surprise it's on the highly ordered list. On the other hand, the light and crisp Italian style Pepperoni pizza with fontina mozzarella was a melt-in-your-mouth explosion of flavours.
Although upon arrival, the place was relatively empty with only the soulful renditions of R&B tunes, scrumptious appetizers, and dim-lit interiors keeping us company, the place fills up quickly once the clock strikes 8pm. While waiting on the main course, we took a detour to the mocktails section on the menu and went for the Dusk till dawn (passion fruit, lychee, citrus and grenadine, shaken and poured with ginger ale) and Coffee & dates (cold brew concentrate, dates, and cream). Truth be told, we didn't want the drink to ever end as it was exquisite on its own but also paired well with the culinary offerings. The hearty main course finally arrived, a marvellous Chicken parm adorned with a generous serving of marinara and creamy mozzarella to accompany the tender breaded chicken.
Barely any room for dessert (but an ardent tiramisu lover), we ended the meal on a sweet note with a skillfully layered tiramisu. While the decadent dessert holds a varied preference for the creamy mascarpone filling and ladyfingers ratio for everyone, The Nice Guy seems to find the perfect balance of the two in its serving. The venue's enchanting and bustling atmosphere almost makes you want to hold onto savour the last bite and not want to leave. Noting how the no photos rule stays at The Nice Guy, we can't help but wonder how the digital age holds barely any say over itself but then again, here we are raving about the restaurant through word-of-mouth.
Book now
Thursday to Sunday from 12pm-3am. Monday to Wednesday from 12pm-1am. Call +9714 276 9888.